400,000 liters of oil still leaking from Empress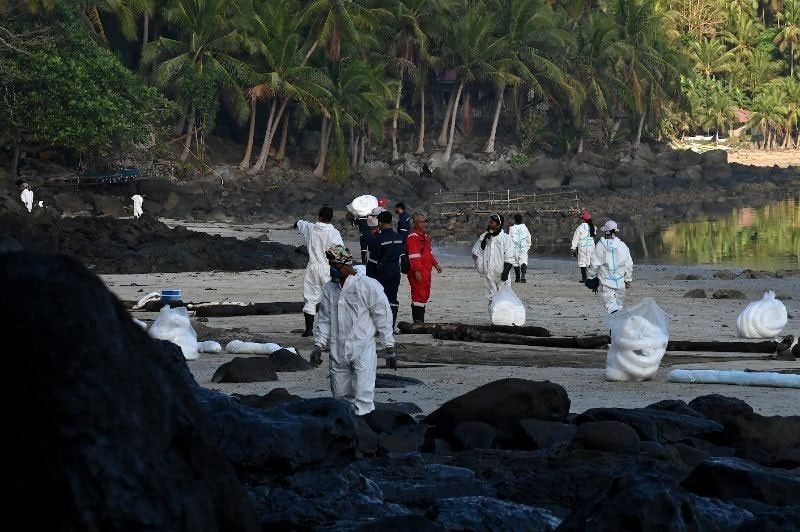 MANILA, Philippines — One month after the motor tanker Princess Empress sank in the waters off Naujan, Oriental Mindoro, the vessel is still leaking around 400,000 liters of industrial fuel.
Philippine Coast Guard (PCG) spokesman Rear Admiral Armand Balilo reported yesterday that more than 400,000 liters of fuel had leaked from the sunken vessel.
The tanker was reportedly carrying 822,000 liters of fuel.
Balilo said around 46 kilometers of the 55-kilometer area affected by the oil spill had been cleaned.
"At least parang mayroon tayong nakikitang progress sa pag-responde sa oil spill … may natitira pang langis, pero mas malaki na ang nalinis natin, from 55 to nine kilometers na lang," he said.
Balilo said the PCG is waiting for remotely operated vehicles to help patch the 23 leaking areas of the sunken vessel.
He said the assistance of the international community is making the job easier.
A team from the Korea Coast Guard paid a courtesy call at the PCG main office in Manila yesterday as part of its efforts to help in oil spill response operations.
Coast guard personnel from the US and Japan are also helping while private sector groups have tapped experts from France and Singapore.
Satellite image obtained by the Philippine Space Agency (PhilSA) yesterday showed new traces of oil slick in the Verde Island Passage, the global center of marine biodiversity.
PhilSA's Roel dela Cruz, however, stressed the need to monitor the situation on the ground.
Meanwhile, Philippine National Police (PNP) chief Gen. Rodolfo Azurin Jr. said local police units activated their sub-task group oil spill in Mimaropa and Western Visayas to help other government agencies contain the leaking oil.
"These local police units are under strict instructions to ensure order and security in government-initiated relief programs in hardest-hit communities," Azurin said.
He directed the PNP Maritime Group to make available its floating assets to assist the PCG and local government units in cleanup and containment operations.
Alternative livelihood
Meanwhile, Tourism Secretary Cristina Frasco said the Department of Tourism (DOT) would train workers in the tourism industry who were affected by the oil spill.
In a radio interview, Frasco said the training would focus on alternative types of work.
About 63 tourism sites and 1,000 workers in 10 towns in Oriental Mindoro have been affected by the oil spill.
Frasco directed the regional offices of the DOT to monitor the situation and craft a recovery plan to provide assistance to affected tourism workers and stakeholders. – Emmanuel Tupas, Mark Ernest Villeza, Rainier Allan Ronda