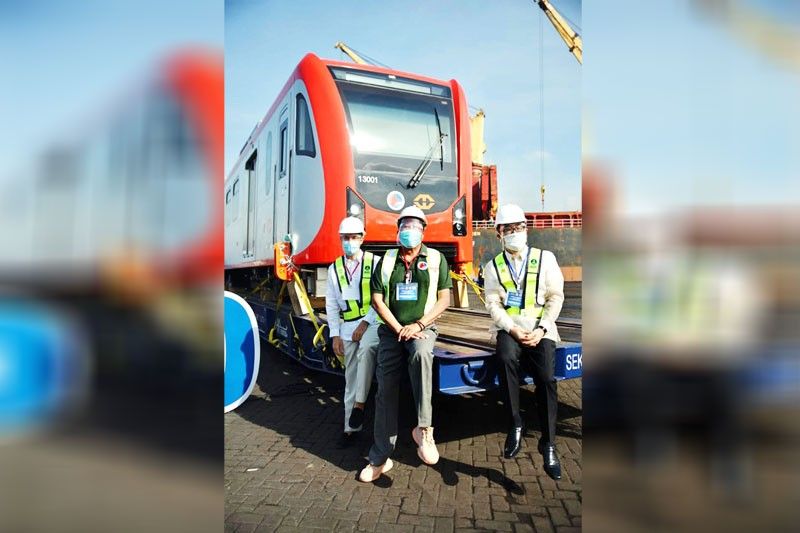 4th Generation train: Transportation Secretary Arthur Tugade poses with Japanese Ambassador Kazuhiko Koshikawa and Spanish embassy first secretary Luis Morales as the first batch of the fourth generation light rail vehicles from Spain and Mexico arrived in the country in a ceremony held yesterday. The arrival of the first batch of 120 LRVs, funded by the government of Japan through JICA, marks the realization of the LRT-1 Cavite Extension Project, which is eyed for partial operability this year.
STAR/File
Trains for LRT-1 Cavite extension arrived
MANILA, Philippines — The first batch of fourth-generation trains from Spain and Mexico has arrived in the country, the Department of Transportation (DOTr) said yesterday.
The trains' arrival marks the realization of the Light Rail Transit Line 1 (LRT-1)'s Cavite extension project, which is eyed for partial operability this year, DOTr Secretary Arthur Tugade said.
"Nineteen years ago, this project was started. So, under the Duterte administration, we pushed and pushed hard," he said.
A total of 120 new trains, also known as light rail vehicles or LRVs, will be given to the LRT-1, a project funded by the government of Japan through the Japan International Cooperation Agency.
The Japanese embassy said the undertaking forms part of a project to enhance the capacity of mass transit systems in Metro Manila, which includes support for the expansion of the LRT-1 and LRT-2.
"By procuring new LRVs, rehabilitating existing facilities, constructing line extension, and expanding current depots, the said project aims to improve the capacity of the LRT and deliver a safer, more reliable, and punctual railway system to commuters in the capital," it said.
The 11.7-kilometer Cavite extension project is being undertaken by the Light Rail Manila Corp., a consortium composed of Metro Pacific Light Rail Corp., AC Infrastructure Holdings Corp. and Macquarie Infrastructure Holdings (Philippines) PTE Ltd. which is the private operator of the LRT-1.
The project is expected to service and benefit 800,000 passengers daily by cutting down travel time between Baclaran and Bacoor from one hour and 10 minutes to just about 25 minutes once completed.
From Baclaran, eight more stations – Redemptorist, MIA, Asiaworld, Ninoy Aquino, Dr. Santos, Las Piñas, Zapote, and Niog – will be added, which will increase the total number of LRT-1 stations from 20 to 28.
Tugade said the extension will have partial operability from its Baclaran to Dr. Santos stations by December.