2 dead, 14 hurt in road mishaps
December 12, 2020 | 12:00am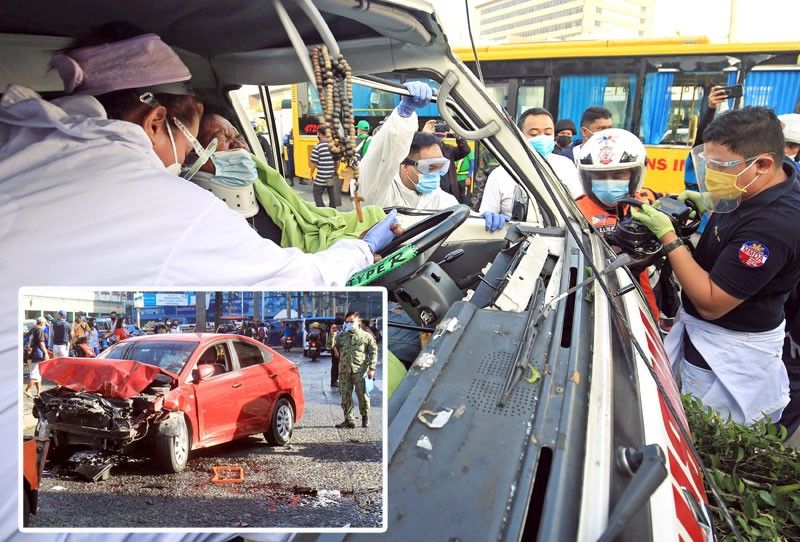 MANILA, Philippines — Two persons were killed while 14 others were injured in three separate road accidents in Metro Manila yesterday.
In Manila, a man died and six persons were hurt when a car hit several vehicles in Divisoria.
Armando Pitas, 55, was driving his Hyundai Accent along C.M. Recto Avenue when he hit a pedicab just before 7 a.m., according to Capt. Jaime Gonzales of the Manila Police District's traffic vehicle investigation section.
The impact caused the pedicab to hit a parked sedan. Pitas' car hit Lauro Lucaylucay, 53, who was riding his bicycle, and then an electric tricycle, injuring the driver and two passengers.
Lucayucay died at the scene while the other victims were rushed to the Gat Andres Bonifacio Medical Center for treatment.
Gonzales said Pitas was arrested and charged with reckless imprudence resulting to homicide, multiple physical injuries and multiple damages to property.
In Pasay, eight persons were hurt when a bus crashed into an ambulance carrying a pregnant woman along EDSA at around 7 a.m.
Pasay Disaster Risk Reduction and Management Office team leader Randy Hizola said the bus hit the driver's side of the ambulance, which was used by a barangay in Las Piñas.
"Maybe the bus (driver) did not see the ambulance when it crossed, because of the emergency. Sometimes, ambulances continue despite a stop in the traffic light. Maybe the bus (driver) did not see it, so there was a collision," he said.
The pregnant woman was brought to the Fabella Hospital in Manila while the other injured were brought to the Pasay General Hospital.
"There were no serious injuries, really. A patient, however, had a cut on the back of her head. She was the first one who was brought to the Pasay General Hospital," Hizola said in Filipino.
The driver of the ambulance was pinned to his seat but was cut free after 30 minutes, Hizola added.
Meanwhile, a security escort of Metro Manila police chief Brig. Gen. Vicente Danao Jr. died when the motorcycle he was riding slammed into a concrete barrier at the Ortigas flyover in Mandaluyong City on Wednesday, police reported yesterday.
Danao visited the wake of Executive M/Sgt. Nicanor Zablan III yesterday in Manila. Zablan was one of Danao's motorcycle security escorts who had been with him since he was chief of the Manila Police District.
Zablan was traversing the southbound lane of the Ortigas flyover in Barangay Wack-Wack at around 2:30 a.m. when his motorcycle slammed into a concrete barrier at a dark portion of the road.
Rescuers brought the policeman to a hospital where he died while undergoing treatment.