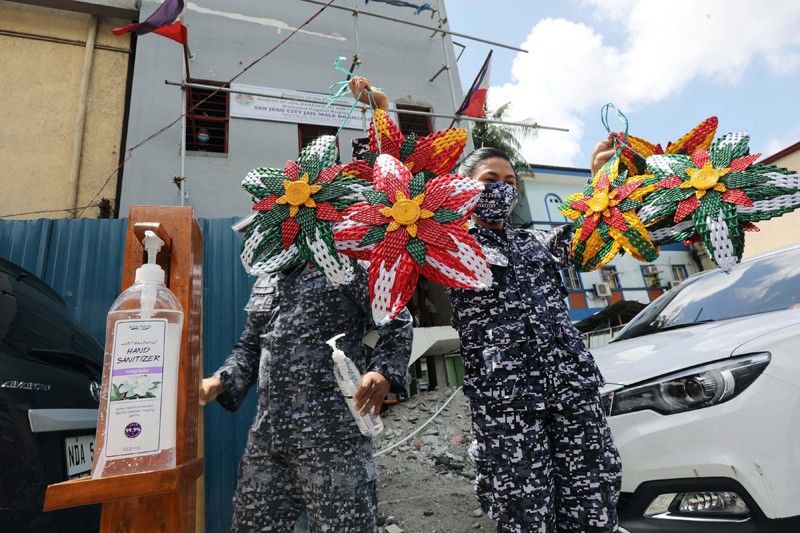 Guards at the San Juan City jail show a wooden hand sanitizer dispenser and Christmas lanterns crafted from old newspaper by the jail's inmates yesterday.
Boy Santos
Zamora: San Juan safe for Christmas shoppers
MANILA, Philippines — As the country enters its four-month run-up to Christmas, Mayor Francis Zamora has assured the public that San Juan's famed shopping district is relatively safe, with health and safety protocols in place.
Zamora said the number of people visiting Greenhills Shopping Center – the busiest during the "ber" months – "declined dramatically" during the past two months.
"For me, this is a sign that our citizens have grown disciplined, meaning they only head outdoors when necessary," he told "The Chiefs" on One News/TV5 on Monday night.
San Juan emerged as one of the first virus epicenters after a number of cases were traced back to Greenhills Shopping Center.
For weeks since March, Barangay Greenhills – where the shopping center is also located–was among the villages declared as hotspots due to the clustering and high number of cases.
According to latest available data, active cases were concentrated in at least five barangays in the city, but Barangay Greenhills only has 14 active cases as of Aug. 27.
Despite the decline of shoppers and people's growing preference to shop online, Zamora said he has a rosy outlook for this year's shopping season.
"It is safe to go to San Juan and Greenhills. I understand that there is a stigma when you say Greenhills because people remember that this was where the first local transmission of COVID-19 was recorded," he said.
"But we have disinfected the mall and placed strict health and safety protocols to prevent the spread of the virus among shoppers," he added.
Stalls have more space between them and hallways have been marked to control customer traffic, according to the city government.
"With regards to how they will modify their mode of sales, I think people still go to Greenhills to enjoy the experience. I believe that a lot of shopping is now done online but it's still different to shop physically, to actually fit for apparel," Zamora said.
When asked how the mall administration could address the possible spread of COVID-19 among customers fitting clothes, he said the matter still needs to be consulted with the Department of Trade and Industry.
As of Aug. 27, San Juan recorded 514 active COVID-19 cases, 64 deaths and 1,260 recoveries ­– a total of 1,838 confirmed cases.