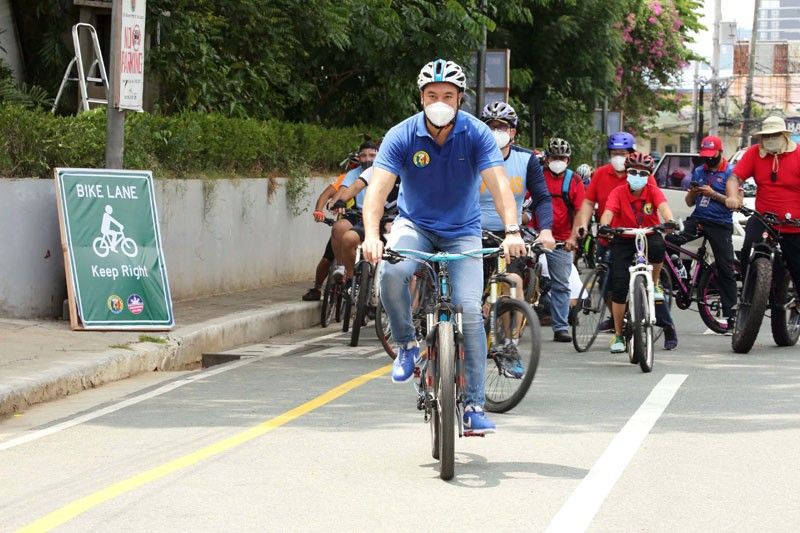 San Juan Mayor Francis Zamora rides a bicycle during the launching of pop-up bike lanes along Pinaglabanan street.
Boy Santos
San Juan launches pop-up bike lanes
MANILA, Philippines — Coinciding with the observance of World Bicycle Day, the San Juan government yesterday opened pop-up bicycle lanes along streets passing through major landmarks in the city to promote bikes as an alternative means of transportation while public transport remains limited under quarantine restrictions.
Under the first phase of the bike lane, cyclists can start using the 4.21- kilometer lane from N. Domingo street to Ortigas Avenue, which will pass through the San Juan Medical Center, city hall, Greenhills Shopping Center and Cardinal Santos Medical Center.
The project will be expanded to cover the streets of F. Manalo, Blumentritt, P. Guevarra and Wilson after completion of the first phase.
"In the past months, we have seen the benefits of bicycles amid the lack of public transportation. Like here in San Juan, only tricycles are allowed to operate," Mayor Francis Zamora told reporters. "Bicycle does not only enable the public to observe social distancing, it is also sustainable, environment friendly and promotes an active lifestyle."
Zamora assured cyclists that enforcers would be manning entry points of the bike lanes to ensure their safety.
To implement the project, the local government partnered with EDSA Evolution, a group that advocates cycling and other forms of mobility as a staple on roads.
Improvised bike lane
The Metropolitan Manila Development Authority (MMDA) confiscated the makeshift traffic cones set up by a cyclist group for a bicycle lane along Commonwealth Avenue.
On Facebook, the volunteer group Bikers United Marshall took videos of their encounter with MMDA enforcers.
MMDA spokesperson Celine Pialago said she was approached by the group and challenged her to join them in their initiative.
"We share their sentiment for a protected bicycle lane. But an improvised bike lane without coordination with the government is not the solution," Pialago said.
The MMDA opposed the idea of a pop-up bike lane, opting instead for an elevated, dedicated bike lane separate from the road.
The city council of Taguig has approved an ordinance promoting the use of bicycles as an alternative mode of transportation.
Bike lanes were set up along C-6 from Lakeshore Hall to Bay Breeze Executive Village, Bayani Avenue to Western Bicutan and Cayetano Boulevard from C-5 to the city hall.
QC bike routes
The Quezon City government has committed to further develop bike routes in the city as part of efforts for sustainable recovery and in support of the global clean air initiative.
From the initial 55 kilometers of bike routes established in 2018, Mayor Joy Belmonte said they are planning to expand further to 161 kilometers throughout the city.
She noted the increasing number of residents and workers using bicycles amid the lack of public transportation.
"This project is our priority even before COVID-19 happened as part of our global commitment to reducing air pollution by 2030," Belmonte said.
The city plans to upgrade existing bike routes by placing barriers, markers and other infrastructure to ensure the safety of cyclists. Marc Jayson Cayabyab, Ghio Ong, Janvic Mateo