DOH to resume vaccination vs polio in Mindanao
January 2, 2020 | 12:00am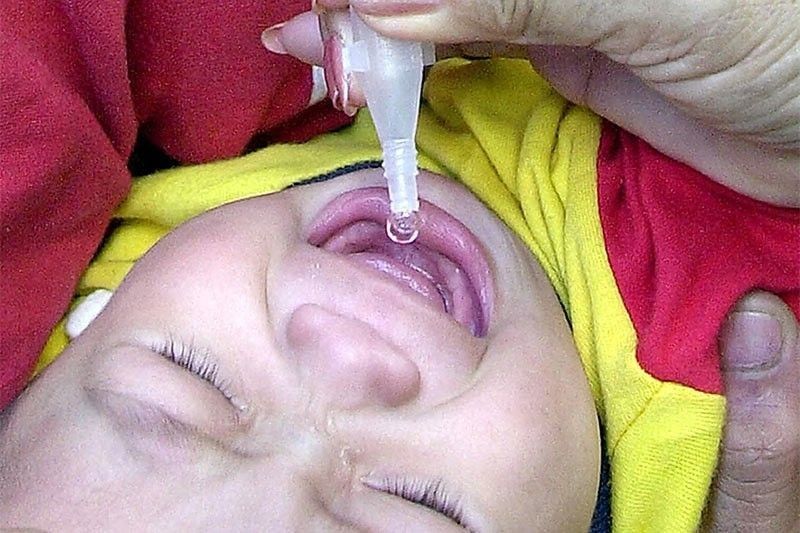 MANILA, Philippines — The Department of Health (DOH) will resume its anti-polio vaccination in Mindanao next week.
DOH spokesman Eric Domingo said the immunization campaign would target children who received two doses of oral polio vaccine in 2019.
"OPV is given in three doses – at 14 weeks (of life), 18 weeks and 22 weeks. It is important for the children to be fully immunized to ensure their protection against polio," Domingo said.
The DOH announced last September that vaccine-derived wild poliovirus reemerged in the country after 19 years. Eight cases were documented, seven of them in Lanao del Sur, Maguindanao, Sultan Kudarat, Cotabato City, North Cotabato and Basilan.
Domingo said 95 percent or 2,937,327 of the 3,102,974 targeted children aged zero to 59 months were vaccinated against polio in Mindanao from Nov. 25 to Dec. 13.
He said vaccination coverage in the Zamboanga peninsula was at 94.2 percent; Northern Mindanao, 94.9 percent, and Davao, 95.6 percent.
In Soccsksargen, 92.1 percent of targeted children received anti-polio vaccine, 94.2 percent in Caraga and 96.7 percent in the Bangsamoro Autonomous Region in Muslim Mindanao.
"We are happy with the results but we don't want to be complacent. We will continue if there will be new cases... We will continue doing environmental sampling to check if there is poliovirus in the water system," Domingo said.
He said another round of vaccination would be conducted if necessary.