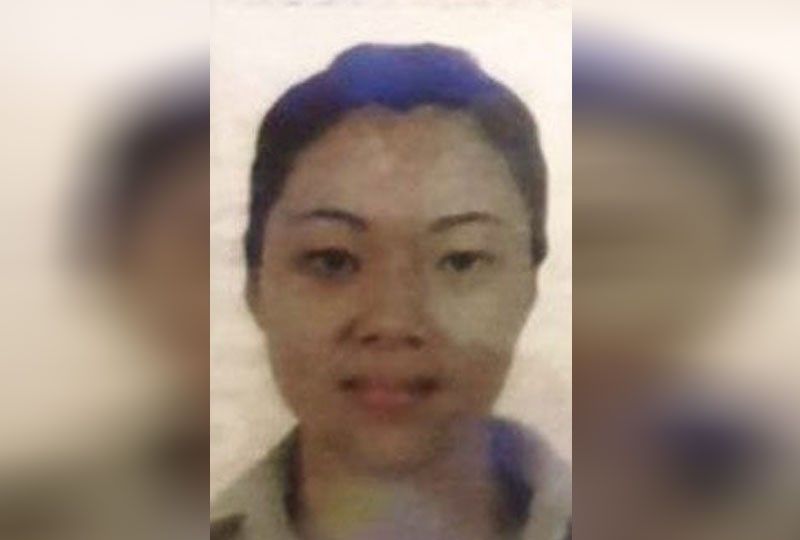 Passport photo of Zhou Mei provided by the Makati police.
PNP probes kidnapping of Chinese POGO worker
MANILA, Philippines — The Philippine National Police (PNP) is looking into the alleged kidnapping of a Chinese woman by unidentified men in Makati's financial district, which was caught on video on Monday night.
Zhou Mei, 28, an employee of a Philippine Offshore Gaming Operator (POGO) firm, was seen in a viral video being dragged by three Chinese men into a gray Kia Carnival (LSA-880) at the corner of Paseo de Roxas and Nieva street.
Maj. Gideon Ines, head of the Makati police investigation unit, said Zhou was heard screaming in the video before the van sped off.
City police chief Col. Rogelio Simon said it was possible that Zhou knew her supposed kidnappers.
Police said they traced the license plate of the van to a Mitsubishi L-300, which was registered to Feng Cao.
Probers said they were verifying report that someone was asking money from Zhou and her partner, Chen Tangbin.
The relatives and friends of Chen went to the Makati police station yesterday to confirm that Zhou had been kidnapped.
Probers said they were looking into the possibility that Zhou owed her kidnappers money, which is common in POGO-related kidnappings.
Lt. Col. Jowel Saliba, spokesman for the police Anti-Kidnapping Group, said nobody has approached them so far about the incident.
Saliba said they have yet to obtain strong evidence, which would suggest that the incident was a case of kidnapping.
"Wala pang lumalapit sa amin regarding this issue, but we are conducting our own investigation," he told reporters.
Makati Mayor Abigail Binay ordered the local police to heighten visibility around the city.
"All leads are being pursued to identify the suspects and locate the victim's whereabouts," Binay said.
The incident came days after Binay declared a moratorium on the issuance of business permits to POGOs amid the alleged rising cases of crimes and prostitution in the city.
Isolated case – Palace
The kidnapping of a POGO worker in Makati is an isolated incident, Malacañang said yesterday.
Presidential spokesman Salvador Panelo allayed public fears of possible resurgence of kidnappings in Metro Manila after a video of the Makati incident went viral overnight.
Panelo expressed concern over the incident, but said kidnapping is not rampant in the metropolis.
"I think that particular incident is isolated. I have not heard of any kidnapping cases reported by the media or whether word of mouth except for the video that went viral," he said.
Panelo urged the people to be more vigilant while in public places.
Senators Joel Villanueva and Ronald dela Rosa urged the PNP to scrutinize the reported kidnapping in Makati, which they said was caused by the government's lax policy on the entry of foreign workers in the country. – With Christina Mendez, Cecille Suerte Felipe