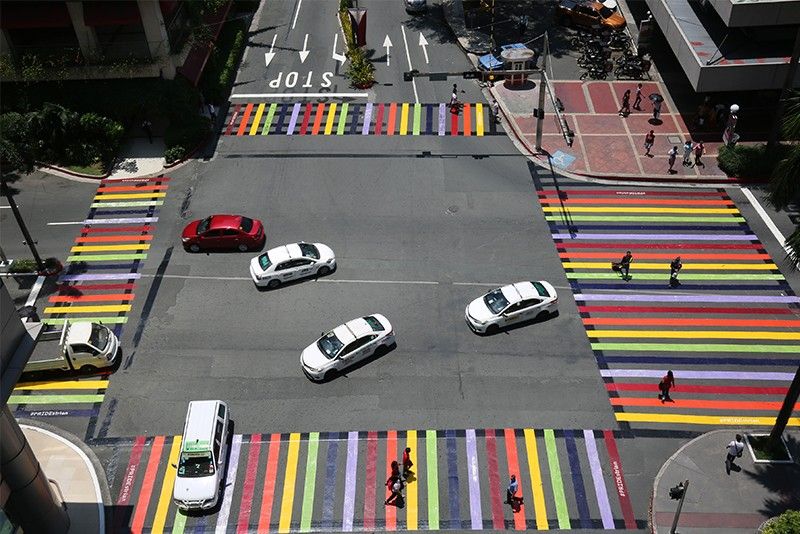 In this file photo, a pedestrian crossing at Araneta Center Cubao is painted in rainbow colors for Pride Month.
The STAR/Michael Varcas
Belmonte condemns discrimination vs transgender woman at Cubao mall
(Philstar.com) - August 14, 2019 - 9:19am
MANILA, Philippines — Quezon City Mayor Joy Belmonte has ordered a check on compliance with the city's Gender Fair Ordinance after discrimination against a transgender woman at a mall in Cubao on Tuesday night.
Gretchen Custodio Diez, a transgender woman, was blocked from using the women's restroom at Farmers Market in Cubao on Tuesday.
She brought to the mall's security office when she later tried to take a video asking the maintenance staff who barred her from the restroom why she wasn't allowed inside.
She was later brought to the Cubao police station and then to the Quezon City Police District's Anti-Cybercrime Division in Camp Karingal for taking the video without permission.
"We condemn this kind of discrimination towards members of the LGBT+ community," Belmonte said in a statement to media.
The Quezon City government passed an ordinance in 2014 that penalizes discrimination against LGBTs, which includes heckling, verbal or non-verbal ridicule and vilification as well as the refusing services and accomodations based on a person's sexual orientation, gender identity and expression (SOGIE).
The ordinance also requires government agencies, private offices and commercial establishments to "designate toilet rooms and lavatories labelled as all gender [comfort rooms]."
Citing the city's Gender Fair Ordinance, Belmonte said in Filipino that "the city prohibits all kinds of discrimination and protects and respects the dignity and human rights of all, especially the LGBT+."
She added the incident should not have happened since the ordinance requires "all-gender toilets" in establishments, saying in the statement that the mall had "clearly violated" this provision.
"I am ordering the Business Permit and Licensing Department to make sure that all business establishments are complying with the Gender Fair Ordinance," she also said.
Belmonte also assured the LGBT+ community that the city respects their rights and will always be "a home for their sexual orientation, gender identity and expression."
'Harassed for living her truth'
Sen. Risa Hontiveros, who has been pushing for passage of a bill against discrimination based on a person's SOGIE, called the incident unaceptable.
"She is being harassed for living her truth. Discrimination against transgender people has to stop!" Hontiveros said in a Facebook post on Tuesday night.
Rep. Geraldine Roman (Bataan), the first transgender woman at the House of Representatives, went to Quezon City Police Station 7 to show support for Diez and to explain to the mall's custodial staff that discrimination against LGBTs is not allowed in the city.
"She is a person and a fellow Filipino who has the right to relieve themselves and to use the restroom," she said in Filipino in a video posted on Facebook, saying the incident is a "very bad reflection on the lack of gender sensitivity" at the mall.
Roman also assured Diez that allies in Congress who will "defend the rights and dignity of all Filipinos, including the LGBT."
She also told media that she will call for an investigation in aid of legislation over the incident.
"The LGBT community might be a minority but they are still Fils whose rights have to be protected and we as members of Congress have to stand up for equality," she also said.
SOGIE bill
The proposed Sexual Orientation, Gender Identity and Expression Equality bill, which the 17th Congress failed to pass was meant to address, penalize and prohibit "discrimination, marginalization, and violence on the basis of sexual orientation, or gender identity or expression" and to promote non-discrimination through government programs and initiatives.
According to House Bill 4982, sexual orientation is to whom "emotional, sexual attraction, or conduct" is directed while gender identity is "the personal sense of identity as characterized, among others, by manner of clothing, inclinations, an behavior in relation to masculine or feminine conventions."
Gender expression, meanwhile, is "the communication of gender identity through means such as behavior, clothing, and hairstyles, communication, or body characteristics."
The bill has been refiled at the 18th Congress.