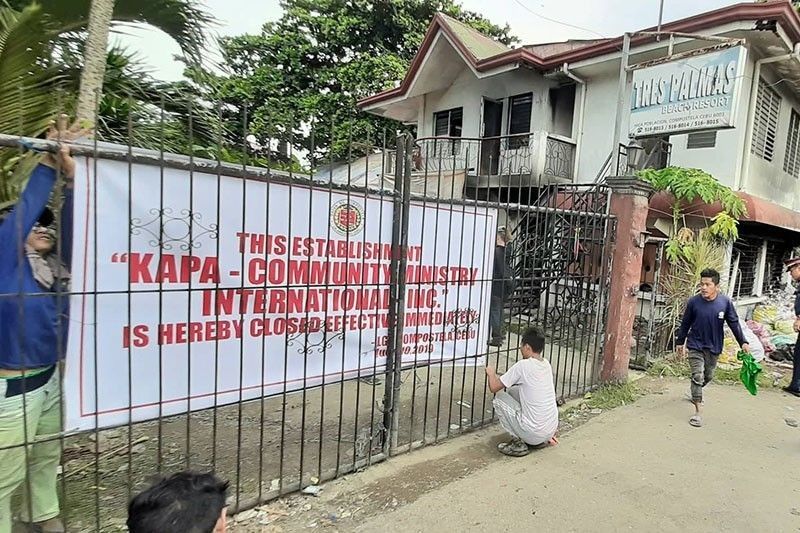 PNP spokesman Col. Bernard Banac said victims of KAPA should cooperate with authorities to ensure a tight case against the religious organization.
File
File complaints, Kapa investment scam victims told
MANILA, Philippines — The Philippine National Police (PNP) urged people victimized by Kapa Community Ministry International Inc. (KAPA) and other groups involved in investment scams to surface and file complaints.
PNP spokesman Col. Bernard Banac said victims of KAPA should cooperate with authorities to ensure a tight case against the religious organization.
"They will be a big help in the ongoing investigation," Banac told a press briefing at Camp Crame.
The Securities and Exchange Commission said KAPA has pooled around P50 billion from around five million of its members, who are required to make a minimum investment of P10,000.
President Duterte ordered the closure of KAPA and other groups involved in investment scams, saying it is a form of syndicated estafa.
Banac expressed concern that there are few complainants against KAPA, which might result in the dismissal of the cases.
Syndicated estafa
The National Bureau of Investigation (NBI) said syndicated estafa charges would be filed against officials of KAPA.
Agents of the NBI and police Criminal Investigation and Detection Group raided the offices of KAPA in Taytay, Rizal; Bagabag, Nueva Vizcaya, and Compostela, Cebu on Monday.
Authorities also swooped down on the house of KAPA founder Joel Apolinario in General Santos City and KAPA offices in Tagum, Davao del Norte, Tacloban, Bukidnon and Cagayan de Oro City.
"Based on the documents and other items we seized, we have sufficient evidence ... against Joel Apolinario and his accomplices," NBI deputy director for forensic investigation Ferdinand Lavin said.
Lavin said they are coordinating with the Bureau of Immigration (BI) to locate Apolinario, whom they believe is planning to leave the country.
"We have yet to receive an order for their inclusion in our derogatory records... As a precautionary measure, we have informed all ports to monitor the departure of KAPA officials," BI spokesperson Dana Sandoval said.
'Donations, blessings'
Antonio Pagatpat, NBI deputy director for regional operation services, said their agents managed to infiltrate the organization and learned that it was not conducting religious activities.
"All they do is sign documents and receive money from members in the form of donations... the members in return receive a 30 percent interest, which they call blessings," Pagatpat said.
The NBI said businesses registered under KAPA are mostly sole proprietorships under the name of Apolinario's wife Reina Lobitaña. Most of these businesses were registered with the Department of Trade and Industry only last year.
Attack vs religion
Meanwhile, KAPA members are set to hold a prayer rally tomorrow in General Santos City even as they decried the raids on their offices as an attack against religion.
Apolinario announced over KAPA's radio station dxMW that the prayer rally is part of their Week of Prayer activities.
Apolinario claimed they have around 15 million members and supporters.
KAPA lawyer Reollen Gillesania said they would file charges against those who raided their offices.
"Contributions and donations received by KAPA are part of religious practices. Government raiders violated a court injunction... pending resolution of the issue we raised that since KAPA Ministry is a religion, they must respect the... separation of church and state," Gillesania said. – Ben Serrano, Miriam Desacada