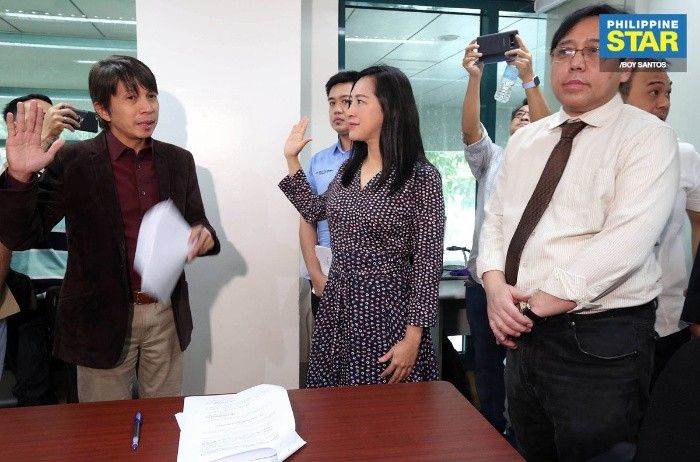 Quezon City Vice Mayor Joy Belmonte files a libel case against Manuel "Manoling" Morato and tabloid 'SAKSI' reporter Joel Amongo for publishing a "factually incorrect and malicious" article.
STAR/Boy Santos
Belmonte files libel case vs Morato, tabloid execs
Janvic Mateo
(The Philippine Star) - February 19, 2019 - 12:01am
MANILA, Philippines — Quezon City Vice Mayor Joy Belmonte yesterday filed a libel complaint against former Philippine Charity Sweepstakes Office chairman Manuel "Manoling" Morato and 10 others over the publication of an article accusing her of graft.
The case stemmed from the Feb. 15 banner story of tabloid Saksi Ngayon, which Belmonte said maliciously implied that she committed a crime despite its basis being a complaint and not an actual court ruling.
"The (head)line itself... implies that I have already been dubbed guilty of a complaint filed at the Office of the Ombudsman, but whoever is maligning me will be unhappy to know that, as of press time, I have received no such complaint as the Office of the Ombudsman has not yet established whether the complaint itself has substance," Belmonte said in a prepared statement.
"It is only after they have established probable cause can the ombudsman file an actual case. Moreover, the complaint had already been dismissed by the city prosecutor in November 2018. It appears to me that this is a clear case of forum shopping that I will not take sitting down," she added.
Aside from Morato, also charged with libel in violation of the Revised Penal Code and cyber libel in violation of Cybercrime Prevention Act were reporter Joel Amongo, former congressman and Saksi Ngayon chairman of the board Antonio Lagdameo Jr. and the tabloid's president and publisher Victor Rodriguez.
The complaint also named Saksi Ngayon general manager and vice president Mina Satorre; advertising sales manager Tess Sorsogon; circulation manager Lito Tugadi; managing editor Jesus Galang; and board of editors Eralyn Prado, Virginia Romano and Ruben Banares.
A group of volunteer lawyers led by former Quezon City councilor and Land Transportation, Franchising and Regulatory Board board member Ariel Inton would represent the vice mayor in the case.
Incorrect, maliciously
In her 23-page complaint, Belmonte said Morato gave an interview and served as the source of the article, which claimed that she committed graft by approving a resolution that allegedly favored her three brothers.
But the vice mayor stressed that the story was factually incorrect, noting that the presiding officer cannot introduce any proposed legislation and votes only when it is necessary to break a tie.
The questioned resolution, which granted an exception to parking and density requirements for the construction of a 21-story residential building, was approved unanimously by the council.
Moreover, it was Councilor Lena Marie Juico who signed the resolution as she was serving as acting presiding officer at the time of its approval.
Contrary to the claims made in the article, Belmonte also maintained that her brothers have no interests in the project.
The vice mayor said she was constrained to file the libel case "to do justice to the truth," expressing confidence that she will be cleared of the accusations made in the report which she said was malicious and was not made in good faith.
In a statement, Saksi Ngayon stood by its story, saying it was based on a legitimate claim and that it should be left to the public to decide whether their story was "fake news" or not.
Belmonte said the statement "is nothing but insults and sarcasms," claiming that it made a mockery of her previous statement thanking lawyers who offered to support her.