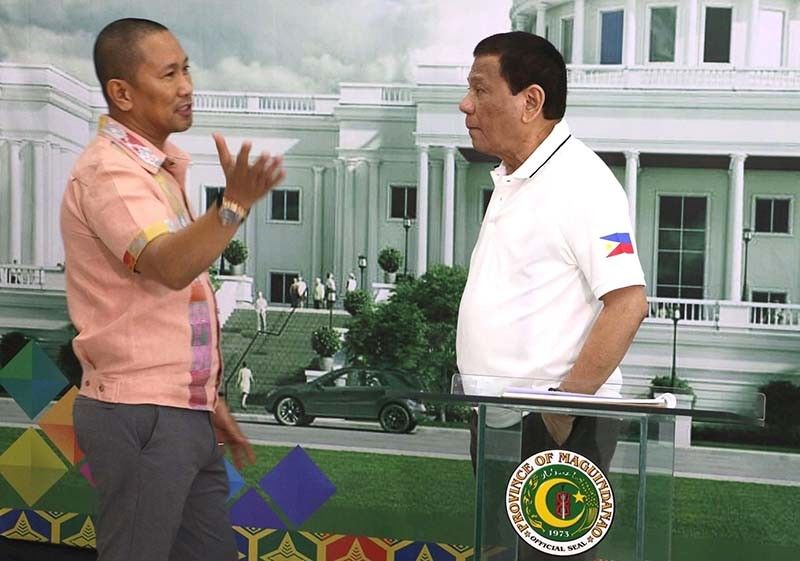 President Rodrigo Duterte and Gov. Esmael Mangudadatu discuss the Mindanao peace process during their meeting in Buluan, Maguindanao on Monday.
John Unson
Duterte urges Maguindanao residents to support BARMM
John Unson
(Philstar.com) - February 13, 2019 - 8:16am
MAGUINDANAO, Philippines — President Rodrigo Duterte this week urged residents of Maguindanao to support the implementation of the Bangsamoro Organic Law, which the province and region have ratified in a January plebiscite.
The BOL, Republic Act 11054, is the enabling measure for the replacement of the Autonomous Region in Muslim Mindanao with a Bangsamoro Autonomous Region in Muslim Mindanao, or BARMM.
The president's call for communities to help the BARMM take off was explicit in his message during his turnover of certificates of land ownership awards, or CLOAs, to landless farmers at the municipal gymnasium in Buluan town, the provincial capital.
The creation of the BARMM was premised on compacts reached by the government and the MILF in two decades of peace talks.
"Your arms, you can bury it. You no longer need it. Just one shot and there will be chaos. If we are just quiet, we can talk and we can give help that should be given to you," Duterte said in the presence of ARMM Gov. Mujiv Hataman and Maguindanao Gov. Esmael Mangudadatu.
Hundreds of landless Muslim, Christian and Lumad farmers in Maguindanao received CLOAs on Monday as beneficiaries of the Comprehensive Agrarian Reform Program.
Among those who received CLOAs from the Department of Agrarian Reform-ARMM on Monday in Buluan are farmers who belong to the MILF and to indigenous hinterland communities.
Mangudadatu said in a welcome speech acknowledging Duterte's second visit to Maguindanao since his election to office in 2016 that residents of Maguindanao are thankful for Malacañang's effort to end decades conflict in parts of Mindanao.
"We shall be forever grateful to you, Mr. President," Mangudadatu said.
Duterte said he will focus the last three years of his administration on programs meant to foster lasting peace in southern Moro areas.