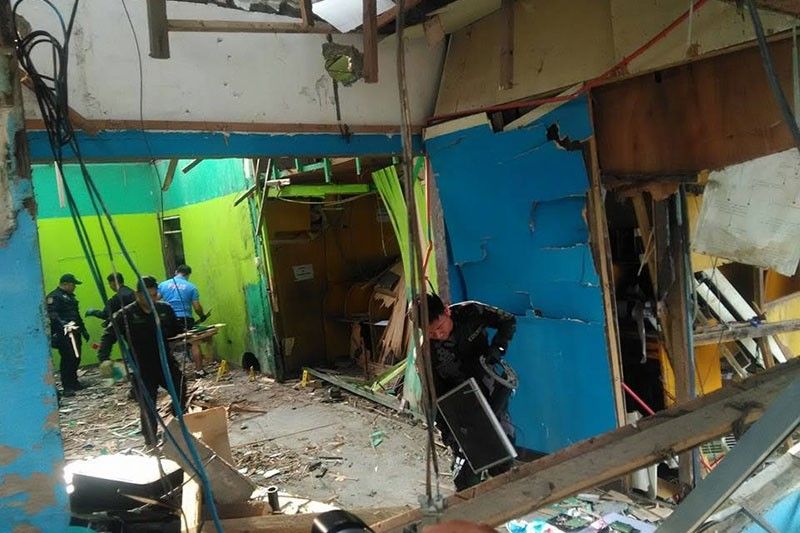 The military encouraged local governments to put up identification systems in the absence of a National ID, which has yet to be implemented.
Rhoderick Beñez, file
Military sees 'gaps' in community vigilance in Isulan bombings
ZAMBOANGA CITY, Philippines — The military said Isulan residents could have been more vigilant against bomb attacks in the capital town of Sultan Kudarat last week despite tight security.
In a briefing, Brig. Gen, Cirilito Sobejana, Joint Task Force Central commander, said the community had failed to prevent bombers from bringing in improvised explosives. The blasts in Barangay Kalawag on August 29 and September 2 left five people dead and close to 50 others wounded.
"We saw that there is a gap in the manner of covering the security of Isulan, not necessarily in providing army and police [personnel] in the security. But the gap that we saw here is the commitment of the local community," Lt. Col. Gerry Besana, spokesman of Western Mindanao Command, said.
"We have to strengthen more the community vigilance. That was the problem, We have been saying always that your Armed Forces and your PNP cannot cover inch-by-inch of security in the respective locality. It's still the owner of the house or the people themselves who should guard their place. We don't have to rely everything to the security forces," Besana said.
He said Isulan has porous boundaries, which means people can slip in and out despite security checkpoints.
He added residents know best whether there are new people in their area and that these should be reported to authorities. "So, if there is a suspicious person and nobody cares, it will be useless however tight is the security being implemented."
He added the military is encouraging local government units to set up an identification system in the absence of a National ID. President Rodrigo Duterte signed the Philippine System Identification Act into law in August.
Police tighten security in central Mindanao
Police have meanwhile put central Mindanao under heightened security over reports that newly-trained bomb makers of the Bangsamoro Islamic Freedom Fighters — the group the police and military believe are behind the Isulan bombings — might mount fresh attacks.
Philippine National Police Deputy Director General Archie Gamboa and police officials from Region 12 and the Autonomous Region in Muslim Mindanao met in General Santos Wednesday and planned out measures meant to prevent a repeat of the bombings.
Among the security issues discussed during the meeting were the presence of local Islamic State-inspired blocs in ARMM and Region 12 and the need for coordination among law enforcement units and local executives in keeping them in check.
Chief Superintendents Graciano Mijares and Eliseo Rasco, police directors for ARMM and Region 12, respectively, have promised to help each other put closure to the two deadly bombings in Isulan.
Isulan is the capital of Sultan Kudarat in Region 12, but the group that pulled off the attacks were said to have come from Shariff Saidona Mustapha in Maguindanao, a province in the autonomous region.
Superintendent Aldrin Gonzalez, spokesman of Police Regional Office-12, said probers are now validating the identities of the culprits based on information from residents of Isulan and nearby towns.
Key Army intelligence sources said Thursday the bombings in Isulan were perpetrated by followers of Abu Toraife, leader of one of three factions in the BIFF.
Abu Toraife and his followers are holding out in marshlands in the second district of Maguindanao that connect to the 220,000-hectare Liguasan Delta.
Don't panic, residents told
Talk has been spreading since Monday that Abu Toraife's group plans to set off improvised explosive devices in other targets in Sultan Kudarat province.
Mijares said the chiefs of police in towns in the second district of Maguindanao are also monitoring the reported plan of the BIFF to smuggle in powerful IEDs.
"People should not panic because these stories and text messages spreading around are still to be validated. Even so, we are not taking chances. We are doing our best to address these security concerns," Mijares said.
Gonzalez said Rasco, who took over as director of PRO-12 last month, has ordered all chiefs of police in Sultan Kudarat to enlist the help of barangay officials in gathering information on potential attacks.
"The police can only succeed in its anti-terror campaign with the help of the Muslim, Christian and Lumad sectors in Region 12. The PRO-12 is thankful to local officials for cooperating with us in that regard," Gonzalez said.
Sobejana said soldiers at checkpoints along highways in central Mindanao will continue with their extensive inspection of vehicles and motorcyclists carrying backpacks.
He said soldiers will also inspect utility boxes on motorcycles. — John Unson reported from General Santos City