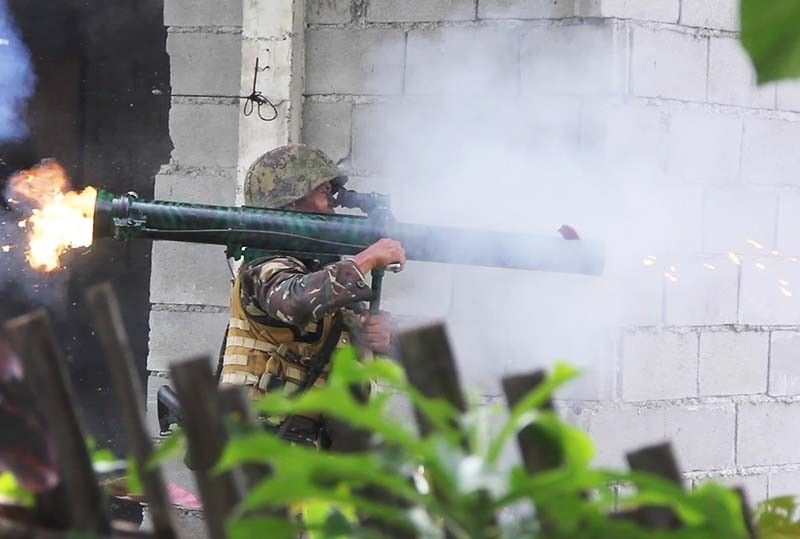 A soldier fires a 90 millimeter explosive projectile using a recoilless launcher at militants in a marshland in Maguindanao, scene of continuing clashes since Sunday between state forces and the Bangsamoro Islamic Freedom Fighters.
Philstar.com/John Unson
Army officer, BIFF commander killed in continuing Maguindanao skirmishes
MAGUINDANAO, Philippines — An Army lieutenant and a senior commander of the Bangsamoro Islamic Freedom Fighters perished in clashes on Wednesday in Mamasapano, Maguindanao.
2Lt. Junibert Zunio of the 40th Infantry Battalion, died from gunshot wounds he sustained in a gunfight with the group of BIFF Commander Marrox, who was also killed in the encounter.
Zunio was in a platoon dispatched Wednesday morning to Barangay Pidsandawan, Mamasapano to check on reports from villagers purporting that gunmen led by Commander Marrox were roaming in the area, collecting food and money from farmers.
Barangay officials and members of the municipal peace and order councils in the second district of Maguindanao said four followers of Marrox also perished in the skirmishes.
Local officials said Marrox was one of more than a dozen BIFF commanders blamed for the deaths of 44 members of the police's Special Action Force in an encounter in Mamasapano's adjoining Barangays Pidsandawan and Tukanalipao on Jan. 25, 2015.
The SAF commandos were retreating from an interior area in Mamasapano where they have killed Malaysian terrorist Zukifli bin Hir, most known as Marwan, in an operation before dawn that day when they were attacked by BIFF gunmen and members of the Moro Islamic Liberation Front.
The incident sparked a standoff in the peace engagements between the government and the MILF, supposedly bound by a ceasefire accord forged by negotiators from both sides in July 1997.
The MILF had said the bloody encounter could have been avoided had the police coordinated the anti-terror operation that went haywire in keeping with security protocols indicated in all of its interim security agreements with Malacañang.
Local officials said Thursday 13 BIFF gunmen, including Marrox, have been killed in a continuing showdown with units of 6th ID since Sunday morning.
The BIFF, which has three factions, uses the black Islamic State flag as revolutionary banner.
Major Gen. Arnel Dela Vega of the Western Mindanao Command on Wednesday urged hardcore BIFF bandits in central Mindanao's Maguindanao, North Cotabato and Sultan Kudarat provinces to surrender now and return to the fold of law while there is time yet.
Eighteen BIFF bandits, among them four bomb-makers trained by the slain Marwan in fabrication of improvised explosive devices, yielded to the 6th ID in three batches from between April to June this year.
They are now being reintegrated into mainstream society by the 6th ID and the office of Maguindanao Gov. Esmael Mangudadatu through socio-economic, education and other humanitarian interventions.
The BIFF has been trying to sabotage the current diplomatic overture between the government and the MILF, meant to put a negotiated closure to the Mindanao Moro issue hounding southern Mindanao since the late 1960s.