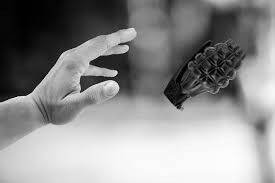 One of two men on a motorcycle that pulled over nearby hurled at the victims a fragmentation grenade.
File photo
4 hurt in central Mindanao bombings
John Unson
(Philstar.com) - April 17, 2018 - 10:31am
NORTH COTABATO, Philippines — Four were hurt in separate bombings that rocked central Mindanao late Monday in what authorities theorized as possible retaliations by militant blocs for losses in recent encounters with the military.
Chief Inspector Aldrin Gonzales, spokesman of the Police Regional Office-12, said Tuesday three farmers ---- Leonardo Baclayon, 56, Jerry Cordova, 44 and the 34-year-old Ariel Abrenica, 36 --- were drinking together in Barangay Kulambog in Pikit, North Cotabato when one of two men on a motorcycle that pulled over nearby hurled at them a fragmentation grenade.
The suspects hurriedly escaped riding their motorcycle without a license plate.
Responding police personnel and barangay officials immediately rushed the victims to a government dispensary in nearby Barangay Dualing in Aleosan town for medication.
An ambulant balut vendor named Dairy Joy Arayo was hurt in another explosion that ripped through a vital arterial intersection near the Army's Camp Siongco in Datu Odin Sinsuat town in Maguindanao also on Monday night.
Chief Superintendent Graciano Mijares of the Police Regional Office-Autonomous Region in Muslim Mindanao said Tuesday an improvised explosive device was used in the attack.
The IED was left by an unidentified man along a stretch of a national highway in Barangay Awang, Datu Odin Sinsuat and went off in only about 30 seconds.
Witnesses said they thought the bomber just disposed off some kind of rubbish and ignored what they saw until they heard an explosion that injured Arayo.
Arayo was immediately brought to the Camp Siongco Hospital for treatment of the shrapnel wounds she sustained in the bombing.
The scene of the explosion is just few meters from a sentry post of the Army's 6th Infantry Division, not too distant from the Maguindanao Airport and the entrance to Camp Siongco.
Camp Siongco, the largest Army facility in central Mindanao, is the command center of 6th ID.