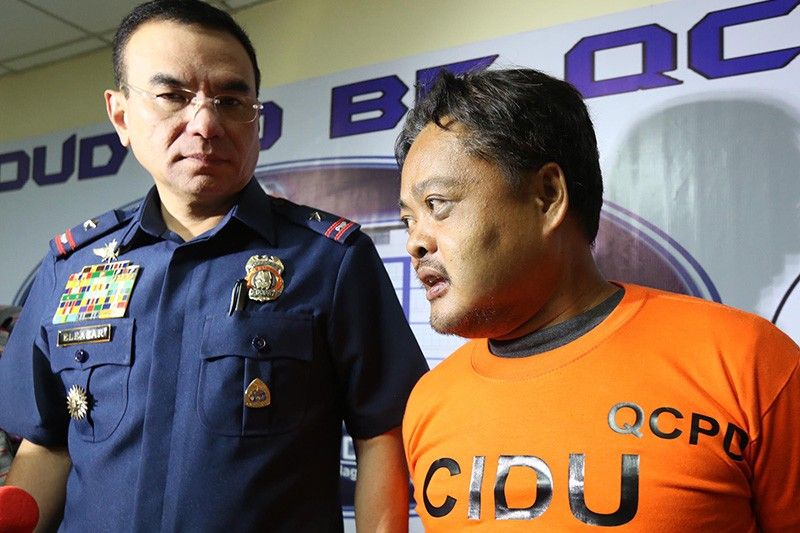 Quezon City Police District (QCPD) District Director P/CSupt. Guillermo Lorenzo Eleazar present to media arrested murderer suspect Orlando Estrera who mutilated his wife at Brgy. Holy Spirit in Quezon City.
Boy Santos
Man who chopped up wife charged with parricide
MANILA, Philippines — The Quezon City prosecutor's office has found probable cause to file charges against a man who murdered and mutilated his wife to pieces in Saturday.
Assistant City Prosecutor Nicasio Rosales recommended the filing of a parricide case against Orlando Estrera, 43, a maintenance worker accused of killing his wife, Heide, at their house along St. Michael Extension in Barangay Holy Spirit.
Estrera, a native of Davao Oriental, allegedly smashed his wife's head with a hammer and claimed he even ate her brains.
He also chopped his wife's corpse into several pieces. The victim's severed body parts were found by probers at their house.
Meanwhile, a police investigator said Estrera had a scuffle with another detainee at the Quezon City Police District's Criminal Investigation and Detection Unit's detention cell.
The investigator who spoke on the condition he is not named said Estrera suffered bruises on his face after a prisoner punched him.
"He poked the nose of the prisoner, who was sleeping," the police officer said in a brief interview yesterday.
Estrera has not shown remorse in killing his wife, according to probers familiar with the case.