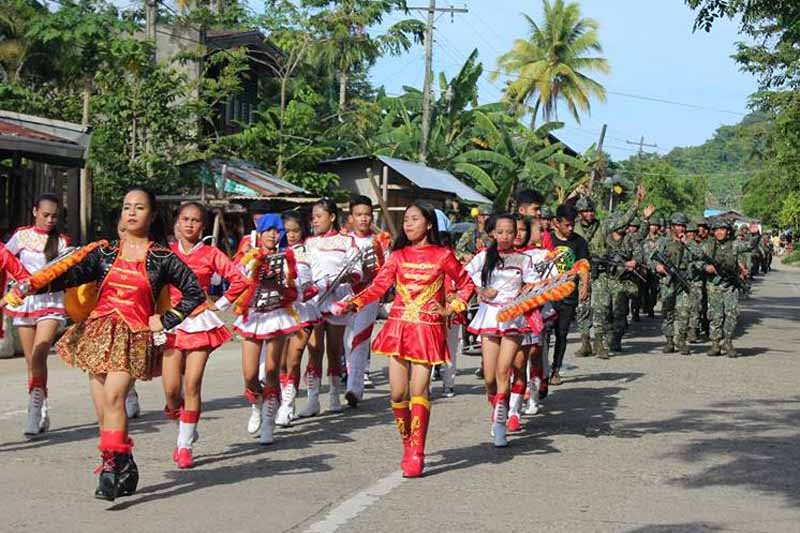 The Marine Battalion Landing Team-7 is given a hero's welcome in Kalamansig, Sultan Kudarat. John Unson
Marines get warm welcome in Kalamansig, Sultan Kudarat
John Unson
(philstar.com) - November 2, 2017 - 3:25am
SULTAN KUDARAT, Philippines — Marines pulled out from the province a year ago are back in Sultan Kudarat after helping in the fight against terrorism in Marawi City.
Members of the inter-agency peace and order council in Kalamansig, Sultan Kudarat said on Thursday that they are glad the Marine Battalion Landing Team 7 has been redeployed to the town.
Kalamansig is one of three seaside towns in Sultan Kudarat province that are being secured by units of the 1st Marine Brigade of the Philippine Marine Corps.
Local residents objected to the pull out of MBLT-7 more than a year ago when they were sent to Cavite for retraining.
Kalamansig Mayor Ronan Garcia said on Thursday that he is thankful to the Maj. Gen. Emmanuel Salamat, Philippine Marine Corps commandant, and Lt. Gen. Carlito Galvez, Jr. of the Western Mindanao Command for assigning the MBLT-7 to their town.
The MBLT-7 saw heavy action during the liberation of Marawi City from Maute and Abu Sayyaf gunmen.
More than 20 Marines from different units perished in fighting in Marawi City from May 23 to October 23.
Residents of Kalamansig gave the returning Marines a rousing welcome as the Navy ship that brought them back from Lanao del Sur arrived at their municipal port last Tuesday.
Lt. Col. Gerald Bautista, commanding officer of MBLT-7, said he and his men were touched by the warm welcome extended to them.