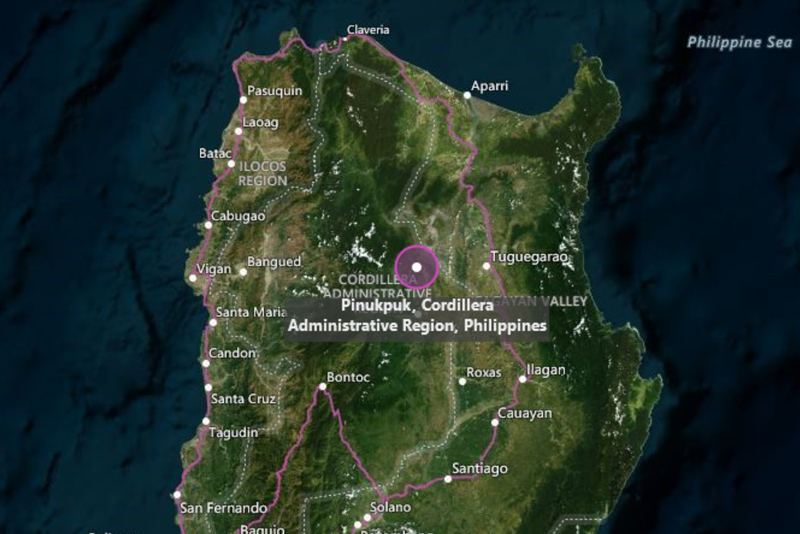 A group of unidentified gunmen stormed into homes in Pinukpuk town, Kalinga earlier this week. Bing Maps
Gunmen claim to be 'sent by Duterte' before robbing homes
LA TRINIDAD, Benguet — Six masked gunmen barged into the house of a businesswoman and her brother in Kalinga province on Monday and introduced themselves as "sent by President Duterte" to look for illegal narcotics.
"Where is the shabu? Someone tipped us. And where is the money?" the men asked Lilibeth Guzman Cabasag, 38, and teacher Jerremy Cabasag, 24, in Ilocano as they started searching the house in remote sitio Calbayan, Katabbogan, Pinukpuk town. Shabu is a local term for illegal crystalized methamphetamine.
One of the men pointed a short firearm at the businesswoman, grabbed her by her hair and ordered her to drop to the floor while his companions searched closets and drawers in the house.
The gunmen took from Lilibeth's house an M16 "baby" Armalite rifle and an undetermined amount of cash. Having a firearm in every house has been a tradition in Kalinga, which has a long history of tribal animosities.
After robbing the house, the gunmen also forced their way into Jerremy's home next door.
"Don't shout because Duterte sent us. We are only looking for something," one told the teacher while threatening him with a gun, according to the police report.
The others, meanwhile, searched the house for valuables and took Jerremy's wallet containing P1,300 in cash, a driver's license, three Landbank ATM debit cards, a professional license card and other government-issued IDs.
The police report indicates that the robbers fled on foot toward a national road before taking a white van and a black motorcycle mounted by a gunman who acted as a lookout.
Pinukpuk town policemen pursued the gang members but failed to arrest them.
The suspects appeared to be mimicking cops knocking on doors to plead drug users to surrender. The police operations, known as "tokhang," have been a key element in President Rodrigo Duterte's so-called war on drugs.
Critics have warned that the policy which, has led the deaths of thousands, could used by crooks to further their activities.
A group of cops were recently charged of killing a South Korean businessman last year after they accused him of involvement in drug cartels without evidence under the government's banner campaign.