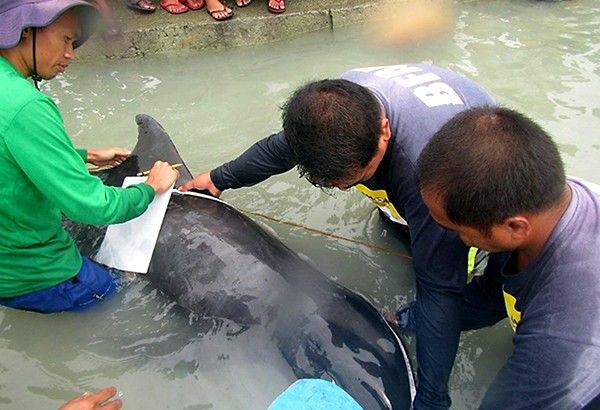 Personnel of the Bureau of Fisheries and Aquatic Resources measure a melon-headed whale rescued in Barangay Butig in Salcedo, Eastern Samar in this photo provided by BFAR.
Whale rescued in E. Samar
CATBALOGAN CITY, Philippines – A wounded melon-headed whale which was rescued in Eastern Samar on Tuesday has been released back to sea, the Bureau of Food and Aquatic Resources (BFAR)- Eastern Visayas reported yesterday.
Residents, who found the whale near the shore in Barangay Butig in Salcedo town at around 9 a.m., alerted authorities for fear that it would be killed by a group of fishermen.
The rescuers said the whale, measuring about 2.5 meters long, was "very weak, stressed and had several contusions."
A BFAR team treated the wounds and released the whale back to the sea after four hours.
"The release was considered successful... The whale was observed to be strong again and swam faster," a BFAR employee said.