'Lost buoys?': PCG still validating location of 2 of 8 placed in West Philippine Sea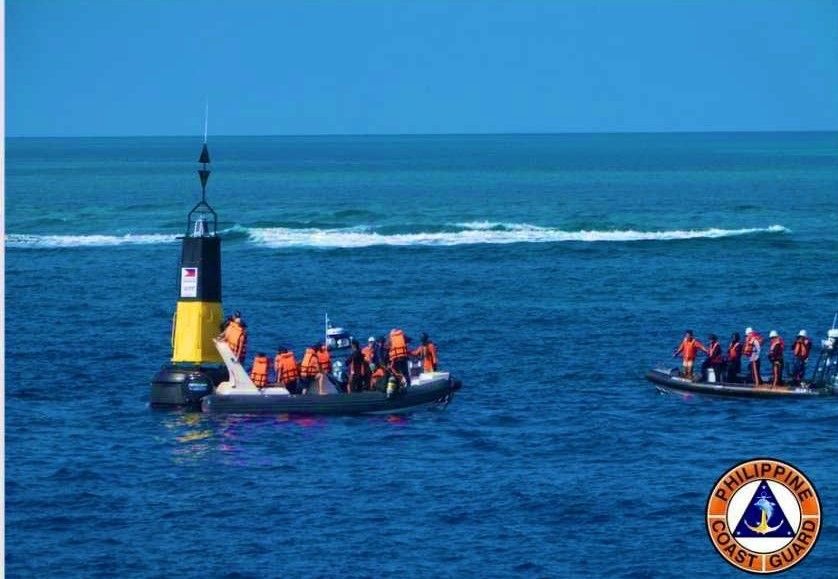 MANILA, Philippines — The Philippine Coast Guard said it is still validating reports that two of the 10 navigational buoys placed in the West Philippine Sea, waters claimed by China despite a 2016 ruling by an arbitral court invalidating its nine-dash line claim, are missing.
This comes after reports that Beijing also placed three buoys in areas within Philippine waters, specifically in Balagtas (Irving) Reef, Julian Felipe (Whitsun) Reef and Burgos (Gaven) Reef. The PCG on Saturday said the location of the buoys in Balagtas and Julian Felipe were "subject to validation."
"So far, of the reports we've been receiving [from our stations] all are intact," Rear Adm. Armando Balilo said in Filipino during an interview with Super Radyo DzBB on Sunday.
He previously said the coast guard could not check out buoys immediately because of bad weather. He said on Sunday, though, that the buoys are made of strong material and that they cannot be moved so easily.
"We have not received reports that these are missing so we think that these buoys are still intact and are still at their designated places," Balilo said.
"However, the eight other buoys, we are sure that those are still in their intended locations. We just need to check on the two."
If these are confirmed to be missing, the PCG said it will be informing the National Task Force on the West Philippine Sea and the Department of Foreign Affairs.
In mid-May, the PCG installed five navigational buoys in "critical areas" in the West Philippine Sea. The buoys carrying the Philippine flag were placed in waters off Patag (Flat) Island, Balagtas Reef, Kota (Loaita)Island, Panata Island (Lankiam Cay), and Julian Felipe Reef. The buoys were meant to "[signify] the country's sovereign rights and jurisdiction."
Buoys were also placed in waters off Lawak (Nanshan) Island, Likas (West York) Island, Parola Island (Northeast Cay), and Pag-asa (Thitu) Island last year.