Senate approves 2023 budget, slashing P172.67M in confidential funds
November 23, 2022 | 5:33pm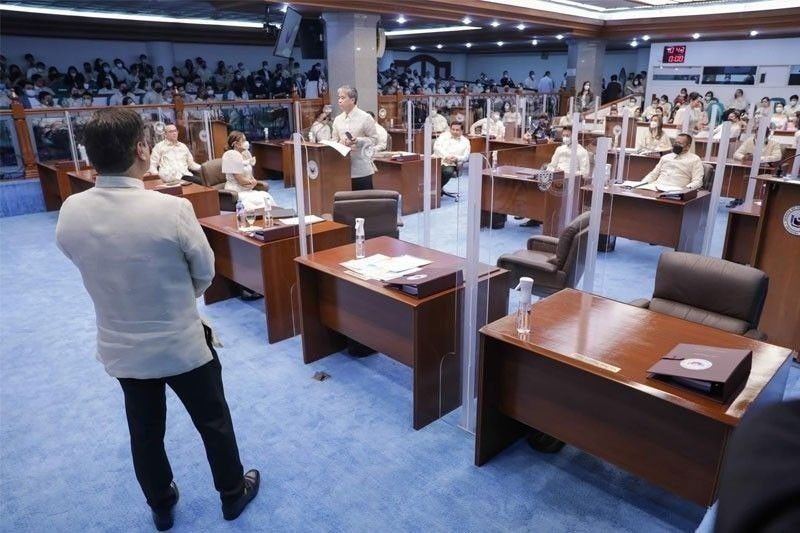 MANILA, Philippines (Corrected: November 25, 10:27 a.m.) — A unanimous Senate approved Wednesday the proposed P5.27 trillion budget for next year, realigning a small portion of nearly P4 billion in confidential funds to the operating budgets of various government agencies.
"We listened to the thoughts of our colleagues on hot issues. Because of this, we realigned a portion of confidential funds for the maintenance and other operating expenses of other agencies," budget sponsor Sen. Juan Edgardo Angara said on the floor in Filipino.
A total of around P172.67 million in confidential funds — or lump sum allocations for confidential expenses of civilian agencies — were cut.
WHAT YOU NEED TO KNOW: Confidential, intel funds in the national budget
Angara initially announced that P152.67 million in confidential funds were slashed, but Sen. Risa Hontiveros moved to excise all of the Department of Education's confidential funds.
As a compromise, Angara agreed to slash P20 million more off the DepEd's confidential funds and realign this to its operating budget.
DepEd received the largest cut in confidential funds as these allocations were brought down to just P30 million from P150 million.
The P100 million from the DepEd's confidential funds were initially moved to the operating expenses of the Office of the Vice President. The OVP and DepEd are both headed by Vice President Sara Duterte.
Hontiveros later moved to realign this amount from the OVP back to the DepEd for its healthy learners institution program, which Angara accepted.
Other government agencies whose confidential funds were slashed and realigned to operating expenses are the Department of Foreign Affairs (P5 million), Department of Justice (19.2 million), Department of Social Welfare and Development (P19.2 million), other executive offices (P6 million) and the Office of the Ombudsman (P20 million).
These amounts are puny compared to the P3.93 billion in confidential funds that Senate Minority Leader Aquilino Pimentel III wanted to excise from the budget as he wanted all these lump sum amounts removed, save for P120 million for the Philippine Drug Enforcement Agency.
Angara, however, did not accept these amendments put forward by Pimentel.
Hontiveros also moved to insert a special provision that would require the DepEd to prepare and submit a work plan on their use of confidential funds to the House of Representatives and the Senate, which was accepted by Angara.
This was later amended by Pimentel to require all agencies with confidential funds to submit work plans to Congress.
As the Senate was preparing to vote on third reading immediately after approval on second reading due to President Ferdinand Marcos Jr.'s certification of the budget bill as urgent, Pimentel objected and questioned the chief executive's certification.
"The certification has no leg to stand on. In the opinion of this representation today, there is no public calamity or emergency to speak of that will justify the dispensing of the rule of three readings on separate days," Pimentel said.
But Pimentel was defeated in a voice vote and allowed the Senate to continue voting on the spending plan.
Whether the Senate's amendments to the budget would stand remains to be seen as members from both houses of Congress will begin meeting on Friday for the bicameral conference committee where they will thresh out differences in their versions of the budget bill.
----
Editor's note: An earlier version of this story said the Senate slashed P152.67 million in confidential funds, when it actually removed P172.67 million as Sens. Risa Hontiveros and Juan Edgardo Angara agreed to cut P20 million more from the DepEd's confidential funds. We apologize for the error.