The first 100 days of Marcos: Where is our transportation heading?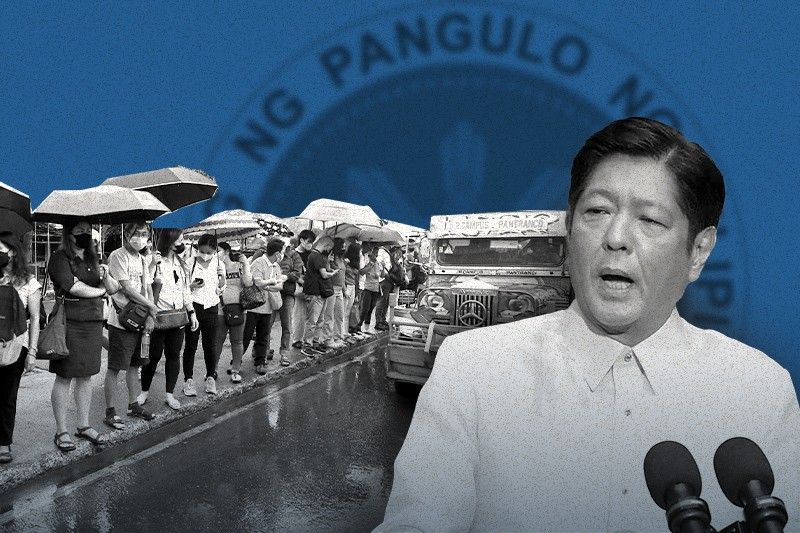 MANILA, Philippines — At his first State of the Nation Address, President Ferdinand Marcos Jr. outlined an ambitious yet succinct directive for the transportation sector: "Full speed ahead."
Short of concrete proposals, Marcos said he would continue and expand infrastructure programs started by his predecessor Rodrigo Duterte. He also said that the government has been missing a "great opportunity" to develop the country's railways.
But have his plans for the sector actually left the station? Here's a look at the transport policies of President Ferdinand Marcos Jr. in his first 100 days in office.
READ: Marcos mum on 'short term' plans for commuters, mobility groups say
Rail transport
When it came to rail, Marcos largely pushed for continuity of the policies of the Duterte administration. Almost immediately after he entered office, the chief executive announced free rides for students on the metro's rail lines would be extended until December of this year.
Duterte's transport policy had everything to do with Build, Build, Build: Transport would get smoother if its capacity were given a jolt via newly-opened rail lines. These would also put the country's transport system at par with its international counterparts.
Under the latest Global Competitiveness Report, the Philippines ranked 102nd out of 141 countries in terms of transport infrastructure. The same report also saw Philippines with the lowest rated railway service in Asia, ranking 86th out of 101 countries.
Marcos has largely pushed for continuity in the sector, starting with the sustained rehabilitation of the Metro Rail Transit-Line 3. As of writing, the number of overhauled light rail vehicles or wagons of the line has reached 65, after the Department of Transportation announced it completed another one on September 28. In total, only seven of the 72 MRT-3 wagons remain scheduled to undergo general overhauling by the line's maintenance provider Sumitomo.
RELATED: DOTr says 50 MRT-3 train cars now newly-overhauled
The Japan International Cooperation Agency also signed off on the extension of the Philippine Railways Institute Technical Assistance Project, which the DOTr said was meant to boost the development of various policies, laws and regulations, provision of curriculum and training.
The DOTr on October 6 also signed the contract for the North-South Commuter Railway, which Bautista said "will bring back the culture of rail transport in the Philippines."
"I cannot over-emphasize the economic and social benefits this new railway will bring to residents of Central Luzon and the Calabarzon area...This railway will offer safe, affordable, convenient, and comfortable transport to Filipinos, while accelerating the country's economic rebound," Bautista said.
In the twilight years of his administration, then-President Rodrigo Duterte, who earlier promised to solve Metro Manila's traffic woes within six months, chalked the unfinished works up to lack of time. As it currently stands, the completion dates of the former-Build, Build, Build projects are still far off:
North-South Commuter Railway: March 2029
Metro Rail Transit-Line 7: Full completion in 2023
Metro Manila Subway: Full completion by 2028
Mindanao Railway Project: Full completion by 2028, if funding source is identified
Of the Subic-Clark Railway Project, the Philippine National Railways South Long-Haul Project, and the Davao-Digos segment of the Mindanao Railway Project, Bautista in an interview aired over ANC's Headstart was quoted as saying: "Six years may not be enough, but I think if we start it and we do it right, we should be able to substantially complete the project before the term of President Bongbong ends."
Road transport
Since the onset of the Marcos administration, the Land Transportation Franchising and Regulatory Board has since allowed the re-opening of a number of pre-pandemic bus and jeepney routes while greenlighting fare increases across all road-based public transport.
The LTFRB under Marcos also expedited the payments for drivers and operators along the EDSA Carousel, which severely effected supply after many opted not to ply their routes for fear of operating at a loss.
However, many routes that once plied along EDSA — the busiest thoroughfare in the Metro — have since been redirected to other routes, many of which lead to the Parañaque Integrated Terminal Exchange.
RELATED: LTFRB approves fare hikes across public transportation
At the DOTr's budget hearing in late September, Transport Undersecretary Mark Steven Pastor said that the department will continue to push for funding for its public utility vehicle modernization program in 2023.
The PUVMP was a flagship program of the previous administration. It envisions a "restructured, modern, well-managed and environmentally sustainable transport sector where drivers and operators have stable, sufficient and dignified livelihoods while commuters get to their destinations quickly, safely and comfortably," the LTFRB said in a briefer published on its website.
But transport workers have long called for a better transition in the modernization program, with some opposing it altogether.
Much of the backlash from the program comes from the fact that drivers feeding poor families refuse to shoulder the P2.4 million price tag of a modernized jeepney, with many of them calling for a just transition instead of leaving them to shoulder the cost on their own. During the pandemic, the government doubled its subsidy for these to P160,000, but the prices of units also doubled and now cost P2.4 million.
Meanwhile, proposals to privatize the EDSA Busway Carousel have since been floated by the Management Association of the Philippines. Transportation Secretary Jaime Bautista was largely receptive to these but highlighted the need for a feasibility study first.
READ: 'Proposals to privatize EDSA Busway Carousel still far off'
Where are we now?
Where pre-pandemic transport workers held strikes to declare the situation as a crisis, advocates say the Marcos administration inherited something worse than that.
Fares increased while supply in major cities largely stayed stagnant. Demand is also on the uptick with students and workers alike trooping back to on-site classes and work.
All the while, social media is flooded daily once more with scenes of congested stations and transport terminals, with commuters bemoaning long lines even at the wee hours of the morning each day.
"When Filipinos are compelled to shift to using private motor vehicles as soon as they can afford to, we are on a downward spiral of worsening traffic, pollution and climate change," transport economist Robert Siy of the Move as One Coalition told Philstar.com in an online exchange.
Julius Dalay, who chairs the Commuters of the Philippines, says the biggest problem is supply — which the free rides and higher fares, while helpful, fall short of addressing.
"These are stopgap measures, but later on we have to admit that the economy might go into a recession sooner or later...we are just starting to bounce back and it might not be sustainable. There should be a better solution besides looking at a select few to receive Libreng Sakay," Dalay said in a phone call.
"It's definitely still a crisis...Considering the rising cost of living, we've even seen people concerned about how much this cost of living has even impacted their lives."
Dalay added that the route rationalization under Duterte "does not reflect the demand needed" by commuters and operators alike, which was reversed when Marcos' DOTr allowed the opening of over 30 pre-pandemic routes for the first time since 2020.
Both Dalay and Siy also said that the DOTr under Marcos has been generally receptive to suggestions, with the later saying it was observing the situation "with cautious optimism."
READ: DOTr hopes for continuity in transport infra projects under Marcos Jr.
Where do we go from here?
Ahead of the Marcos administration, Siy also said that transport authorities should put in place a long-term roadmap for the transformation of road-based transport to deliver improvements for commuters while offering transport workers and vehicle owners a just transition.
"We need to think of the Filipino without a car as the main client and focus our resources on improving his/her mobility. This means prioritizing walking, cycling and public transportation in all our cities and making these safe, sufficient and attractive, even for those who own motor vehicles," he said Wednesday night.
Commuters have long pointed out that most destinations require multi-modal transport to get to. Siy said the current priorities are a sort of "putting all the eggs in one basket": of the DOTr's proposed budget of P167.12 billion, the rail sector will get P112. 85 billion, or over a 400 percent increase in allocation compared to its budget from a year ago.
READ: Senators want more railways, but transport crisis doesn't end — or start — there, expert says
Dalay questioned the proposed budget of the Department of Transportation in the recently-passed General Appropriations Act presented to both chambers of Congress, which still focus largely on the development of rail infrastructure.
"There seems to be a mismatch between the priorities of this government versus what has been laid out in the first 100 days...Budget for road transport is minimal as opposed to new transport and rail-based projects. This has been a point of contention," he said.
He added that proposals to privatize the EDSA Busway were too much, too soon, with better short-term solutions still available to the government: "It's not yet the ultimate solution [because] there are still so many things we need to iron out... Commuters would be the one on the losing side given that this would be a protracted legal battle."
Commuters of the Philippines recommended transport solutions "within the existing framework" of transportation: "We need to bolster our road-based public transport for the short-term."
Siy also highlighted the importance of the president's rhetoric in influencing the country's transport policy.
"A timely message from Malacanang could be an instruction to all agencies to prioritize moving people, not cars. It would be important to hear this coming from the top," he said. "Business as usual is not an option. We need to recognize that our traditional strategy of expanding roads and bridges for private cars is not working."
However, Dalay conceded that with the priorities outlined by authorities, transportation for commuters may get worse before it gets better.
"This is without 100 percent of the workforce going out and not all students in schools. We're expecting that if the government doesn't tweak its programs, we might see a worse scenario in the coming months."
Read other explainers on Marcos' first 100 days: