De Lima says dismissal of bribery raps shows cases vs her based on lies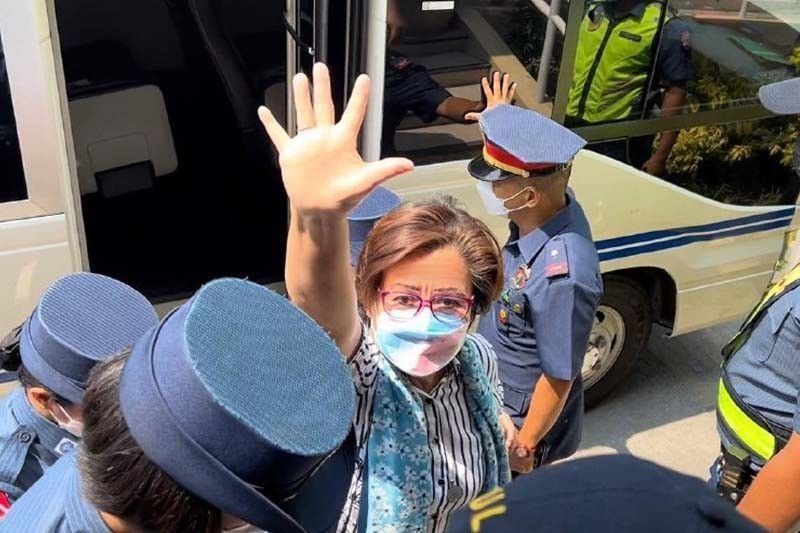 MANILA, Philippines — Former Sen. Leila de Lima said the dismissal by the Office of the Ombudsman of the bribery complaints against her once again proves the cases she is facing were based on lies and fabrications.
In a statement Wednesday, the detained senator thanked the Ombudsman for dismissing the bribery complaints against her and her former aide Ronnie Dayan.
The anti-graft office said its special team of investigators — which filed the complaints — failed to provide "a clear, accurate and consistent narration of facts that would show De Lima and Dayan may have committed direct or indirect bribery.
"The dismissal by the Ombudsman of the criminal complaint for bribery against me is once again proof that cases filed against me are all based on lies and fabrications of witnesses who were either coerced or bribed at the behest of the vindictive former president," De Lima said.
De Lima was accused of collecting funds in preparation for the 2016 elections, with confessed drug lord Kerwin Espinosa claiming he gave a total of P8 million to Dayan.
The Ombudsman's resolution was finalized for the approval of Ombudsman Samuel Martires on January 5, 2022. De Lima's lawyers only received a copy of the resolution on Tuesday.
This was before the recantation of Espinosa, and his bodyguard and driver Marcelo Adorco. In April, Espinosa recanted his allegations against De Lima and said in a counter-affidavit in a separate drug rap that he was "only coerced, pressured, intimidated, and seriously threatened by the police" during Senate hearings in November and December 2016.
"Said subsequent recantations, while no longer factored in the Ombudsman resolution as recently released, all the more fortified it's finding no probable cause. In fact, it's more than lack of probable cause. It's an utterly baseless charge. Factually inexistent," De Lima said.
Dayan and former Bureau of Corrections officer-in-charge Rafael Ragos, a key witness in the trial of De Lima, also retracted their allegations.
DOJ probe
De Lima called on justice chief Jesus Crispin Remulla to investigate if the pieces of evidence of the DOJ have truthful bases or were manufactured.
"Rather than mindless prosecution, the mission of the DOJ is to protect the innocent from the strong arm of the state when it is used for political ends. The DOJ should not go on knowingly prosecuting an innocent person," she said.
Prior to assuming his post, Remulla said he was willing to review the cases against De Lima. But he said last month that the matter is already within the jurisdiction of the Muntinlupa trial court after two minority senators called for the release of De Lima.
The House of Representatives' Makabayan bloc also issued a similar call for De Lima's release.
De Lima has two pending cases. She had been acquitted in one case. — Gaea Katreena Cabico with report from Kristine Joy Patag