No shortage of nurses but low pay, lack of tenure driving them abroad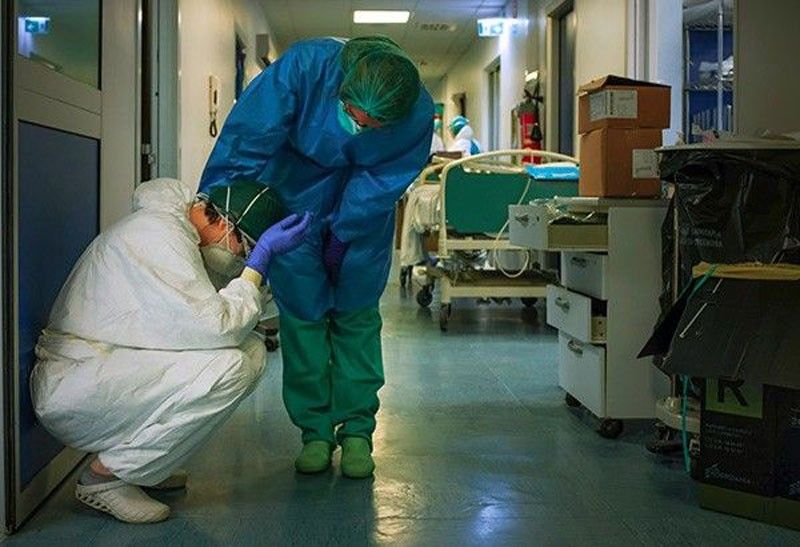 MANILA, Philippines — While it is not new for nurses in the Philipines opting to go abroad in search of better opportunities, this time, the wave of resignations comes just as the country is anticipating another surge in COVID-19 infections.
Amid regular work and experiencing burnout from their shifts due to the pandemic, some nurses are taking advantage of the reopening of economies abroad and the laxing of border restrictions to look for employment overseas.
"[It's] because of the lack of opportunities in our country," Dr. Anthony Leachon, former adviser to the country's pandemic task force, told Philstar.com over the phone earlier this month.
"They are overworked, they're overburdened but less appreciated and of course, they seem undervalued. And there's a discrepancy between the payments of private hospitals and the public hospitals," Leachon added in a mix of English and Filipino.
He earlier sounded alarm that nurses in private hospitals are "resigning in droves." He said nurses from private hospitals would transfer and work for government hospitals instead or they end up in other industries before taking up mandatory exams for the country they will be migrating to.
Pay discrepancies
Nurses in private hospitals are paid the minimum wage or around P537 daily in Metro Manila or more or less about P12,000 monthly, but those in the provinces get paid even less.
According to an ABS-CBN report, St. Luke's Medical Center is promising more benefits such as a P10,000 signing bonus, free groceries, and accommodation, among other things in a bid to entice nurses to apply to their clinics.
But groups say that not all private hospitals can afford to issue benefits like these.
"Only the premier hospitals can provide these packages and bonuses, but our concern are those private hospitals that may not have the operational income," Philippine Nurses Association Melvin Miranda told Philstar.com in a separate phone call.
"They are the ones who will really need assistance when it comes to this perspective because they are the ones that have been identified with problems related to the shortage of the nursing workers."
The pay in private hospitals is not enough that some nurses would opt to work for higher education institutions instead.
"We are also experiencing a shortage of clinical instructors in nursing education," Miranda said.
Meanwhile, nurses working for public hospitals are at Salary Grade 15, about P35,097 monthly. Filipino Nurses United's (FNU) national president Maristela Presto-Abenojar said the implementation of this also varies.
"Not all nurses in the government sector are receiving this salary because we do know that our health system also is devolved since 1991," she told Philstar.com in a video call.
In some provinces, nurses in government hospitals are only given 65% of what they are supposed to earn.
"This is the reason why it's difficult for our nurses to sustain their own families if they are breadwinners, because just for themselves their salaries is not enough. It's not a living wage actually," Presto-Abenojar said.
She notes that around 50% of the country's nurses in government institutions are contractual workers. This means that half of the nurses in government hospitals are not entitled to benefits such as paid leaves and medical leaves.
Not a shortage, many unemployed
Citing data from the Department of Health, Presto-Abenojar noted that the total number of nurses in both the public and the private sector as of December last year stood at 172,589.
"Out of 10 registered nurses, two are working either in the public or private sector so that's equivalent to 19% of the total 915,291 registered nurses," she said, adding that 35% or four out of 10 registered nurses in the Philippines have opted to become migrant healthcare workers instead.
FNU maintains that the country does not have a shortage of nurses, but hospitals are experiencing "chronic understaffing." Some 32% of registered nurses are not practicing, either because they do not have jobs or they may be underemployed.
The Professional Regulation Commission just announced that 6,616 or 68% of the 9,729 examinees passed the May 2022 Nursing Board Exams. But the question is, how many will choose to serve the Philippines in the next three to to five years?
"We call them our frontliners but are we really giving them enough so we could name them the heroes of this particular pandemic? I would not restrict them to go out if there would be better opportunities because there are other members of the family that would need their help," Dr. Leachon said in a mix of English and Filipino.
Work abroad
As economies are opening up and more countries are adjusting their travel restrictions, healthcare workers may now take advantage of opportunities available. The exodus does not only involve nurses, but also other members of the country's healthcare workforce.
Data from the Philippine Overseas Employment Administration, which Philstar.com obtained through FNU, showed the following as the healthcare workers' top countries of destination:
Saudi Arabia
United Kingdom
Qatar
Germany
United Arab Emirates
Singapore
United States
Ireland
Oman
Kuwait
As of March 28 this year, 8,752 healthcare workers have left the country. This number expected to go higher as the total number of healthcare workers who migrated last year stood at 22,895.
While deployed at the top destination, Saudi Arabia, nurses employed through agencies can apparently earn at least $500 or SR1,875 (a little over P27,000) and as much as SR3,840 (over P55,500) monthly. If they are employed through a government program, they can earn a minimum salary of SR4,110 or over P53,000 every month.
PNA's Miranda even said that the pay of an entry-level nurse abroad may even allow them to earn as much as P750,000 annually, which may attract nurses working even for the government hospitals here at home.
Just recently, Germany and the Philippines inked a memorandum of understanding that allows more Filipino healthcare workers to work in the European country. The agreement will "enhance the existing private recruitment track for nurses and other healthcare professionals such as physiotherapists, radiographers, [and] occupational therapists" for employment in Germany.
The Department of Foreign Affairs said that there are 6,000 Filipino nurses in Germany. Data from the POEA showed that their salary, under the government-to-government program, should at least be €2,300 monthly or around P135,700.
'A chronic problem'
Stories of Filipino nurses, or other healthcare professionals, who prefer to work abroad because of higher takehome pay and other benefits such as insurance are not new.
"This has been a chronic problem and [it was] accentuated because of the COVID pandemic," Leachon said.
Aside from catering to patients who test positive with COVID-19, they also have to take care of those with other diseases.
But when they are paid crumbs here at home, why stop them from going abroad?
"As much as possible, we do not want to see in the picture that the Philippines is considered the main [labor] export," PNA's Miranda said.
However, he notes that Filipino nurses have the advantage of being well-verses in the English language and have competitive skills training.
"It was recognized that our curriculum here in the Philippines is also universal," Miranda said.
POEA data showed that deployment of healthcare professionals declined during the pandemic. In 2017, this number totaled 106,009 and dropped to 75,938 in 2018. Healthcare workers' deployment plunged nearly 74% in 2020 to 20,652 from 78,403.
How do you make them stay?
In an Inquirer.net report over the weekend, Health Undersecretary Maria Rosario Vergeire said the nurses' exodus can be solved through a "whole-of-gvoernment approach." She said the department is trying to find inecntives for nurses to stay in the Philippines.
However, Migrante Philippines Chairman Arman Hernando said providing incentives would not be the answer.
"Hangga't walang sapat at nakabubuhay na sahod at maayos na healthcare system sa Pilipinas, patuloy na maghahanap ang ating mga health workers ng mga oportunidad sa ibang banssa," Hernando said on June 19.
(Until the country cannot give adequate and living wage and a proper healthcare system, our healthcare workers will continue to look for opportunities abroad.)
FNU is advocating that private and public hospitals in the Philippines pay nurses a starting salary of P50,000 monthly. If small and medium sized hospitals cannot afford it, they are suggesting that the government subsidize the wages for the first three to five years.
With this, they are also calling on the government to increase its Health budget.
Meanwhile, among PNA's calls to the government is to "establish the representation of nurses across the agencies of the national government." Miranda said this would pave the way for allowing nursing leaders "be empowered" even at the local level through the provincial, city and the municipal health boards.
With President-elect Ferdinand Marcos Jr.'s inauguration just nine days away, he has yet to appoint a new Health secretary that would lead the country out of the pandemic.
"Healthcare should be the centrality of focus in the new administration," Dr. Leachon said.