Quiboloy, 2 others wanted in US over trafficking charges
February 5, 2022 | 11:27am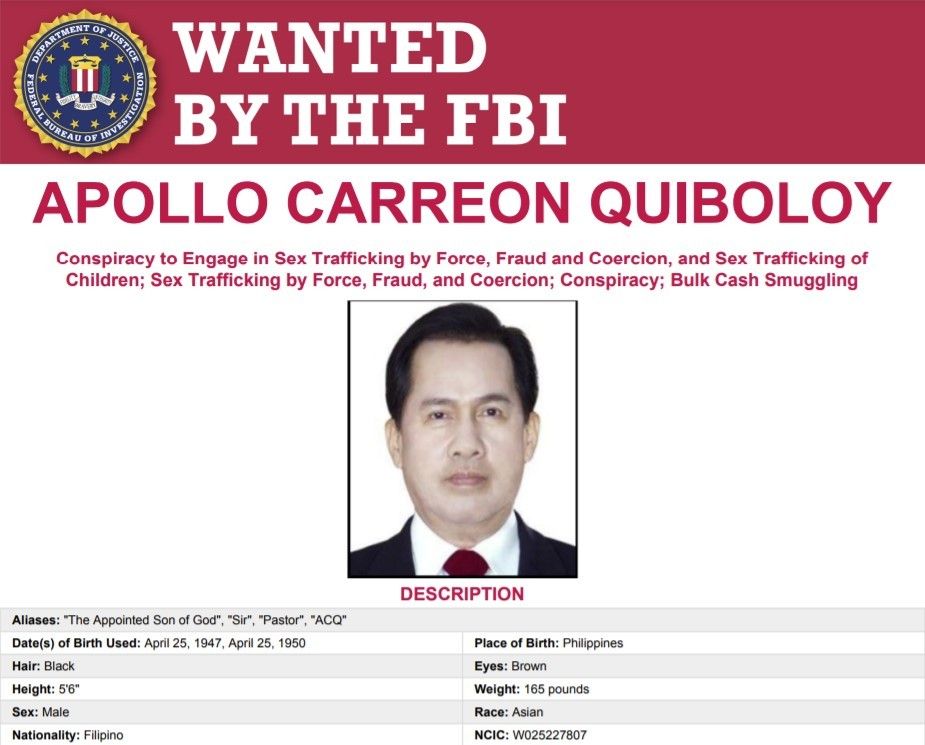 MANILA, Philippines (Updated 2:01 p.m.) — Kingdom of Jesus Christ, The Name Above Every Name founder and President Rodrigo Duterte's spiritual adviser, Apollo Quiboloy, is now wanted by the US Federal Bureau of Investigation along with two others over trafficking charges.
The FBI released wanted posters for Quiboloy and KOJC officials Teresita Dandan and Helen Panilag following their indictment in November 2021.
Quiboloy was indicted for conspiracy to engage in sex trafficking by force, fraud and coercion and sex trafficking of children; sex trafficking by force, fraud and coercion; conspiracy; and bulk cash smuggling.
The FBI said Quiboloy is wanted "for his alleged participation in a labor trafficking scheme that brought church members to the United States, via fraudulently obtained visas, and forced the members to solicit donations for a bogus charity, donations that actually were used to finance church operations and the lavish lifestyles of its leaders."
Dandan and Panilag are also wanted based on the same accusations.
It is also alleged that women were recruited to work as Quiboloy's personal assistants or "pastorals" who supposedly prepared his meals, cleaned his residences, gave him massages and were required to have sex with him in what they called "night duty."
Dandan, who is alleged to be the "international administrator" who oversaw KOJC and its bogus charity operations in the US, supposedly recruited females, including minors, to work as pastorals for Quiboloy.
Meanwhile, Panilag is alleged to be the one-time top church administrator in the US who oversaw the collection of financial data from church operations globally.
While Quiboloy is now wanted in the US by the FBI, Justice Secretary Menardo Guevarra said there is still no request from Washington to extradite the religious leader.
"We have not received any official communication from the US government," Guevarra said in a text message shared to reporters. "Extradition cannot be done motu proprio, especially if the subject is our own citizen. Any communication will be coursed through diplomatic channels."
Guevarra explained that the US State Department must make a request for extradition, which will then be checked by the Philippines' Department of Foreign Affairs for sufficiency.
If deemed sufficient, the DFA will endorse it to the Department of Justice which will then file a petition for extradition with the proper court.
"The rest of our judicial process, including appeals, follows. In case the issuance of a warrant of arrest becomes necessary, the subject may post bail for his provisional liberty," Guevarra said.
KOJC's legal counsel has previously called the charges against Quiboloy and other church officials "another vicious attempt to bring down" the religious leader.
The legal counsel added that they are "confident and ready" to face the accusations lobbed at Quiboloy and other church officials. — Xave Gregorio