As substitution deadline nears, Sara Duterte withdraws reelection bid
November 9, 2021 | 3:16pm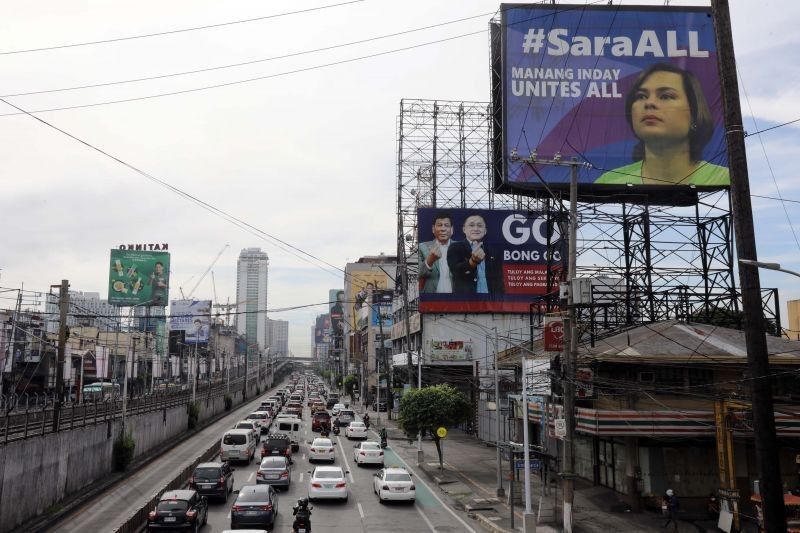 MANILA, Philippines — Davao City Mayor Sara Duterte-Carpio withdrew her bid for reelection just six days before the deadline set by the Commission on Elections for the substitution of candidates for the 2022 elections.
"This afternoon, I withdrew my candidacy for Davao City mayor," Duterte-Carpio said in Filipino on her Facebook page.
Duterte-Carpio said her brother, Davao City Vice Mayor Sebastian "Baste" Duterte, will be running for mayor in her stead. Baste withdrew his candidacy Tuesday morning, telling local reporters that he did so on the advice of Duterte-Carpio.
President Rodrigo Duterte's eldest daughter did not state any further reasons for her withdrawal. "This is all for now," she said.
Even without any further statement, Duterte-Carpio's withdrawal fans the flames of rumors that she will run for a national post, despite her saying earlier that she is not interested to do so, especially not under her father's ruling PDP-Laban.
Prior to her backing out from the Davao City mayoralty race, Duterte-Carpio met with at least two presidential aspirants, former Sen. Bongbong Marcos and Sen. Bato dela Rosa.
Details about the meetings were scant, but Dela Rosa said he reminded her of the looming deadline for the substitution of candidates on November 15.
RELATED VIDEO:
As It Happens
LATEST UPDATE: January 11, 2022 - 3:05pm
Get the latest updates on the Philippines' preparation for the May 2022 national elections amid the COVID-19 pandemic. Main image by The STAR/Michael Varcas
January 11, 2022 - 3:05pm
A municipal councilor in Zamboanga del Sur landed in jail for carrying a gun outside of residence in disregard of restrictions set by the Commission on Elections.
Jovert Dahunan, a coucilor of Kumalarang, Zamboanga del Sur, was nabbed Monday night at a checkpoint by police enforcing the Comelec gun ban.
He was immediately clamped down in a detention facility of the Kumalarang Municipal Police Station. — The STAR/John Unson
January 10, 2022 - 3:38pm
Police at a checkpoint in Ipil, Zamboanga Sibugay arrested two teens for carrying replica handguns on Sunday.
Implementation of the Commission on Elections gun ban started over the weekend. The ban on carrying or using guns during the election period is meant to curb election-related violence.
Personnel of the 2nd Zamboanga Sibugay Province Mobile Force Company when they flagged down the teens, who were riding a motorycle along the national highway, near dawn on Sunday.
Police Brig. Gen. Franco Simborio, Police Regional Office 9 (PRO) director, says police noticed a suspicious item tucked in one of the suspects' waist. "The personnel immediately requested the person to remove the item from his waist and it was found out it was a replica of a 1911 caliber .45 pistol," Simborio says.
Since the two could not produce documentation for the replica gun, they were arrested.
Under a 2013 Philippine National Police, airsoft pistols and rifles need to be registered with the police. — The STAR/Roel Pareño
December 1, 2021 - 2:42pm
Google will pause all electoral and political advertisements in relation to the 2022 national and local elections at the start of the campaign period, the Commission on Elections says.
The campaign period will start on Feb. 8,2022 for national candidates and March 2, 2022 for local candidates.
"Google will not accept election advertisements in the Philippines that are purchased through Google Ads, Display and Video 360, and Shopping platforms that advertisers intend to place on Google, YouTube and partner properties," the poll body says in a statement.
PRESS RELEASE: Google To Pause Election Advertisements During Campaign Period@jabjimenez @Atty_Lai pic.twitter.com/atrVlxofin

— COMELEC (@COMELEC) December 1, 2021
November 29, 2021 - 10:30am
A maximum of 10 voters will only be allowed inside the polling place during the May 9, 2022 elections, the Comelec says.
This is part of the poll body's preventive measures against COVID-19.
More than 10 voters will be allowed for larger polling centers that can accommodate more people. Holding rooms will also be established in adjacent rooms for voters waiting for their turn.
November 9, 2021 - 2:57pm
Davao City Mayor Sara Duterte announces on Facebook that she is withdrawing her candidacy for mayor. Her brother Sebastian "Baste" Duterte will replace her.