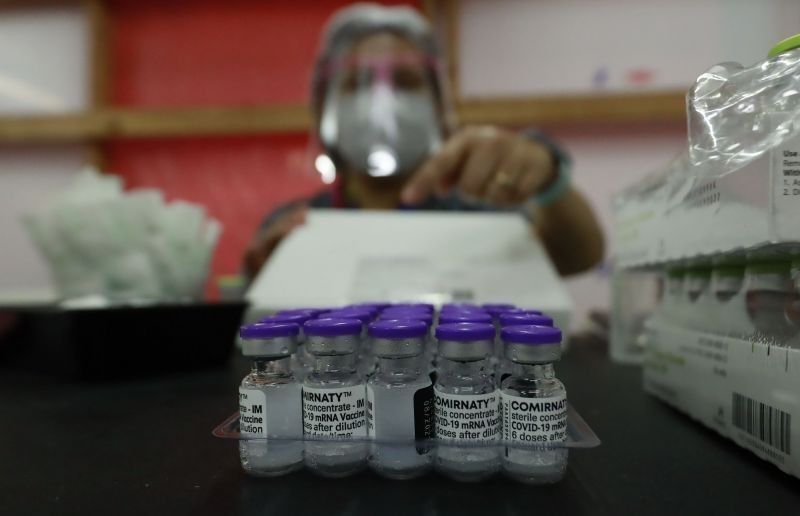 Pfizer vaccines are shown prior to its preperation during the vaccination program for A1 to A3 priority categories at Mandaluyong mega vaccination site just near Mandaluyong City Hall on Tuesday, May 18, 2021.
The STAR/Michael Varcas
DOH: No favoritism in allocation of Pfizer COVID-19 jabs
(Philstar.com) - June 21, 2021 - 5:38pm
MANILA, Philippines — The Department of Health said there is no favoritism in the allocation of COVID-19 vaccines, denying allegations that Davao City received the lion's share of the Pfizer-BioNTech vaccine doses delivered to the Philippines.
In a briefing Monday, Health Undersecretary Maria Rosario Vergeire said the national government allocates jabs based on the needs of an area and the prioritization framework.
"There are no favorites," Vergeire said.
Health Undersecretary Abdullah Dumama Jr., who leads the field implementation and coordination team in Visayas and Mindanao, said Cebu and Davao each received 210,000 Pfizer vaccine doses.
"This is not for Davao City only. This is also for the Davao region and nearby areas that need Pfizer vaccines," Dumama said in Filipino.
"They were given that allocation because they have the capability. We have ultra-low temperature freezers here… There is no favoritism here," he added.
Pfizer-BioNTech vaccines need to be stored at around -70°C to -80°C.
Only five regions have yet to use Pfizer jabs in their vaccination program due to the lack of ultra-low freezers, Vergeire said. These are Mimaropa, Bicol region, Soccsksargen, Caraga and the Bangsamoro Autonomous Region in Muslim Mindanao.
Dumama said the Bangsamoro government is expected to pass a resolution that will allow the region to procure ultra-low freezers.
The Philippines has so far received over 2.4 million Pfizer-BioNTech COVID-19 vaccines from the COVAX facility.
The government announced Sunday it has signed a supply deal for 40 million doses of the Pfizer jab, which is the country's biggest coronavirus vaccine agreement to date. — Gaea Katreena Cabico
As It Happens
LATEST UPDATE: August 5, 2021 - 8:50am
The national government has so far secured two official deals for COVID-19 vaccine supplies in the Philippines, one with Chinese pharmaceutical company Sinovac and another with the Serum Institute of India.
Watch this space for bite-sized developments on the vaccines in the Philippines. (Main image by Markus Spiske via Unsplash)
August 5, 2021 - 8:50am
People have been flocking to malls in the city of Manila that have been designated as vaccination centers. According to reports by ABS-CBN News, some had lined up overnight to get a vaccination slot only to be told in the morning that not everyone will be accomodated.
Residents of Las Piñas also started lining up in the early morning of Thursday in the hopes of getting a vaccine dose, ABS-CBN News also reports.
August 3, 2021 - 8:27pm
Half of the population of the European Union has been fully vaccinated against Covid-19, according to an AFP tally Tuesday, putting it ahead of the United States in the inoculation drive.
Nearly 224 million people across the 27 member states have been covered, with Spain leading the pack of larger countries with 58.3 percent of its population vaccinated, followed by Italy (54.4 percent), France (52.9) and Germany (52.2).
The figures mean Europe has now nosed ahead of the US in the vaccine drive. — AFP
July 15, 2021 - 5:16pm
Presidential adviser Joey Concepcion and several government officials welcome the arrival of the first tranche of AstraZeneca vaccines procured by the private sector.
"We are welcoming a total of 1.15M doses of AstraZeneca vaccines today ordered by the private sector and another 1.15 million doses in August and the rest are expected to be delivered in the coming months. A total of 2.75 million employees from close to 500 companies are expected to benefit from this—not to mention those who will benefit from the LGU procured doses," Concepcion says.
"We want to help the government so that we can execute the vaccine rollout in the fastest and most efficient way possible. Allowing us to execute, we could focus on the vaccination of our employees, the LGUs could focus on its constituents, and the national government could focus on the rest that are not covered. We need a fast and almost perfect rollout and the private sector, with the arrival of these initial doses from AstraZeneca, can now do that for its employees," he adds.
June 28, 2021 - 12:05pm
The Philippine vaccination program has officially administered 10,065,414 doses COVID-19 vaccine, the Palace says.
A ceremonial 10 millionth dose was administered Monday morning in Valenzuela City.