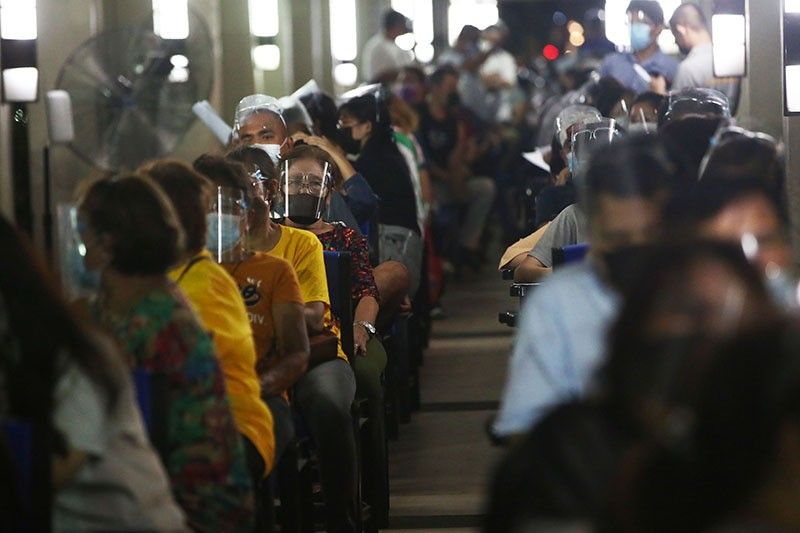 Individuals under the A4 priority group are inoculated with the COVID-19 vaccine as the local government of Quezon City launches their QC ProtekTODO Bakuna Nights program at the city hall open grounds on June 16, 2021. The program aims to inoculate working individuals who cannot visit vaccination sites during the day due to their work schedules.
The STAR/Miguel de Guzman
1.9% fully vaccinated in Philippines with 8 million COVID-19 doses dispensed
(Philstar.com) - June 20, 2021 - 12:17pm
MANILA, Philippines (Updated June 21 at 9:51 a.m.) — The Philippines has administered over eight million doses of COVID-19 vaccine more than three months since the efforts began, inoculation czar Carlito Galvez Jr. said Sunday.
Citing data from the National Vaccination Operations Center, he said 8,050,711 shots have since been given by June 18 from the 7,563,241 that Malacanang reported as of June 16.
That would translate to 2,096,901 fully vaccinated individuals or 1.90% of the population, a figure that remains far from the 50 to 70 million target by officials this year to reach herd immunity.
Some 5,953,810, meanwhile, have received their first dose, per Galvez.
"There is no letup in our vaccination campaign," he said in a statement. "All sectors of society are working together so that we can start to move on from this pandemic, bring back a greater sense to our lives, and further open up our economy."
Vaccinations in the country began in March and remains for those in priority groups.
Galvez said 1,053,373 health workers have completed their shots, while 1,939,599 senior citizens got their first dose and 536,476 with their second.
Of those with comorbidities, he said 498,925 are now fully vaccinated, while 2,005,206 got their first shot.
Essential workers or those in the A4 list, meanwhile, were at 8,127 completely inoculated, with 452,600 with their first dose.
The senior administration official added that 23,826 indigents got their initial shot, as some local governments in Metro Manila began inoculation for the A5 list recently.
On June 15, the country saw its highest number of doses administered at 322,929, according to Galvez. He added that inoculations are underway in some 3,991 sites.
The Philippines has received 14,205,870 vaccine doses in total, a combination of donated and procured jabs.
Those being administered are Sinovac, Sputnik V, as well as Pfizer and AstraZeneca from the COVAX Facility. This month, Galvez said another 1.5 million with arrive on June 24, while the country will receive its first ever supply of Moderna at 250,000 doses by June 27.
COVAX, the World Health Organization-led initiative, will also send 2.02 million more AstraZeneca doses, while 150,000 of Sputnik V will also reach the country this month.
As It Happens
LATEST UPDATE: July 22, 2021 - 8:18am
The national government has so far secured two official deals for COVID-19 vaccine supplies in the Philippines, one with Chinese pharmaceutical company Sinovac and another with the Serum Institute of India.
Watch this space for bite-sized developments on the vaccines in the Philippines. (Main image by Markus Spiske via Unsplash)
July 15, 2021 - 5:16pm
Presidential adviser Joey Concepcion and several government officials welcome the arrival of the first tranche of AstraZeneca vaccines procured by the private sector.
"We are welcoming a total of 1.15M doses of AstraZeneca vaccines today ordered by the private sector and another 1.15 million doses in August and the rest are expected to be delivered in the coming months. A total of 2.75 million employees from close to 500 companies are expected to benefit from this—not to mention those who will benefit from the LGU procured doses," Concepcion says.
"We want to help the government so that we can execute the vaccine rollout in the fastest and most efficient way possible. Allowing us to execute, we could focus on the vaccination of our employees, the LGUs could focus on its constituents, and the national government could focus on the rest that are not covered. We need a fast and almost perfect rollout and the private sector, with the arrival of these initial doses from AstraZeneca, can now do that for its employees," he adds.
June 28, 2021 - 12:05pm
The Philippine vaccination program has officially administered 10,065,414 doses COVID-19 vaccine, the Palace says.
A ceremonial 10 millionth dose was administered Monday morning in Valenzuela City.
June 25, 2021 - 2:13pm
President Rodrigo Duterte has received the second dose of the Sinopharm vaccine against COVID-19, the Presidential Security Group says.
Members of the PSG were among the first in the Philippines to receive the Sinopharm jabs, which they administered on themselves late last year despite the Food and Drug Authority not including it among COVID-19 vaccines allowed for use in the country.
The FDA later issued a compassionate use permit for it.
June 24, 2021 - 7:48am
A shipment of 2 million doses of the Sinovac vaccine arrives at the Ninoy Aquino International Airport in Manila on Thursday morning.