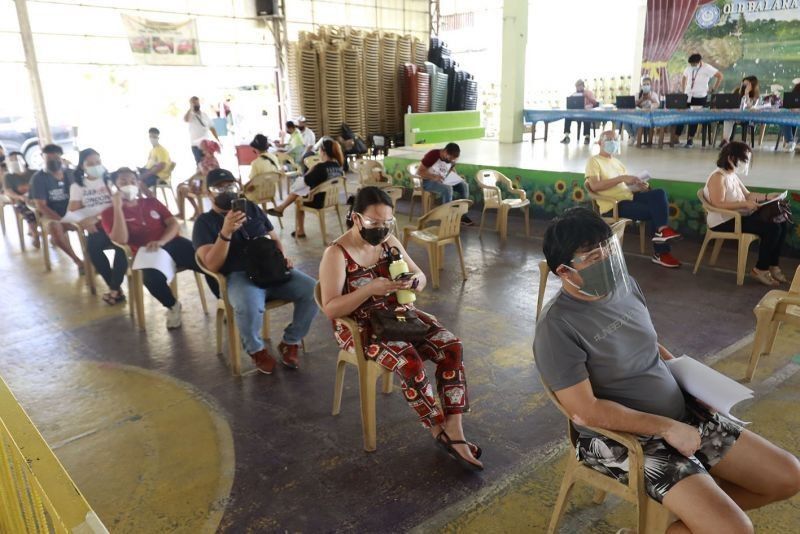 Residents of Old Balara in Quezon City queue at the Old Balara Elementary school during the continuation of the vaccination program for A1 to A3 category on Monday, May 3, 2021.
The STAR/Michael Varcas
Galvez recommends priority areas for COVID-19 inoculation as vaccine delivery delays seen
MANILA, Philippines — The government's vaccine chief has recommended areas to be prioritized in the inoculation program as the country anticipates delays in vaccine deliveries due to the surge of COVID-19 infections in India.
The devastating second wave in the South Asian nation, which is home to the world's biggest vaccine manufacturer, is a blow to global vaccine distribution as the jabs produced by the Serum Institute of India represent the main supplies to the COVAX vaccine sharing initiative.
To address this, vaccine czar Carlito Galvez Jr. suggested that areas with a high number of infections, such as Metro Manila and its neighboring provinces, should be prioritized in receiving limited vaccine doses.
"Considering that we're going to have a shortfall in our supply, we are recommending that we have prioritization," Galvez said in a taped speech Monday evening.
"Meaning, we will look into areas with social and economic importance," he added.
Galvez, who also serves the chief implementor of the National Task Force Against COVID-19, recommended the following priority areas for inoculation:
Luzon
Metro Manila
Calabarzon
Central Luzon
Baguio City
Cordillera Administrative Region
Cagayan Valley
Visayas
Metro Cebu City
Bacolod City
Iloilo City
Central Visayas
Western Visayas
Eastern Visayas
Mindanao
Davao City
Cagayan de Oro City
Zamboanga City
General Santos City
Iligan City
Davao region
Zamboanga Peninsula
Northern Mindanao
By prioritizing these areas for the vaccination drive, the government only needs to inoculate 50 to 60 million Filipinos to achieve herd immunity, Galvez said. The government's initial plan was to vaccinate 70 million people by the end of 2021.
Since the start of the country's vaccination program in March, over 1.6 million people have received first dose, while fewer than 300,000 are fully vaccinated.
The Philippines is combating a spike in infections that has raised its caseload to more than a million, including over 17,000 fatalities.
As It Happens
LATEST UPDATE: May 7, 2021 - 6:46pm
The national government has so far secured two official deals for COVID-19 vaccine supplies in the Philippines, one with Chinese pharmaceutical company Sinovac and another with the Serum Institute of India.
Watch this space for bite-sized developments on the vaccines in the Philippines. (Main image by Markus Spiske via Unsplash)
May 7, 2021 - 6:46pm
The Department of Health announces the resumption of the use of AstraZeneca jab for all eligible population following the recommendation of the Food and Drug Administration and the DOH All Experts Group on Vaccines.
The health department urges the public to get their second dose of COVID-19 vaccine.
"The benefits of additional protection against COVID-19 could only be achieved by completing both doses of the vaccine," the DOH says in a statement.
May 7, 2021 - 10:53am
The regional health minister of the Bangsamoro Autonomous Region in Muslim Mindanao said there is no basis for insinuations that COVID-19 vaccines are forbidden in Islam.
Medical workers from the Integrated Provincial Health Office-Maguindanao gave Bangsamoro Health Minister Bashary Latiph a Sinovac anti-coronavirus jab Thursday.
Latiph reiterated his appeal to residents in all cities and provinces in BARMM to ignore fallacies and assertions on Facebook by skeptics and pessimists who are not even medical practitioners that vaccines can do more harm than good.
"Listen only to BARMM's Health Ministry, to the Department of Health and to health workers in provinces and in cities in the Bangsamoro region," Latiph told reporters after he got an anti-COVID-19 shot. — The STAR/John Unson
May 5, 2021 - 9:51am
The Philippines approves the application of Moderna's COVID-19 vaccine for emergency use.
Food and Drug Administration Director general Eric Domingo says it only took nine days to review the emergency use authority application.
"The known and potential benefits of Moderna, when used to prevent COVID-19, outweigh the known and potential risks of the said vaccine," Domingo says during the Kapihan sa Manila Bay forum.
May 3, 2021 - 7:14pm
President Rodrigo Duterte has been vaccinated against COVID-19, reportedly with the Sinopharm vaccine.
May 3, 2021 - 10:24am
A total of 1,510 tourism frontline workers have received their first dose of COVID-19 vaccine as of April 30, Tourism Secretary Bernadette Romulo-Puyat says.
Workers from DOT-accredited and LGU-licensed quarantine/isolation facilities and non-quarantine DOT accredited accommodation establishments are included in the A4 Priority Group.
"We have also received word that LGUs who have already covered the majority of those in the A1 to A3 classification will also begin vaccinating those in the A4 group," Romulo-Puyat says in a statement.