DOH developing COVID-19 home care package as hospitals fill up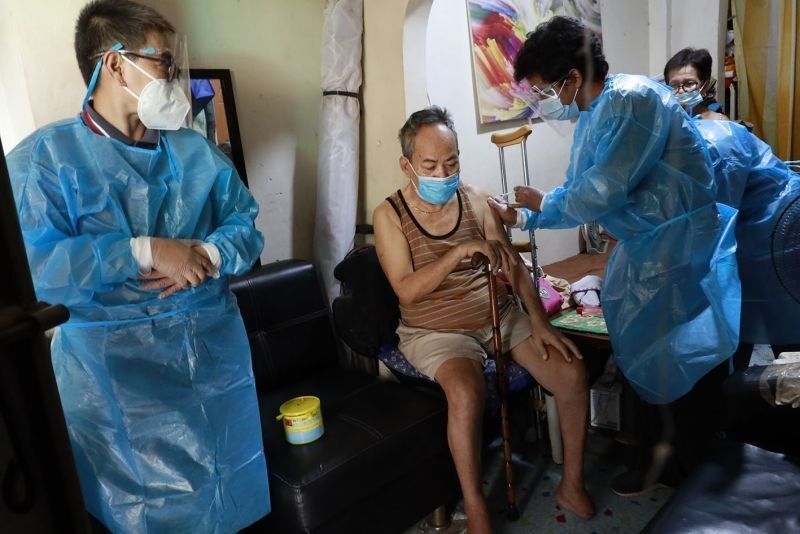 MANILA, Philippines — More than a year into the pandemic, the Department of Health said Monday it is developing a home care package for COVID-19 patients in a bid to help decongest hospitals.
In a briefing, Health Undersecretary Maria Rosario Vergeire said the care kits will contain vitamins, paracetamols, face masks and shields, alcohol, disinfection supplies as well as monitoring tools such as thermometer.
The department is trying to see if providing a pulse oximeter—which measures an individual's oxygen saturation level— to COVID-19 patients "would be feasible based on the budget that we have for this."
The care package will also include important contact numbers of local government units as well as instructions on when to seek hospital help.
"This home care package is part of our efforts to be able to redirect patients going straight to hospitals, patients who are panicking and have this kind of fear when they stay at home because they have mild case or asymptomatic case," Vergeire said.
"This is not really just about the kits but it's also the system, the process that goes with it because when we say home care package, we will have financing mechanism for that. That's why we're negotiating with the Philippine Health Insurance Corp.," she added.
The health official said the home care package will be linked with other processes such as telemedicine, navigation and triaging system of local governments, and the One Hospital Command Center.
The agency is still finalizing details of the care package. It is set to meet with PhilHealth on Friday.
As the surge in COVID-19 cases overwhelms hospitals and isolation facilities in Metro Manila and surrounding areas, many people who contracted the disease have no choice but to isolate and recover in their homes.
Earlier this month, the office of Vice President Leni Robredo launched a teleconsultation platform called "Bayanihan E-Konsulta" and provided COVID-19 patients with home care kits.
Private hospitals are also offering home care programs for people suspected of or positive for COVID-19.
The country's COVID-19 caseload reached 997,523 Sunday and is expected to pass one million on Monday. Of the total, 77,075 are active cases.
The severe respiratory disease has claimed the lives of over 16,000 people in the Philippines.