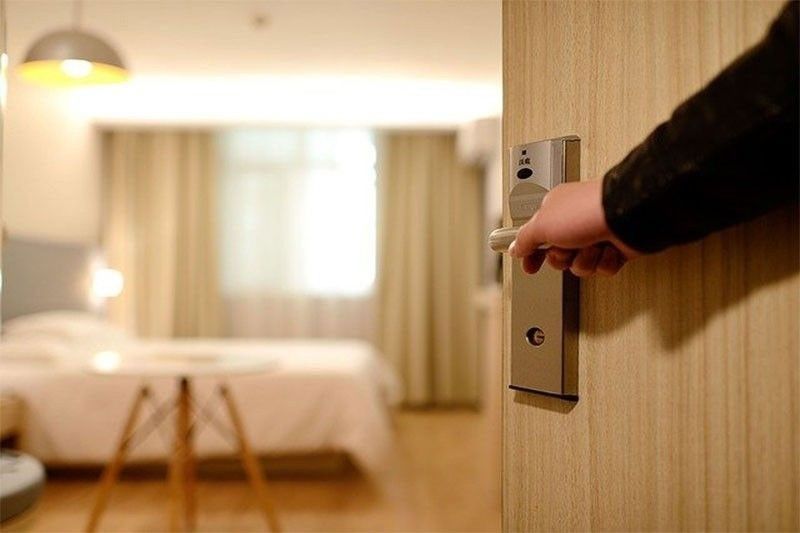 This file photo shows a hotel room.
Pixabay/David Lee
21 hotels converted into isolation facilities
MANILA, Philippines — A total of 21 hotels in Metro Manila and Southern Tagalog have repurposed their operations into isolation and quarantine facilities in response to the recent surge in COVID-19 infections.
According to the Department of Tourism (DOT), these hotels have retrofitted their facilities to offer 2,222 rooms to individuals found to be COVID-19 positive.
Two accommodations in Quezon City, with at least 184 rooms in all, were also put on standby so these can be repurposed anytime by Oplan Kalinga.
Tourism Secretary Bernadette Romulo-Puyat yesterday said hotel operators have committed to support efforts to manage the spread of COVID-19, adding that the public and private sectors should work together in minimizing the impact of the pandemic.
Hotels in Metro Manila, Bulacan, Cavite, Laguna and Rizal are prohibited from accepting leisure stays, also known as staycations, until April 30. As a consequence, they are missing out on the usual bookings they receive during summer.
Only hotels designated as isolation and quarantine facilities are authorized to operate in areas under enhanced community quarantine (ECQ) and modified ECQ.
With no bookings from tourists, Puyat said hotels could serve as temporary shelters for health workers and business process outsourcing agents who need to live near their work place.
They also accommodate locals and foreigners who got stranded in Metro Manila, as movement restrictions enforced by the government terminated their travel plans.
Further, hundreds of hotels mostly in the nation's capital were turned into quarantine facilities to house returning overseas Filipino workers (OFWs) and foreign nationals who are permitted entry. Their operators had to retrofit their units to sustain business in the absence of foreign tourists.
Based on DOT records, there are 131 hotels with a capacity of 29,153 rooms that take in OFWs through the Overseas Workers Welfare Administration. Outside of OWWA's coordination, a total of 7,687 rooms in 48 hotels in Metro Manila are made available to OFWs who need to quarantine.
Tourism spaces in Metro Manila, on the other hand, are being transformed into vaccination sites to accelerate the immunization of Filipinos.
Last week Nayong Pilipino Foundation, an attached agency of the DOT, approved the proposal to convert its vacant lot in Parañaque City into a vaccination site where 12,000 persons can be immunized every day.