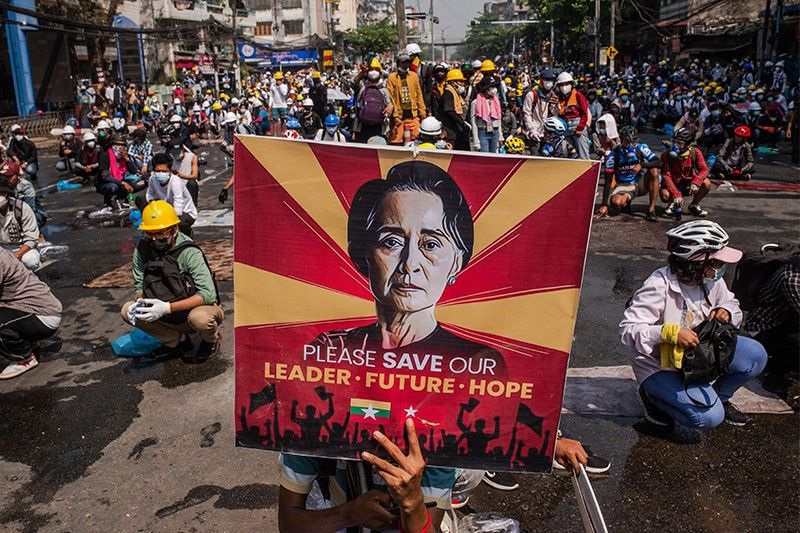 Protesters take part in a demonstration against the military coup in Yangon on March 2, 2021.
AFP/STR
Philippines calls for release of Myanmar's Suu Kyi
(Philstar.com) - March 3, 2021 - 7:47am
MANILA, Philippines — The Philippines' top diplomat called for the immediate release of Myanmar's civilian leader Aung San Suu Kyi as military and police have stepped up their use of force against protesters.
In a virtual meeting with his ASEAN counterparts on Tuesday, Foreign Affairs Secretary Teodoro Locsin Jr. said the Philippines, as part of the 10-member regional bloc, is deeply concerned about the recent events in Myanmar.
"Our call is for the complete return to the previously existing state of affairs: with respect to the preeminent role of Daw Aung San Suu Kyi; alongside the Army her father created for the protection of the people he led to freedom and the country he gave them at the cost of his life," Locsin said.
Stressing that Myanmar is "not a small finger but a big part" of ASEAN, Locsin said the first step should be the immediate release of Suu Kyi.
"The rest of ASEAN must stand by Myanmar; ready to give what help it is asked by the people and government of Myanmar," the top diplomat said.
UK calls for UN Security Council meeting
Britain has requested a new United Nations Security Council meeting on coup-hit Myanmar for Friday, diplomatic sources told AFP on Tuesday, as security forces have stepped up their use of violence against demonstrators in the Southeast Asian nation.
The meeting would be behind closed doors at 1500 GMT, according to London's proposal, the same sources said, as were the Council's discussions a day after the military's February 1 ouster of civilian leader Aung San Suu Kyi.
The Security Council subsequently voiced "deep concern" over the coup, and called in a draft statement for the "release of all detainees" including Suu Kyi.
On Monday, China's diplomatic mission to the UN, traditionally reluctant for the Security Council to discuss Myanmar told AFP that there was a "general agreement among Council members... that there will be a meeting on Myanmar soon."
Myanmar security forces fired live rounds and tear gas at protesters again on Tuesday, leaving at least three people critically injured as regional powers rebuked the junta over its deadly crackdown.
The country has seen weeks of mass protests demanding Suu Kyi's release, with security forces imposing a steadily more violent crackdown on dissent.
Sunday was the bloodiest day since the military takeover, with the United Nations saying at least 18 protesters were killed across the country. AFP independently confirmed 11 deaths. — Patricia Lourdes Viray with AFP
As It Happens
LATEST UPDATE: April 17, 2021 - 3:08pm
Follow this thread for updates on the situation in Myanmar, where a coup may be happening after de facto leader Aung San Suu Kyi and other officials have reportedly been detained by the military.
Photo: Military officers wearing facemasks who serve as members of Myanmar's parliament leave after a session at the Assembly of the Union (Pyidaungsu Hluttaw) in Naypyidaw on March 10, 2020. AFP/Ye Aung Thu
April 17, 2021 - 3:08pm
Thai foreign ministry says Myanmar's junta leader "confirmed" to attend ASEAN meeting.
April 14, 2021 - 3:18pm
Anti-coup protesters in Myanmar slosh red paint in the streets to symbolize the blood spilled and more than 700 lives lost in a brutal military crackdown.
The country is barely functioning and the economy has stalled since the military seized power from civilian leader Aung San Suu Kyi on February 1.
The military junta has sought to quell mass protests with lethal force and a local monitoring group has verified at least 714 civilian deaths but warns the toll is likely to be even higher. — AFP
April 12, 2021 - 3:12pm
Instead of the usual water pistols, splashing and jubilant crowds during Myanmar's New Year festival of Thingyan, this year's holiday will see real guns, blood on the streets and grief over a democracy robbed.
For a second year running, Myanmar's traditional Buddhist holiday period, which runs from Tuesday to Friday this week, has been disrupted.
Pandemic restrictions forced the cancellation of public water fights, street parties and dance performances last year.
But the February 1 military coup which ousted civilian leader Aung San Suu Kyi from power, and a subsequent security crackdown that has claimed more than 700 lives, has darkened the mood in 2021. — AFP
April 11, 2021 - 2:59pm
Myanmar youth are fighting the junta's internet shutdown and information suppression with an explosive underground printed newsletter they are secretly distributing across communities.
For 56 days straight there have been internet outages in coup-hit Myanmar, according to monitoring group NetBlocks.
The country has been in turmoil since democratically-elected leader Aung San Suu Kyi was ousted in a February 1 coup, triggering a mass uprising that has resulted in a brutal security crackdown and more than 700 civilian deaths.
Thirty-year-old Lynn Thant, not his real name, started the underground newsletter and gave it the edgy name Molotov to appeal to young people.
"This is our response to those who slow down the flow of information — and that's a threat to us," he told AFP. — AFP
April 10, 2021 - 11:10am
The Milk Tea Alliance has formally sent an open letter to various United Nations and ASEAN bodies and their member-states to demand that they act firmly and immediately to address the human rights, humanitarian, and political crisis that is currently unfolding in Myanmar.
"Deadly crackdowns of pro-democracy protests by the Myanmar military have now turned into abominable slaughters of innocent civilians in their own homes. The military has used heavy weaponry, hand grenades, RPGs, and air strikes on unarmed civilians. The situation is becoming very alarming as violence escalates each day. And yet, the feeble response from the international community has been downright disappointing." Me Me Khant, a young Myanmar poet and activist who is part of the Milk Tea Alliance, shares.