Survey: 4.4 million school-age Pinoys not enrolled
February 25, 2021 | 12:00am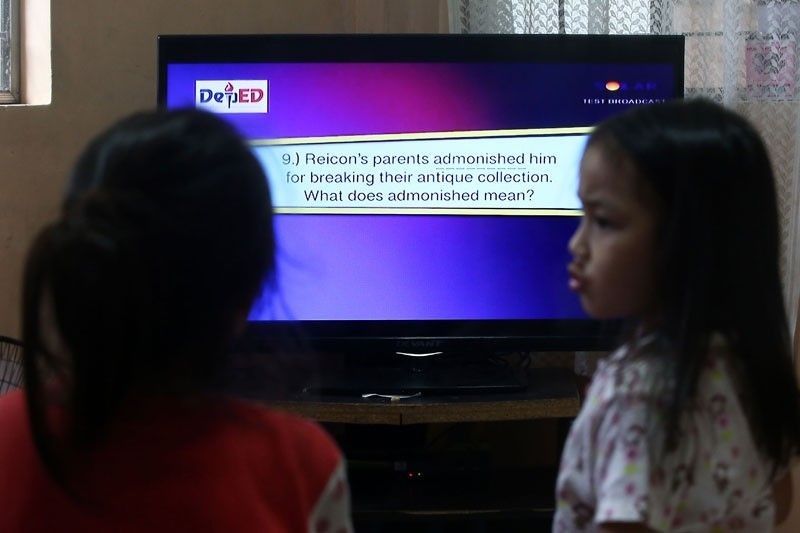 MANILA, Philippines — Some 4.4 million or about 13 percent of school-age Filipinos five to 20 years old are currently not enrolled, a recent survey by the Social Weather Stations (SWS) revealed.
The Department of Education (DepEd) has implemented blended learning for school year 2020-2021 amid the coronavirus pandemic.
The SWS poll, taken from Nov. 21 to 25, showed that 15 percent of five- to six-year-olds and 13 percent among 16- to 17-year-olds are currently not enrolled in schools under the DepEd program.
It was three percent for the seven to 11 age bracket, and four percent among the 12- to 15-year-olds.
But the biggest drop in enrollment was in the 18- to 20-year-old bracket at 40 percent.
By area, school-age Filipinos who are not enrolled currently were an identical 14 percent for Metro Manila and Mindanao; 13 percent in balance Luzon and 12 percent in the Visayas.
The percentage of school-age household members currently not enrolled is higher among families of less-educated household heads, the poll showed.
It is 20 percent among families of non-elementary graduate household heads, compared to 14 percent among families of elementary graduate household heads, 11 percent among families of high school graduate household heads and seven percent among families of college graduate household heads.
Meanwhile, 87 percent or an estimated 29.8 million school-age Filipinos are currently enrolled in school.
Among those enrolled, seven percent or about 2.1 million are in pre-primary; 45 percent (13.3 million) are in elementary; 29 percent (8.6 million) in junior high school; 13 percent (3.9 million) in senior high school and six percent (1.9 million) in college.
Of those enrolled, 80 percent or an estimated 23.8 million are participating in purely modular distance learning (MDL), 14 percent (4.3 million) in purely online distance learning (ODL), one percent (302,000) in purely traditional face-to-face learning, 0.1 percent or (38,000) in purely TV/radio-based instruction and four percent in blended learning, consisting of four percent or about 1.2 million in MDL and 0.6 percent or roughly 178,000 in ODL.
The percentage of currently enrolled school-age Filipinos is 88 percent in the Visayas, 87 percent in balance Luzon and 86 percent in both Mindanao and Metro Manila.
It was highest among families of college graduate household heads (93 percent), followed by families of junior high school graduate household heads (89 percent), families of elementary graduate household heads (86 percent) and families of non-elementary graduate household heads (80 percent).
The survey was based on face-to-face interviews of 1,500 adults, 18 years old and above, nationwide.
Face-to-face classes
Yesterday, the Alliance of Concerned Teachers (ACT) called on the government to roll out a clear plan for the gradual return of face-to-face classes.
Earlier, President Duterte decided to defer the physical reopening of schools until the rollout of COVID-19 vaccines.
"How convenient for the President to harp on his so-called concern on our safety to evade his responsibility of fulfilling the youth's right to education," said ACT secretary-general Raymond Basilio, noting that many countries have already found ways to enable the safe return to schools.
"It is plainly lazy and unimaginative to depend our education on the government's delayed and uncertain vaccination program," he said.
ACT reiterated its recommendations to the DepEd on how to prepare for the gradual resumption of limited and voluntary face-to-face classes in low-risk areas, including a competent risk assessment of schools, installation of health and sanitation facilities and retrofitting of classrooms.
It also recommended the hiring of school health personnel, mass testing for teachers and learners and reduction of class size and implementation of minimum health standards.
Education Secretary Leonor Briones earlier said DepEd continues to prepare for the pilot implementation of face-to-face classes once Duterte lifts the deferment on the plan.
Last Tuesday, Briones said that out of the 61,000 schools nationwide, 1,900 have been identified as possible pilot areas for limited face-to-face learning covering all regions.
"We are preparing so that when the vaccines shall have arrived, then we are ready to implement the program itself," she said at a virtual press conference for Region 1. – Janvic Mateo, Eva Visperas, Cecille Suerte Felipe, Mayen Jaymalin