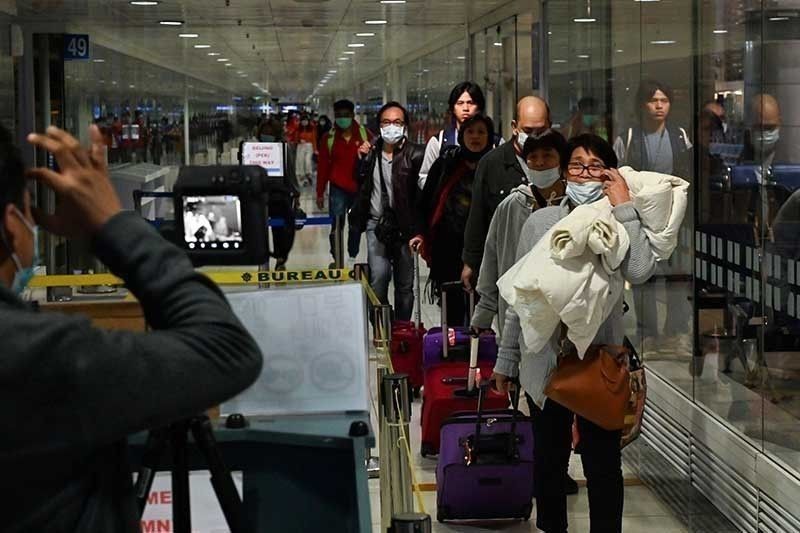 Travelers walk past a thermal camera upon arrival at the international airport in Manila on February 5, 2020.
AFP/Romeo Gacad
Philippines bars entry from 6 more countries due to threat of COVID-19 variant
MANILA, Philippines (Updated Jan. 11, 2021, 1:13 p.m.) — The Duterte administration on Wednesday announced fresh travel restrictions to six more countries on top of the 20 nations it first halted entry to amid the threat of the new coronavirus variant.
Per Malacañang's new order Wednesday night, foreign travelers from Portugal, India, Finland, as well as Norway, Jordan and Brazil will no longer be allowed entry to the Philippines beginning January 8 until January 15.
Those arriving before January 8 would still be welcomed, but will be required to quarantine for two weeks despite a negative RT-PCR test result.
Filipinos who come from the said countries but are returning to Manila, however, would also be allowed entry, provided that they follow the prescribed quarantine period even if they tested negative for the deadly virus.
The said countries join the list of other areas where the Philippines has restricted travel:
Australia
Canada
Denmark
France
Germany
Hong Kong SAR
Iceland
Ireland
Israel
Italy
Japan
Lebanon
Singapore
South Africa
South Korea
Spain
Sweden
Switzerland
The Netherlands
United Kingdom
United States
Philippine health officials earlier today said the COVID-19 variant has not yet reached the country, after Hong Kong authorities reported a returning resident who tested positive and had come from Manila.
Still, experts have stressed that the public should not let their guard down, as the more infectious variant could lead to another spike in cases and raise anew the possibility of a return to hard lockdowns that have hurt the economy badly.
Palace has said too that unaccompanied Filipino minors coming from countries with travel restrictions would not be given entry until January 15, except minors returning through its repatriation programs.
They will, in turn, be turned over to social welfare officials for ensuring their safety and in following quarantine measures.
Government has said that it would regularly update the list of nations covered in its travel restrictions.
It came nearly a year since it faced criticism for rejecting a travel ban of tourists from China that eventually led to the country's first COVID-19 case, a woman from Wuhan, where the virus originated.
The coronavirus task force has also put up a technical working group led by Undersecretary Maria Rosario Vergeire for monitoring and identifying new variants and providing policy proposals.
Experts from DOH-TAG, Research Institute for Tropical Medicine, University of the Philippines National Institutes of Health, PGC and EpiMetrics comprise the group.
Health officials have said that they are in talks with their counterparts in Hong Kong following the development. — with reports from Gaea Katreena Cabico
As It Happens
LATEST UPDATE: February 25, 2021 - 5:48pm
Find the latest travel and tourism news from around the world amid the coronavirus pandemic. Main image by AFP/Romeo Gacad
February 25, 2021 - 5:48pm
Tourism Secretary Bernadette Romulo-Puyat visits Siquijor to check preparations for reopening it to tourism, her department says.
She inspected accomodation establishments and tourism enterprises on the the island, where 37 hotels and inns have been accredited to reopen.
The province recorded 143,286 same-day visitor arrivals and 37,651 overnight visitor arrivals in 2020.
February 23, 2021 - 8:36pm
EasyJet shares rallied Tuesday on rocketing flight bookings for the British airline over the past week, given a boost by Prime Minister Boris Johnson's pledge to begin easing England's virus lockdown shortly.
Bookings soared 337% by late Monday compared with a week earlier, EasyJet said after Johnson's announcement.
EasyJet shares rallied around five percent on the London stock market -- and there were solid gains for European rivals.
Johnson's four-month roadmap to ease lockdown curbs by the northern hemisphere summer has also sparked hopes of easing restrictions elsewhere in Europe.
"The prime minister... has provided a much-needed boost in confidence for so many of our customers in the UK with demand for flights up 337 percent and holidays up 630 percent already compared to last week," EasyJet chief executive Johan Lundgren said in a statement. — AFP
February 18, 2021 - 10:05pm
Singapore on Thursday launched what it billed as a coronavirus-secure hotel and meeting complex where visitors communicate via intercom through glass panels, as the Asian financial hub slowly opens up to the world for business.
Short-stay business travellers to Singapore will be able to avoid the official 14-day quarantine rule if they stay at Connect@Changi, a purpose-built facility near Changi Airport.
They will, however, be required to remain within the facility for the duration of their stay to prevent possible transmission to the wider community.
After keeping its borders mostly closed for months, Singapore, which is home to the Asian headquarters of many international firms, will soon allow in business travellers from anywhere in the world as part of efforts to recover from a pandemic-induced downturn. — AFP
February 12, 2021 - 5:48pm
The Department of Tourism says it is optimistic with the speedy recovery of tourism due to the decision of the Inter-Agency Task Force on the Management of Emerging Infectious Diseases to reclassify industries for the continued reopening of the economy.
"With this development, we see the revitalization of the MICE (meetings, incentives, conferences and exhibitions) sector in General Community Quarantine (GCQ) areas and eventually, restoring our competitive advantage in the region. We also expect social events, though on limited scale, to resuscitate our accredited establishments, parks, historical landmarks, museums and other event locations, uplifting businesses along the value chain and more importantly, addressing employment and underemployment concerns," says Tourism Secretary Bernadette Romulo-Puyat.
February 9, 2021 - 5:35pm
Travellers arriving in Britain from abroad will have to take two coronavirus tests during quarantine, the government is expected to confirm on Tuesday.
Health Secretary Matt Hancock is due to announce that people told to isolate at home will be required to get a test two and eight days into a mandatory 10-day quarantine period.
The new measures, which critics say come too late to curb the spread of the virus, are aimed at halting new variants. — AFP