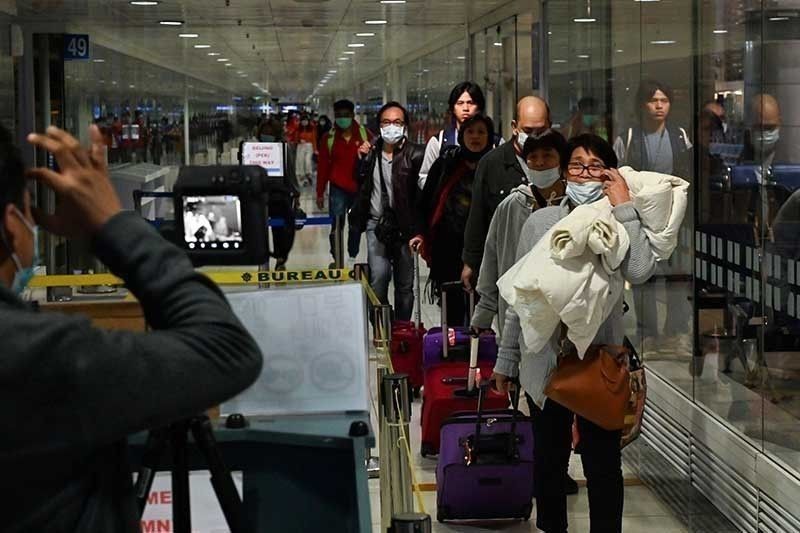 Travelers walk past a thermal camera upon arrival at the international airport in Manila on February 5, 2020.
AFP/Romeo Gacad
Philippines bars entry from 6 more countries due to threat of COVID-19 variant
MANILA, Philippines (Updated Jan. 11, 2021, 1:13 p.m.) — The Duterte administration on Wednesday announced fresh travel restrictions to six more countries on top of the 20 nations it first halted entry to amid the threat of the new coronavirus variant.
Per Malacañang's new order Wednesday night, foreign travelers from Portugal, India, Finland, as well as Norway, Jordan and Brazil will no longer be allowed entry to the Philippines beginning January 8 until January 15.
Those arriving before January 8 would still be welcomed, but will be required to quarantine for two weeks despite a negative RT-PCR test result.
Filipinos who come from the said countries but are returning to Manila, however, would also be allowed entry, provided that they follow the prescribed quarantine period even if they tested negative for the deadly virus.
The said countries join the list of other areas where the Philippines has restricted travel:
Australia
Canada
Denmark
France
Germany
Hong Kong SAR
Iceland
Ireland
Israel
Italy
Japan
Lebanon
Singapore
South Africa
South Korea
Spain
Sweden
Switzerland
The Netherlands
United Kingdom
United States
Philippine health officials earlier today said the COVID-19 variant has not yet reached the country, after Hong Kong authorities reported a returning resident who tested positive and had come from Manila.
Still, experts have stressed that the public should not let their guard down, as the more infectious variant could lead to another spike in cases and raise anew the possibility of a return to hard lockdowns that have hurt the economy badly.
Palace has said too that unaccompanied Filipino minors coming from countries with travel restrictions would not be given entry until January 15, except minors returning through its repatriation programs.
They will, in turn, be turned over to social welfare officials for ensuring their safety and in following quarantine measures.
Government has said that it would regularly update the list of nations covered in its travel restrictions.
It came nearly a year since it faced criticism for rejecting a travel ban of tourists from China that eventually led to the country's first COVID-19 case, a woman from Wuhan, where the virus originated.
The coronavirus task force has also put up a technical working group led by Undersecretary Maria Rosario Vergeire for monitoring and identifying new variants and providing policy proposals.
Experts from DOH-TAG, Research Institute for Tropical Medicine, University of the Philippines National Institutes of Health, PGC and EpiMetrics comprise the group.
Health officials have said that they are in talks with their counterparts in Hong Kong following the development. — with reports from Gaea Katreena Cabico
As It Happens
LATEST UPDATE: January 22, 2021 - 7:36pm
Find the latest travel and tourism news from around the world amid the coronavirus pandemic. Main image by AFP/Romeo Gacad
January 22, 2021 - 7:36pm
Denmark is suspending flights from the UAE for five days over suspicions that virus tests and checks are not rigorous enough, the Nordic nation's transport minister says.
All air passengers arriving in Denmark need to show a negative virus test from the previous 24 hours, but Transport Minister Benny Engelbrecht said Danish authorities want to be sure there were no botched screenings or tests that had been bought in Dubai.
"All commercial flights from the United Arab Emirates are cancelled for five days," he says in a statement, adding that it would give officials time "to ensure that the required negative test is a true screening that has been carried out correctly". — AFP
January 18, 2021 - 11:05am
Australia's international borders are unlikely to open to travelers this year despite the rollout of coronavirus vaccines, a top health official said Monday.
Health department secretary Brendan Murphy, a key adviser in Australia's virus response, said free-flowing travel to and from the country was not expected to resume in 2021.
"I think that we'll go most of this year with still substantial border restrictions," he told public broadcaster ABC.
"Even if we have a lot of the population vaccinated, we don't know whether that will prevent transmission of the virus.
"And it's likely that quarantine will continue for some time." — AFP
January 18, 2021 - 7:14am
La Trinidad town has cancelled its Strawberry Festival, which was scheduled for March this year.
La Trinidad Vice Mayor Roderick Awingan said that the Strawberry Festival Executive Committee on January 12, through a unanimous vote, cancelled the much-awaited festival that is usually held every first week of March.
Last year, the festival that features the town's luscious red fruit product farmed in its vast valley plantations, was also cancelled.
Though an indigenous ritual known as "Panudsuran", where ancestors' spirits are called and invoked to cleanse the community, was held. A mass will also be offered where limited participants are invited.
The executive committee is composed of Mayor Romeo Salda as chairman; Vice Mayor Awingan as co-chair; and members of the Sangguniang Bayan and Municipal Tourism Officer Valred Olsim as members. — The STAR/Artemio Dumlao
January 16, 2021 - 12:52pm
Emirates suspends flights to Australia's three largest cities as the country further restricts international arrivals over fears of new virus strains.
The Dubai-based carrier was one of the last to maintain routes into and out of the country's east coast throughout most of the pandemic but on Friday evening told travellers a handful of planned flights next week would be the last.
"Due to operational reasons, Emirates flights to/from Sydney, Brisbane and Melbourne will be suspended until further notice," Emirates says on its website. — AFP
January 15, 2021 - 6:13pm
The Philippines includes United Arab Emirates and Hungary in list of countries affected by travel restrictions, according to Malacañang.