Ellen gifts Pinay nurse with new SUV
December 11, 2020 | 12:00am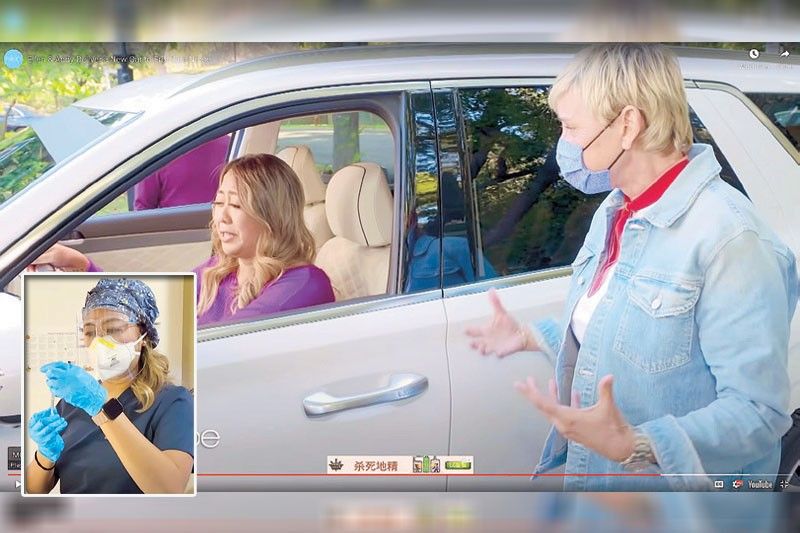 MANILA, Philippines — A Filipino-American nurse got the surprise of her life when US talk show host Ellen DeGeneres and producer Andy Lassner personally delivered a brand new Hyundai car to her house in honor of her being a frontliner.
Flor Maylyn Roz lives with her husband, Rowin, and their two-year-old son Grey in Los Angeles, California.
She takes care of patients with COVID-19 at the hospital where she works and narrated how tough it has been for a frontliner like her in this health crisis.
"I became a nurse (because) since I was a kid, I have loved helping people. The pandemic has changed everything. People who are sick, since they cannot be visited by their families, I will be the one who's gonna be by their side and let them know that there is this person who loves them," said Roz in a video posted on The Ellen Show's YouTube channel.
"It's been hard and I haven't been home for months because I work with COVID patients and it's just heartbreaking not to see your family. But I can't do anything but be strong for them," she added.
Roz contracted COVID-19 back in March and had to stop working for months. It affected her and the family financially.
"Right now, me and my husband share a car. If I don't have the car, I sometimes ask my co-workers to pick me up and I walk. Or sometimes I take Uber," she said.
When DeGeneres asked what it is like for her to be a frontliner, she replied that she was "honored just being there for people who she is taking care of."
DeGeneres told Roz, who was in tears upon receiving the Hyundai Palisade, how "amazing" she was for the work she does and thanked her for her service.
The show has partnered with Hyundai to pay tribute to the medical frontliners fighting the pandemic.
The Freeman newspaper in Cebu quoted Roz's sister Fleire Castro who congratulated her in a Facebook post: "My sister Bem Bem got COVID-19 last March as a frontline nurse. She was surprised by Ellen DeGeneres with a BRAND NEW CAR to
thank her for her service as a frontliner!! Congratulations, sis!! I don't often say this but SANA OLLLL!!"
Castro is the founder and proprietor of Third Team Media, a digital marketing firm in Cebu.
Roz was born and raised in Iligan City in Mindanao and moved to the US with her mother, The Freeman reported.