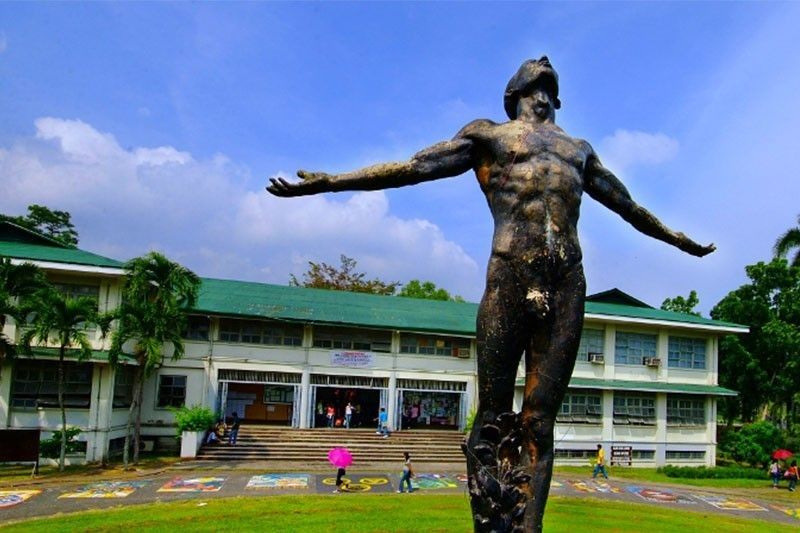 File photo shows the Oblation statue in front of the Humanities Building at the University of Los Baños campus.
Provincial Government of Laguna
UP to adopt 'no fail' policy as COVID-19, typhoons hamper learning
(Philstar.com) - November 26, 2020 - 2:37pm
MANILA, Philippines — The University of the Philippines System will be not be issuing failing marks this semester, the student representative to its policy-making Board of Regents said Thursday.
"UP to implement a no fail policy this semester where a grade of '4' [conditional] or '5' [fail] shall not be given," the Office of the Student Regent announced on Twitter, adding that the Office of the Vice President for Academic Affairs would release guidelines soon.
UP to implement a no fail policy this semester where a grade of "4" or "5" shall not be given.

OVPAA to release guidelines soon.#PassAllUP #EndTheSemUP#WalangIwananUP pic.twitter.com/VpjZQbXfNy

— UP Office of the Student Regent (@uposr) November 26, 2020
During regular semesters, students who get a '4' need to pass a 'removal' exam to pass the course.
Earlier this year, the UP Board of Regents voted to terminate the semester under a "deferred" grade scheme, where students were allowed to pass class requirements even after classes ended.
The scheme was based on a proposal to postpone the grades of those who could not submit class requirements—for example, for lack of access to the internet or even a computer—"since there is no sufficient basis for assessing students, they will be given a 'deferred grade.'"
"None of the students will fail the course provided they meet the requirements," an advisory panel formed by the office of the university president said in its policy proposal.
Ateneo de Manila University's policy during the early months of the COVID-19 pandemic was to clear qualified graduating students for graduation while eligible non-graduating students woul receive passing grades and be promoted to the next school year automatically.
RELATED: UP decision to defer grades said to put class requirements over student welfare
Academic strike
This comes amid widespread calls for a Luzon-wide academic break following the recent onslaught of typhoons which was soundly rejected by both the Commission on Higher Education and Malacañang.
As of Wednesday, more than 15,000 students and some 300 faculty members across the UP System were reported by the student regent to have signed "community-led strikes and petitions" calling for an immediate end to the semester, passing marks for all students, and "to demand accountability from the national government."
Students from Ateneo de Manila University first called for a mass student strike after Metro Manila and parts of Luzon were lashed by Typhoon Ulysses, calling on the government to "act now or step down." They said government response to the pandemic and a recent string of typhoons has been lacking.
READ: 'Act now or step down': Ateneo students sign mass student strike, protest gov't response to Ulysses, COVID-19 | Ateneo president 'affirms' right to protest, but stops short of backing strike
The national government quickly took notice of the student protests, with President Rodrigo Duterte threatening to defund UP for the academic strike started by Ateneo students.
In a televised address last week, the president accused UP "of doing nothing but recruit communists" and threatened to cut funding.
UP has since denied Duterte's allegations, reminding the chief executive that it is an education institution that has trained and produced experts and government officials alike. Senators have also said that the government is required by law to fund UP, which has been designated a national university.
During the same televised meeting, Roque called Ateneo students "loko loko" (crazy or mischievous) after warning them the week before that they would flunk their subjects if they withheld their requirements. — Bella Perez-Rubio with a report from James Relativo