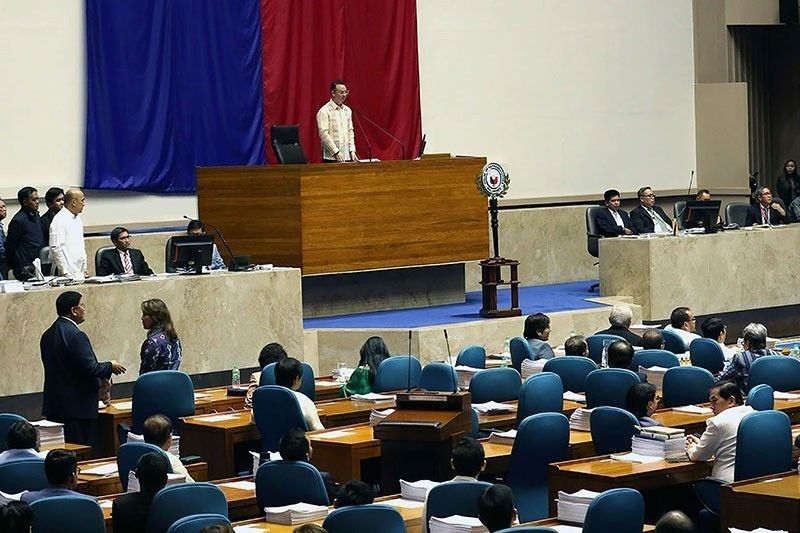 Last Wednesday afternoon, two budget hearings were cancelled because of an unannounced caucus that later proved to be a manifestation of support for Cayetano by the so-called "supermajority" in the legislative chamber.
Miguel de Guzman, file
House blocs move to drop term-sharing
MANILA, Philippines — Speaker Alan Peter Cayetano is fast gaining numbers to keep his leadership of the House of Representatives, as more political and regional blocs are rallying to drop his term-sharing agreement with Marinduque Rep. Lord Allan Velasco.
Last Wednesday afternoon, two budget hearings were cancelled because of an unannounced caucus that later proved to be a manifestation of support for Cayetano by the so-called "supermajority" in the legislative chamber.
In a live Facebook video, Cayetano said he called the caucus to discuss the rants raised by President Duterte last week about the well-entrenched red tape in government that has slowed down business and investments.
But the caucus via Zoom app, which drew Majority Leader Martin Romualdez, along with several others in the plenary, to Cayetano's chambers quickly turned into mounting calls for the Taguig City congressman to retain his post as speaker.
After the meeting, leaders of blocs in the House manifested one by one their call to cancel the term-sharing agreement designed to install Velasco as the new speaker by next month.
Deputy Speaker Neptali Gonzalez II joined pro-Cayetano forces in calling for a status quo in the House leadership, confident that an election among lawmakers today will definitely turn in the incumbent's favor.
"With Speaker Alan at the helm of the leadership in the House, I can say that we are on steady course, it has already been tested, and we have nothing to fear," Gonzalez said. "If the House will be left alone to decide, I think Speaker Cayetano will remain."
Cavite Rep. Elpidio Barzaga Jr., Bulacan Rep. Jonathan Sy-Alvarado and Deputy Speaker and Laguna Rep. Dan Fernandez, all of the National Union Party (NUP), said they prefer Cayetano to remain as speaker until 2022.
"In the next 21 months we will contiue to support the leadership of Speaker Alan Peter Cayetano," Barzaga, president of the 62-member bloc, stressed in a privilege speech the same day.
For his part, Fernandez said most House members believe "it is not the right time (to replace Cayetano) because Congress right now, in addressing the problem of COVID-19, is doing well."
Seven congressmen from Cavite also expressed a manifesto of support for an extension in Cayetano's leadership. They are Representatives Abraham Tolentino, Jesus Crispin Remulla, Elpidio Barzaga Jr., Strike Revilla, Alex Advincula, Luis Ferrer IV and Francis Gerald Abaya.
Batangas Rep. Elenita Ermita Buhain, Southern Tagalog development committee chairperson, likewise joined the call.
"I join my colleagues in Southern Tagalog in expressing our full support to the leadership of Speaker Alan Peter Cayetano. We are united in the belief that the Speaker has accomplished so much in leading the House," she said.
From up north, Deputy Speaker and Ilocos Sur Rep. Deogracias Victor Savellano, of the Northern Luzon Alliance, said the House has "accomplished much" under Cayetano that a status quo in the leadership would be favorable.
Earlier, even allies of Velasco in the ruling PDP-Laban party, like Davao del Norte Rep. Pantaleon Alvarez, believe it would be impractical to change the House leadership at this time.
"For me, if Congressman Alan Peter Cayetano already started as the Speaker, just let him finish the entire term. I'm not saying I'm impressed with Cayetano, because Congressman Velasco is a party mate. But for me, let's just work together for the sake of the country," the former House speaker said in a TV interview.
Alvarez added that he has been against the term-sharing deal from the start, believing it would only divide the lower chamber.
Fellow-Mindanaoan, Deputy Speaker and Misamis Occidental Rep. Henry Oaminal (Nationalista Party), also rejected the term-sharing deal, saying it's unwise to change the Speaker in the middle of the coronavirus pandemic.
"We find it unwise to rock the boat of the country's legislative institution while our nation wallows in this global health pandemic, to which undivided attention and united efforts of the country's leaders are paramount," Oaminal said in a privilege speech, speaking for district lawmakers in Northern and Southern Mindanao.
Another administration ally, Deputy Speaker Rodante Marcoleta who represents the 1Sagip party-list, shares the same view.
"The last six months dictated the most critical path of our national life. In Congress, we needed everyone to rally behind the Speaker in enacting the crucial pieces of legislation that will secure our survival as a people," Marcoleta said.
Taking the same position much earlier were Caloocan City Rep. Edgar Erice, of the Liberal Party and Public accounts committee chair and Anakalusugan Rep. Mike Defensor who supported Cayetano's retention as speaker.
Palabra de honor
But there was also a voice in the House appealing for Cayetano to exemplify the virtues of "palabra de honor" and "delicadeza" by respecting the term-sharing deal with Velasco.
Rep. Lito Atienza (Buhay party-list) reminded Cayetano that he should honor the gentleman's agreement with Velasco with no conditions. "They agreed to this in front of no less than President Duterte himself," he said.
Under the agreement made in July 2019, Cayetano leads the House for the first 15 months of the 18th Congress or until October 2020, while Velasco will assume leadership for the last 21 months.
Atienza then appealed for the President to intervene. "Mr. President, please do not allow the breaking of this gentleman's agreement to share terms. Otherwise, Congress is doomed to fail if palabra de honor and delicadeza are not followed," he said.