Here's a roundup of Duterte's priority bills in his 2020 SONA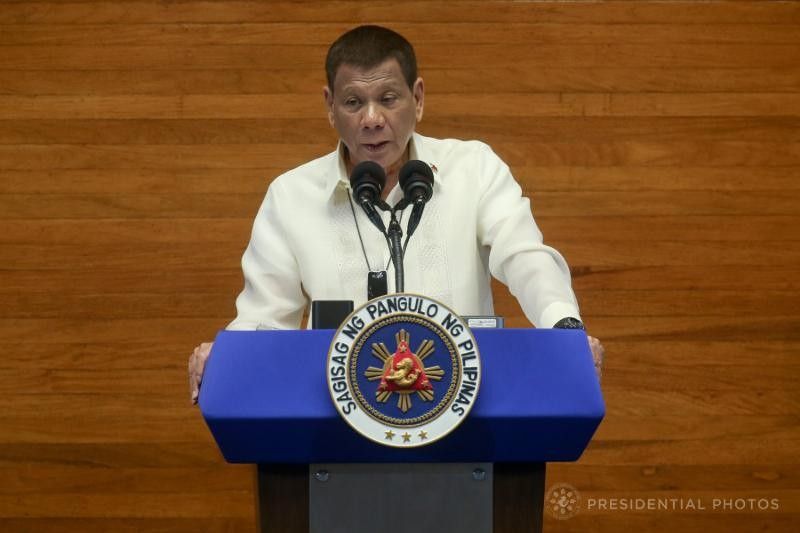 MANILA, Philippines — In his 2020 State of the Nation Address (SONA) on Monday, President Rodrigo Duterte asked the 18th Congress to pass a number of laws over the remaining two years of his term.
While both the House speaker and the Senate president may craft their own legislative agendas for their respective chambers, Congress has mostly voted and moved accordig to Duterte's policy decisions.
Both the Bayanihan to Heal as One Act —the law granting Duterte sweeping special powers to address the COVID-19 pandemic — and the controversial Anti-Terrorism Act breezed through Congress after the president certified their passage as urgent.
The issue of the franchise bid of broadcast giant ABS-CBN Corp. also went Duterte's way despite him and House Speaker Alan Peter Cayetano saying that they were neutral on it. Both have expressed having grievances with the network, with Duterte even once saying that the embattled network would not get a franchise if it were up to him.
RELATED: PCOO to seek inclusion of Freedom of Information bill in priority legislation
Like in 2019 but unlike his previous SONAs, Duterte made no mention of amending the 1987 Constitution for a shift to a federal form of government, both which have long been among his campaign promises and are a recurring theme in his public addresses.
Here's a look at the bills the chief executive has asked Congress to prioritize in the coming months.
'Bayanihan' 2
The first iteration of the law that granted the president sweeping special powers expired on June 25.
In his penultimate SONA, President Duterte called on Congress to fast-track an extended term for special powers, saying that the bill would "supplement funds for recovery and response against the impact of the COVID-19 pandemic."
"I again reiterate my thanks to you, the men and women of Congress, for the effort you invested into passing that law. I hope that we can get some or the same treatment of clarity, purpose and the fastness [applause] to support the passage of the Bayanihan [to Recover as One Act]," Duterte said on Monday.
While he was careful to ask Congress to pass the second iteration of the Bayanihan to Heal as One Act, Duterte skipped putting the P1.3-trillion Accelerated Recovery and Investments Stimulus for the Economy of the Philippines (ARISE) bill to boost the country's recovery from the pandemic on the agenda.
Death penalty by lethal injection
Duterte has been consistent about wanting to bring back the death penalty. He has reiterated this plea in previous SONAs, often mentioning the subject alongside his campaign against illegal drugs.
In his previous SONA, Duterte included plunder among the crimes punishable by death. During his most recent one, he said that drugs causes families to crumble all over the country every day.
"I reiterate the swift passage of a law reviving death penalty by lethal injection for crimes specified under the Comprehensive Dangerous Drugs Act of 2002," he said Monday, despite saying his government "prioritized preserving life" and human rights just earlier in his speech.
"This will not only help us deter criminality but will help us save our children," he said.
Meanwhile, the New York-based Human Rights Watch says that the summary-style executions linked to the president's flagship campaign against illegal drugs still happens everyday.
The administration has repeatedly said that extrajudicial killings are not state policy and that the more than 5,000 acknowledged deaths in law enforcement operations were because "drug personalities" fought back.
Corporate Recovery and Tax Incentives for Enterprises (CREATE) Act
Among the government's stimulus packages, the CREATE Act proposes that losses incurred by non-large taxpayers in 2020 be carried over throughout the next five years.
"This immediately cuts the corporate income levy from the current 30% to 25% and give the government flexibility to grant a combination of fiscal and non-fiscal incentives, among others," Duterte said in his SONA.
Think tank Ibon Foundation, though, has said that the bill would not pass as a stimulus for an economy heavily affected by the pandemic.
"CREATE is not a stimulus package. It's a bill giving companies tax breaks," Sonny Africa, executive director of IBON Foundation Inc., said in a webinar.
Financial Institutions Strategic Transfer (FIST) Act
The Financial Institutions Strategic Transfer looks to help financial institutions in their cushion the impact of the coronavirus pandemic on their financial operations.
Duterte said the bill would "set up mechanisms allowing banks and other financial institutions to dispose of and transfer non-performing assets and loans to asset management companies similar to Special Purpose Vehicles."
The House of Representatives approved the bill, House Bill No. 6816, on its third and final reading in June.
National Land Use Act
According to former Socioeconomic Planning Secretary Ernesto Pernia, the bill aims to harmonize sector-specific land-use policies and institutionalize land use planning.
In all of the instances that Duterte has batted for the law, he would use the rehabilitation of Boracay to justify the need for it, and Monday's address was no different.
"Boracay is doing well because of its scenery. If it's only a coconut, and a black sand, ay white sand, and water, wala 'yan. Pero you add the visitors there, then it becomes a very tempting destination," he said.
RELATED: Duterte bats for creation of Boracay Island Development Authority
During his third SONA in 2018, Duterte said the policy "will address our competing land requirements for food, housing business, and environmental conservation."
Duterte has been pushing the act as among the priority legislative measures in his State of Nation Addresses since 2017, though it has yet to survive the legislative mill.
Coconut Farmers and Industry Trust Fund
Another repeated mention at this year's SONA was the creation of a trust fund for the coco levy funds collected off taxes imposed on coconut farmers during the Martial Law era to develop the industry.
President Duterte prioritized but had previously vetoed a similar bill for lack of, he said, "vital safeguards to avoid the repetition of painful mistakes in the past."
Senate Bill No. 1396 or "An Act Creating the Coconut Farmers and Industry Trust Fund, Providing for Its Management and Utilization, Reconstituting For the Purpose the Philippine Coconut Authority Board, and for Other Purposes" is listed as "Pending Second Reading, Special Order" in the Senate as of May 2020.
"I urge everybody that this money taken will be used for the welfare of the farmers,"
Advanced Nursing Education Act and Medical Reserve Corps Act
"We hail our health professionals as heroes. Now is the time to pass the Advanced Nursing Education Act and the law instituting the Medical Reserve Corps," Duterte said, saying this would bolster the country's capacity to fight against future pandemics.
The Advanced Nursing Education Act or Senate Bill No. 395 seeks to strengthen the nursing profession by instituting measures for more relevant nursing education, and better working conditions and career prospects for nurses.
Filed by Sen. Bong Go, the latter bill forms a reserve corps "composed of all persons who have degrees in the field of medicine, nursing, medical technology, and other health-related fields but have yet to have their respective licenses to practice for reasons such as, but not limited to, not having taken and/or passed the licensure examinations in their respective professions."
The president also connected this to his decision to double the salaries of the military and the police, saying: "It was really a call for them also to have a decent life and that they're able to get things which ordinarily can't be reached by government employees."
"The passage of this law will lead to the creation of a better response to future pandemics," he said.
Duterte, in his speech that lasted more than an hour and a half, threatened telecoms Smart and Globe, hit back at Senate Minority Leader Franklin Drilon, expressed apprehension in asserting the country's legal victory in the West Philippine Sea, and claimed that martial law in Mindanao ended without abuses by the police and the military.
READ: What wasn't mentioned in Duterte's fifth SONA
"My countrymen, there are lessons to be learned from the coronavirus pandemic. It jolted us to realize that gains made after spending so much planning, effort, cost and time could diminish considerably and quickly for reasons beyond one's anticipation; that it is much easier to destroy than to build; that in a crisis of national proportions that affects every aspect of human life," the president rambled.
"Governments need to have the support and cooperation of the people if it is to succeed in battling the cause of that crisis, that there are people who ask for compassion but show none themselves; that life, after all, is fickle like the weather," he went on.
The Philippines, which is under the world's longest quarantine, has a higher number of active cases than Indonesia, which leads Southeast Asia in tally cases with 97,286 patients.
As of this writing, the health department's tally stands at 82,040 cases recorded in the country since the outbreak first started in Wuhan. — Franco Luna