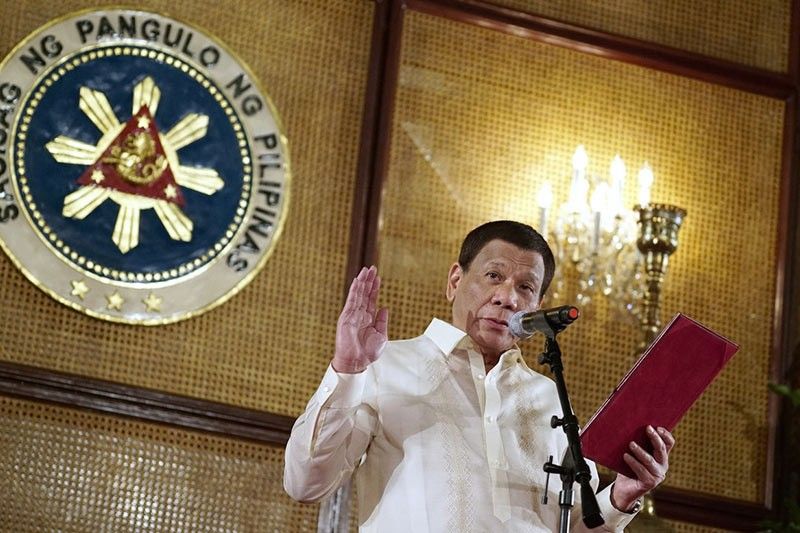 President Rodrigo Duterte administers the oath to newly appointed officials from various government agencies during a ceremony at the Malacañan Palace on Feb. 7, 2019.
King Rodriguez/Presidential Photo
Duterte vetoes bill strengthening Philippine Coconut Authority over corruption worries
MANILA, Philippines — The coconut levy bill vetoed by President Rodrigo Duterte was prone to corruption just like pork barrel funds, Malacañang said Sunday, as it urged Congress to craft a better law that would protect public funds from irregularities.
In his veto message dated February 8, Duterte said the bill lacked "vital safeguards to avoid the repetition of painful mistakes in the past."
The president said the measure did not reflect the ultimate goal of accelerating the full use of coconut levy assets and funds for the benefit of coconut farmers and the coconut industry but did not provide specifics.
Presidential spokesman Salvador Panelo revealed the president was against a provision that would have prevented the executive branch from overseeing the implementation of the development of the coconut industry.
"The P10-billion in annual appropriation for the development of an industry whose implementation is placed on an agency not required to seek approval from the executive branch is susceptible to corruption akin to creating pork barrel funds," Panelo said in a statement.
"The oversight functions over the Philippine Coconut Authority is placed only with Congress. Specifically, the strengthened PCA Bill mentions of an oversight to be exercised by the Coconut Farmers and the Industry Oversight Committee to the exclusion of the executive branch," he added.
Panelo also claimed that the bill gave a reconstituted PCA various functions including the sale, disposition or dissolution of coco levy assets without checks and balances.
"Such condition will diminish the ability of the Department of Justice, through the Office of the Solicitor-General in coordination with the Presidential Commission on Good Government to act on cases relating to coco levy assets," the presidential spokesman said.
Panelo said the president had also rejected the composition of the reconstituted 15-person PCA Board, seven members of which were supposed to come from the private sector.
"A receipt of P10-billion by the board from taxpayers' money therefore translates to permitting private persons to influence the disbursement of public funds," Panelo said.
The PCA set-up was also similar to that of the Road Board, which was heavily criticized for allegations of corruption and misappropriation of funds, the presidential spokesman added.
Panelo claimed that under the bill, the PCA board was given full authority to disburse P10-billion every year "in perpetuity without a terminal date, and subject only to review by Congress after six years."
"The veto of the bill will give Congress more time and opportunity to improve the formulation of the PCA and the distribution of coco levy funds. The veto by (President Duterte) of the legislative measure is a reflection of the principled stand of this administration in promoting good governance and public accountability," he added.