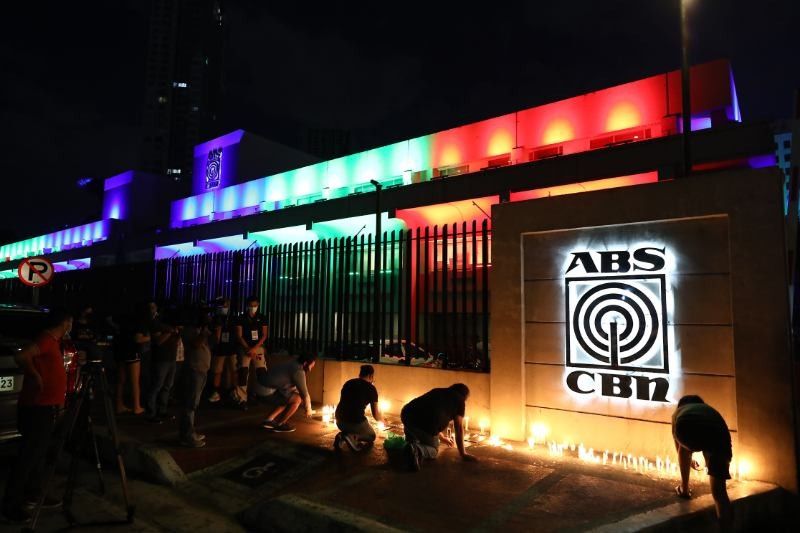 File photo shows employees and supporters lighting candles at the gate as the ABS-CBN Corporation office in Quezon City shines the network's colors.
The STAR/Miguel de Guzman
NTC: ABS-CBN to cease Channel 43, TV Plus operations before day ends
(Philstar.com) - June 29, 2020 - 3:19pm
MANILA, Philippines (Updated 7:40 p.m.) — ABS-CBN's TV Plus services should have been ceased along with its other operations when it went off the air with the expiration of its legislative franchise and will be halted by Monday's end by the National Telecommunications Commission, commissioner Gamaliel Cordoba said Monday.
At the House committee on legislative franchises hearing on ABS-CBN's franchise renewal on Monday, Cordoba said that the broadcast giant was using the franchise of AMCARA Broadcasting Network for its Channel 43 operations.
"All broadcast operations of ABS-CBN are only authorized through its expired franchise...In other words, ABS-CBN's airing of digital TV on Channel 43 is part of the cease and desist order because the franchise that they used for that is ABS-CBN's franchise," he said.
Rep. Boying Remulla (Cavite 7th District), who sits as Senior Deputy Majority Leader and who earlier asked if ABS-CBN chairman emeritus Gabby Lobez was "100% Filipino or 100% American or 50% Filipino or 50% American," went as far as saying that the broadcast giant's operation for the past eight weeks was illegal and usufructuary.
He added that allowing ABS-CBN to operate post-May 4 with an expired franchise warranted grounds to file charges against Cordoba.
"[Provisional authority] was predicated on the effectivity of the franchise of the corporation...Cordoba should resign because he is not doing his job," Rep. Rodante Marcoleta (Sagip Party-list) said.
Rep. Mike Defensor (Anakalusugan Party-list) added: "The law is the law and we have to obey that. Today, the continuing use of that frequency should stop."
'Due process in the spirit of fairness'
Lopez's citizenship, along with a litany of recycled issues, had already been addressed by government agencies—including the labor department, the Bureau of Internal Revenue, and the Securities and Exchange Commission—at an earlier Senate hearing.
READ: Allegations against ABS-CBN recycled anew at House hearing | ABS-CBN abides by tax, labor and corporate laws — gov't
For his part, ABS-CBN Corp. CEO Carlo Katigbak said that the company was willing to submit to the judgment of the regulatory agency but appealed for due process and asked the committees to allow broadcast while the franchise is pending for renewal.
"In the past, the NTC has permitted other companies whose franchises have expired and were currently being deliberated to continue with their operations until such time as either the application is approved or denied. We would like permission to ask for the same privilege to be extended to ABS-CBN in the spirit of fairness," he said.
"The cease and desist order does not cover Channel 43. It's not on the list... A block-time arrangement is a standard commercial agreement that is quite common in the broadcast industry. Many other broadcasters do this as well," he added.
At an earlier hearing, Katigbak said that the sale of the TVplus boxes was "in compliance with the directive of NTC to migrate our broadcast to digital."
A cursory glance at the cease and desist order shows that Channel 43 is not among the operations the corporation was directed to cease and desist operations of.
Cable association supports bid for franchise
Later in the hearing, the Philippine Cable and Telecommunications Association (PCTA), the country's largest cable group, expressed support for the broadcast giant's bid for a franchise renewal, saying that services like TVplus allowed for clearer signals.
According to PCTA president Ralph Casiño, multiple channels on a single frequency affords consumers "the power of choice."
"In the old technology, each frequency could only deliver a single channel. With digital compression, broadcasters are able to provide four or more channels. This empowers televiewers and consumers to have more options and program choices," he said.
This sentiment was echoed by Kapisanan ng mga Brodkaster sa Pilipinas president Jun Nicdao, who also asserted that blocktime agreements have long been a staple industry practice, pointing out that there is even an organization called Independent Block Timers Association of the Philippines.
"Blocktimers do not need a franchise to buy airtime from a broadcasting station," he said.
According to Nicdao, blocktime involves only the sale of airtime, but the control of the station still rests with the owner or the franchise of the station.
"Between TVplus and SKY, there are about 11 million homes that have access to our service. If we cut that off, that's almost 55 million people that will lose access to their entertainment, their news and information," Katigbak said. — Franco Luna
As It Happens
LATEST UPDATE: June 30, 2020 - 7:19pm
ABS-CBN Corp. stopped broadcasting on its TV and radio stations on May 5, 2020 after the National Telecommunications Commission issued a cease and desist order. The network's franchise had lapsed on May 4 without action by the House of Representatives.
June 30, 2020 - 7:19pm
ABS-CBN's affiliate, Sky Cable Corp. appeals to the National Telecommunications Commission to extend the "same privilege given in the past to other companies whose franchises have expired but are currently pending in Congress to continue its operations until a resolution is passed."
"We assure our subscribers that we will exhaust all legal remedies to resume our services," it says in a statement.
"We commit to attend to the concerns of our valued subscribers and partners arising from this decision. We will refund all unconsumed prepaid loads and advance postpaid payments. We appeal to our SKYdirect subscribers and partners for understanding and patience as we undergo this process," it adds.
June 6, 2020 - 5:44pm
A lawyer asks the Supreme Court to define the powers of the Office of the Solicitor General amid issues surrounding the ABS-CBN shutdown.
Lawyer Paris Real also asked for a temporary restraining order on the cease and desist issuance against the broadcast giant by the National Telecommunications Commission.
June 1, 2020 - 10:58am
Rep. Rufus Rodriguez (Cagayan de Oro) tells his fellow lawmakers that the accusations against ABS-CBN, including alleged foreign ownership, have no basis in law.
Rodriguez points out that ABS-CBN chairman emeritus Eugenio "Gabby" Lopez III was born to Filipino parents under the 1935 Constitution. In effect, he was born a Filipino citizen.
The lawmaker also stresses that there is no violation on ABS-CBN's issuance of Philippine Depositary Receipts, which have approval of the Securities and Exchange Commission.
June 1, 2020 - 10:53am
Rep. Vilma Santos Recto (Batangas), sponsoring her bill granting ABS-CBN a franchise, says the network has helped the economy in creating economies by creating jobs for 11,000 people.
Santos Recto shares her concern to affected ABS-CBN employees as the House committees on legislative franchises and good government and public accountability resume their joint hearing on the network's franchise renewal.
"Marami pong umaasa sa mga talents ng ABS-CBN, kasama na rin po ang kani-kanilang mga pamilya. Let us give due consideration to the talents of ABS-CBN. They are also part of the workforce of the country," she says.
May 26, 2020 - 6:27pm
A labor group says it continues to support the re-opening of the ABS-CBN Corp. through the enactment of pending bills at the Lower House for its renewed fresh 25-year franchise.
"While we recognize the justness of the previous labor cases being involved by the ABS-CBN management to their contractual workers in the past, we believe that there were proper and legitimate forum and venue where labor disputes were being settled including the Department of Labor and Employment through its National Labor Relations Commission, National Conciliation and Mediation Boards among other local courts," says Defend Jobs Philippines.