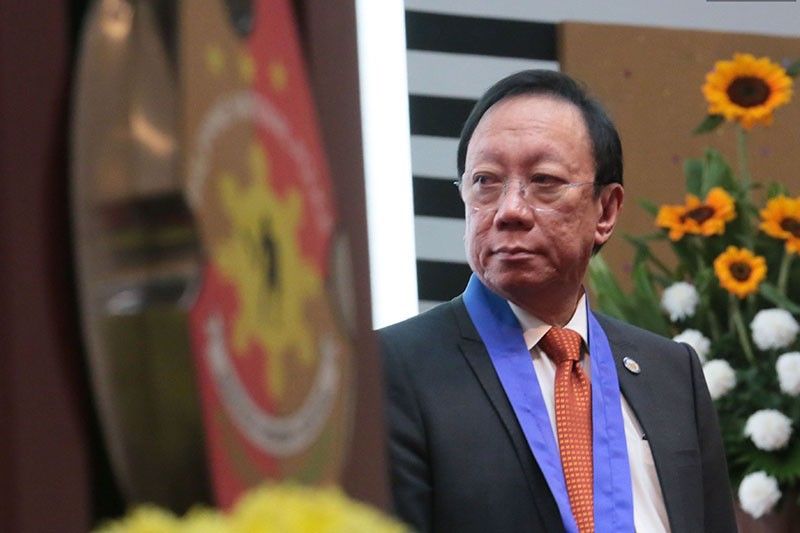 Solicitor General Jose Calida served as the guest of honor in the 67th founding anniversary of Criminal Investigation and Detection Group at the Camp Crame in Quezon City on February 10, 2020.
The STAR/Michael Varcas
OSG mulls appealing SC dismissal of petition vs ABS-CBN
MANILA, Philippines — The Office of the Solicitor General said it will study filing an appeal to overturn the Supreme Court's dismissal of its quo warranto petition against ABS-CBN's legislative franchise.
The SC, in an en banc session on June 23, junked Solicitor General Jose Calida's quo warranto petition against ABS-CBN Corp.'s now-expired franchise for being moot.
The OSG said it has yet to receive a copy of the SC ruling, but it added: "Once a copy of the decision has been obtained, the OSG will study the filing of a motion for reconsideration, in necessary given the constitutional issue on foreign ownership raised in the OSG petition," it said in a statement.
Foreign ownership issues
One of the grounds Calida raised in his quo warranto petition is that ABS-CBN Corp. violated its franchise law by allowing foreign ownership of the company, through the use of the Philippine Depositary Receipts.
Section 11, Article XVI of the Constitution provides: "The ownership and management of mass media shall be limited to citizens of the Philippines, or to corporations, cooperatives or associations, wholly-owned and managed by such citizens."
PDRs, meanwhile, are financial instruments that give foreign investors a passive economic interest in a Philippine company.
ABS-CBN's PDRs is also one of the issues being discussed at the House of Representatives' hearing into franchise bills.
Both ABS-CBN and GMA, another media giant in the country, offer this type of security.
The network's representatives insisted the PDRs were issued by ABS-CBN Holdings, which is a different company from ABS-CBN Corp. In its comment filed before the SC, the media giant explained that "PDR holders' rights are not equivalent to the full beneficial ownership rights of the shareholders of ABS-CBN."
READ: Point by point: ABS-CBN answers Solgen Calida's quo warranto petition
In a hearing last June 11, Securities and Exchange Commissioner Ephyro Amatong said, as quoted in a CNN Philippines report, there was the "prevailing opinion" that when ABS-CBN Holding issued PDRs in 1999 and 2013, that these "were not evidence of ownership."
Amatong had also said that as far as the SEC is concerned, both ABS-CBN and GMA acted in good faith when they offered PDRs to the public and that no violations were committed by the two companies.
Quo warranto vs ABS-CBN's Convergence still pending
Calida also noted that his quo warranto petition against ABS'CBN subsidiary, Convergence Inc., remains pending before the SC.
"Notably, the [SC] did not delve on the issues in the case of ABS-CBN Convergence Inc.," the statement read.
The company, however, issued a disclosure at the Philippine Stock Exchange saying that Convergence's legislative franchise expired on March 17.
ABS-CBN's petition for certiorari against the National Telecommunications Commission's Cease and Desist Order issued May 5 also remains pending before the tribunal. — with reports from Ian Nicolas Cigaral
As It Happens
LATEST UPDATE: June 30, 2020 - 7:19pm
ABS-CBN Corp. stopped broadcasting on its TV and radio stations on May 5, 2020 after the National Telecommunications Commission issued a cease and desist order. The network's franchise had lapsed on May 4 without action by the House of Representatives.
June 30, 2020 - 7:19pm
ABS-CBN's affiliate, Sky Cable Corp. appeals to the National Telecommunications Commission to extend the "same privilege given in the past to other companies whose franchises have expired but are currently pending in Congress to continue its operations until a resolution is passed."
"We assure our subscribers that we will exhaust all legal remedies to resume our services," it says in a statement.
"We commit to attend to the concerns of our valued subscribers and partners arising from this decision. We will refund all unconsumed prepaid loads and advance postpaid payments. We appeal to our SKYdirect subscribers and partners for understanding and patience as we undergo this process," it adds.
June 6, 2020 - 5:44pm
A lawyer asks the Supreme Court to define the powers of the Office of the Solicitor General amid issues surrounding the ABS-CBN shutdown.
Lawyer Paris Real also asked for a temporary restraining order on the cease and desist issuance against the broadcast giant by the National Telecommunications Commission.
June 1, 2020 - 10:58am
Rep. Rufus Rodriguez (Cagayan de Oro) tells his fellow lawmakers that the accusations against ABS-CBN, including alleged foreign ownership, have no basis in law.
Rodriguez points out that ABS-CBN chairman emeritus Eugenio "Gabby" Lopez III was born to Filipino parents under the 1935 Constitution. In effect, he was born a Filipino citizen.
The lawmaker also stresses that there is no violation on ABS-CBN's issuance of Philippine Depositary Receipts, which have approval of the Securities and Exchange Commission.
June 1, 2020 - 10:53am
Rep. Vilma Santos Recto (Batangas), sponsoring her bill granting ABS-CBN a franchise, says the network has helped the economy in creating economies by creating jobs for 11,000 people.
Santos Recto shares her concern to affected ABS-CBN employees as the House committees on legislative franchises and good government and public accountability resume their joint hearing on the network's franchise renewal.
"Marami pong umaasa sa mga talents ng ABS-CBN, kasama na rin po ang kani-kanilang mga pamilya. Let us give due consideration to the talents of ABS-CBN. They are also part of the workforce of the country," she says.
May 26, 2020 - 6:27pm
A labor group says it continues to support the re-opening of the ABS-CBN Corp. through the enactment of pending bills at the Lower House for its renewed fresh 25-year franchise.
"While we recognize the justness of the previous labor cases being involved by the ABS-CBN management to their contractual workers in the past, we believe that there were proper and legitimate forum and venue where labor disputes were being settled including the Department of Labor and Employment through its National Labor Relations Commission, National Conciliation and Mediation Boards among other local courts," says Defend Jobs Philippines.