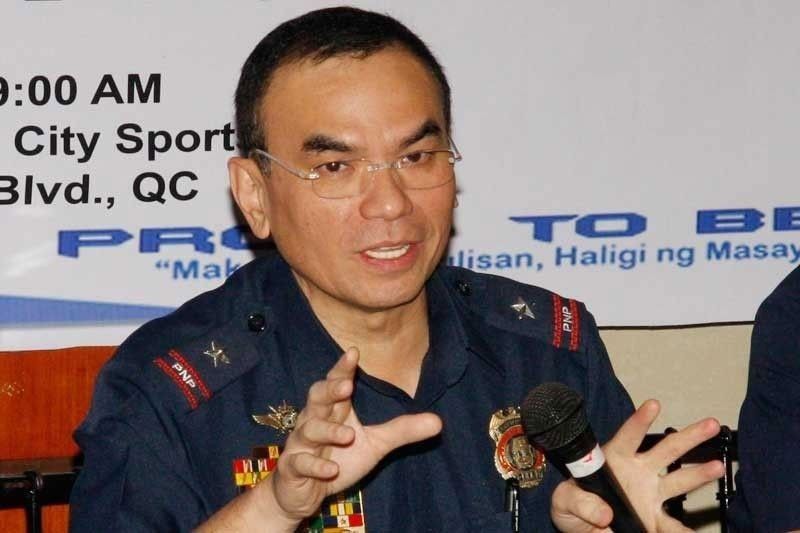 Philippine National Police (PNP) deputy chief for operations Lt. Gen. Guillermo Eleazar also asked security officers of shopping centers to implement a "no quarantine pass, no entry" policy to prevent overcrowding in malls.
Boy Santos, file
PNP to assist malls in 'crowd control'
MANILA, Philippines — Police officers will be deployed in malls to ensure that physical distancing and other safety measures are observed by shoppers to prevent a spike in coronavirus disease 2019 (COVID-19) cases, an official said yesterday.
Philippine National Police (PNP) deputy chief for operations Lt. Gen. Guillermo Eleazar also asked security officers of shopping centers to implement a "no quarantine pass, no entry" policy to prevent overcrowding in malls.
Eleazar made the recommendation during a meeting with security managers at Camp Crame in Quezon City to thresh out problems arising from the surge of shoppers in malls and other commercial establishments after Metro Manila was placed under modified enhanced community quarantine (MECQ) over the weekend.
He said allowing the entry only of customers with quarantine passes would ensure that physical distancing and other safety protocols are followed.
The weekend surge prompted Cavite to order the shutdown of malls in the province. The order was lifted yesterday.
Officials said despite the crowd problem, areas now under MECQ would not be reverted to ECQ.
Eleazar warned security officials that COVID-19 cases might surge if physical distancing measures are ignored.
"Let us not make malls the ground zero of the new wave of virus infections. Let us work together to start the normalization of businesses while at the same time observing everyone's obligation to protect the health of the people," he said.
Security guards must also inspect vehicles entering the malls' parking areas and check whether the drivers and passengers have quarantine passes, according to Eleazar.
Under government guidelines, only one quarantine pass is issued per household to ensure that only one member of the family can go out to buy essential needs.
Those without quarantine passes must be barred from entering malls, Eleazar said.
Metro Manila residents may soon be allowed to cross adjacent localities to buy basic commodities, Eleazar said.
He said they are studying the possibility of relaxing travel guidelines to allow people to cross to nearby cities and municipalities to buy essential goods.
Eleazar cited the case of SM Megamall and Shangri-La Mall, which are in Mandaluyong City but are near Quezon City and Pasig.
"Pero kung ikaw ay taga (If you're from) Parañaque at gusto mong mamimili sa malls sa (and you want to go to malls in) Quezon City o Makati, na, ang tawag dun lakwatsa. Hindi natin ito papayagan (that's gallivanting. we won't allow that)," he said.
DILG: No need for ECQ again
There is no need to reimpose the stricter enhanced community quarantine (ECQ) in Metro Manila for now despite the violations committed by shoppers when lockdown restrictions were eased, Interior and Local Government Secretary Eduardo Año said yesterday.
Año said they are applying what he called rolling phases where local government units can place under lockdown areas with high number of COVID-19 cases.
"This is what you call hybrid. It's not total lockdown but you can impose it in certain areas," he said.
While the virus threat remains, Año said they need to calibrate their moves as returning immediately to ECQ would have a negative effect on the economy.
He said government resources meant to help people would run out.
EDSA checkpoints
The PNP yesterday pulled out its 24-hour checkpoints on EDSA, which snarled traffic along the major thoroughfare brought by the increased volume of vehicles after Metro Manila transitioned into MECQ over the weekend.
Brig. Gen. Eliseo Cruz, Highway Patrol Group (HPG) director, said the removal of the checkpoints seeks to improve the flow of vehicles along EDSA.
Replacing the checkpoints are 40 HPG riders, who will randomly pull over motorists to determine if they are included in the list of authorized persons outside of residence and the purpose of their travel.
The checkpoints were transferred along Commonwealth Avenue, Quezon Avenue, Commonwealth Avenue, C-5 Road and Roxas Boulevard.
The strategy is part of the PNP's "modified checkpoints" to adjust with the shift in quarantine protocols.
Under MECQ, shopping malls and other industries have partially reopened, which resulted in the surge in volume of vehicles in Metro Manila.
Cruz said they would conduct random inspections, adding they could not check all vehicles traveling along major roads, noting too many delays would be counterproductive of the easing of restrictions.
A stop-and-go scheme was implemented along Marcos Highway on the boundary of Metro Manila and Rizal to ensure the smooth flow of vehicles.
Cruz warned motorists not authorized to travel that their driver's license would be confiscated if they are caught.