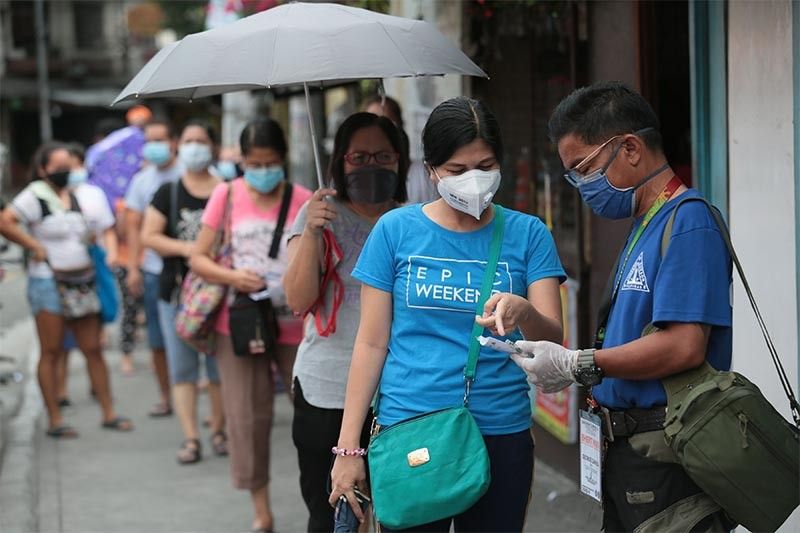 Market goers at Brgy. Quirino 3A in Project 3, Quezon City observes social distancing in this photo taken March 22, 2020.
The STAR/Michael Varcas
LGUs should not impose 'window hours' for buying food, supplies — DILG
MANILA, Philippines — Interior and Local Government Secretary Eduardo Año on Wednesday told local government units to lift "window hours" for going to the market amid the Luzon-wide quarantine, saying the policy.
Some LGUs have imposed specific times, or "window hours", that residents with quarantine passes are allowed to leave home to go tout and buy essential supplies.
At the "Laging Handa" press conference Wednesday, Año said: "I'm advising all LGUs to lift the so-called window hours for [going to market] or buying."
He pointed out that setting hours for buying food at the market only results in clustering of people, defeating the practice of social distancing—a new term for people staying away from crowds and being at least six feet away from each other.
"So it should be 12 hours, and observing strictly social distancing," he added.
Last weekend, the Philippine National Police disowned graphics imposing hours when representatives of households would be allowed to go out.
Justice Secretary Menardo Guevarra, a member of the task force, said: "The IATF did not release guidelines that specific. That is unauthorized."
The Luzon-wide enchanced community quarantine took effect at midnight on March 17 and the government the government has been refining the guidelines for it in clarificatory briefings and issuances.
Pasig City Mayor Vico Sotto on Tuesday launched a "Mobile Palengke" in the city to lessen the volume of people at Pasig Mega Market and other wet markets.
Valenzuela Mayor Rex Gatchalian said he is inclined to copy Sotto's initiative in his city.
Quarantine pass not a requirement
Año also said that representatives of each family should be allowed to go the market with or without quarantine passes.
Some localities also imposed curfews, and many other local government handed out a "quarantine pass" that would allow a member of the family to leave the house and buy necessities.
RELATED: What are quarantine passes and why are they handed out during Luzon-wide lockdown?
The Interior and Local Government chief said that there is "no hard rule" on issuing a quarantine pass, but recognized that it is a good control measure.
He pointed out however that if issuing quarantine passes would result in long lines at the barangay hall, "it would not be advisable."
The Philippines on Wednesday logged 84 new infections, bringing the total COVID-19 cases in the country to 636.