COVID-19 cases in the Philippines climb to 52 as WHO declares crisis a pandemic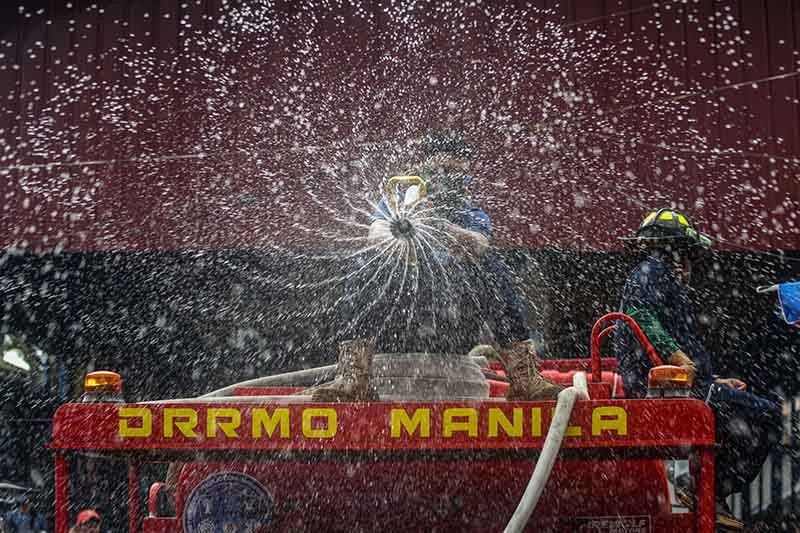 MANILA, Philippines (Updated 6:35 p.m.) — The Philippines' confirmed coronavirus diseases continued to pick up on Thursday after the Department of Health tallied three infections, raising the country's total to 52.
This comes after the World Health Organization characterized the new coronavirus outbreak a pandemic, meaning it is spreading in several regions through local transmissions.
The country's new confirmed cases are the following:
•PH50; 69-year-old female from Quezon City who had no known travel history. She is admitted at the Medical City.
• PH52; 26-year-old male from Quezon City who had no known travel history. He is currently being treated at the Makati Medical Center.
• PH53, 79-year-old female who had a travel history to United Kingdom. She is confined in Asian Hospital and Medical Center.
A vast majority of confirmed infections in the Philippines were only detected in the last six days after a month-long lull in cases.
There are concerns that the figure may be bigger due to the country's very limited testing program.
"So we continually ask the public to cooperate and help us in the investigation and contact tracing activities. Individuals with history of known exposure to a positive patient and/or travel to areas with local transmission, within and outside the country, presenting with mild symptoms are advised to self-isolate and be home quarantined for 14 days," Health Secretary Francisco Duque III.
The spread of the virus in the country prompted the enforcement of travel ban, suspension of classes, cancelation of events and adjustment in working schemes.
First local Filipino death
DOH on late Wednesday evening reported the first local death due to the new coronavirus: a 67-year-old Filipina, identified as the country's 35th COVID-19 case.
Patient 35 experienced symptoms on February 29 and was brought to Manila Doctors' Hospital on March 5 along with her husband.
She passed away around noon of the same day she was diagnosed with COVID-19 infection due to severe pneumonia. The patient also had existing medical conditions such as hypertension and diabetes mellitus.
Elderly people and those with underlying medical conditions such as cardiovascular disease, diabetes, cancer, chronic lung disease and immunosuppression are vulnerable to COVID-19.
"We further urge those who are immunocompromised and are with existing health conditions to be more vigilant and avoid crowded areas and mass gatherings," Duque said.
A Chinese visitor from Wuhan, China—where the virus originated late last year—was the Philippines' first fatality and the first COVID-19 death outside of mainland China.
The number of cases across the world has risen to more than 124,000 in more than 100 countries and territories with 4,500 deaths.
While situation in China has steadied, virus hotspots have emerged elsewhere: South Korea, Italy and Iran.
"We have never before seen a pandemic sparked by a coronavirus," WHO chief Tedros Adhanom Ghebreyesus said on Wednesday.
"We're deeply concerned both by the alarming levels of spread and severity and by the alarming levels of inaction." — with report from Agence France-Presse
As It Happens
LATEST UPDATE: July 2, 2022 - 1:03pm
Follow this page for updates on a mysterious pneumonia outbreak that has struck dozens of people in China.
July 2, 2022 - 1:03pm
Antoine Flahault, director of the Institute of Global Health at the University of Geneva says that there is a "fragile, armed peace" with COVID-19.
"In the hopes of stemming the tide of the pandemic and reducing mortality, we need to reduce the level of contamination, which the vaccine cannot do alone," he tells AFP.
"We need a new phase -- improving the quality of indoor air."
June 25, 2022 - 4:46pm
China reports zero new COVID-19 infections in Shanghai for the first time since March on Saturday, as the country's latest outbreak subsides after months of virus-spurred lockdowns and restrictions.
China is the last major economy still committed to a zero-Covid strategy, stamping out new cases with a combination of targeted lockdowns, mass testing and lengthy quarantines.
The economic hub of Shanghai was forced into a months-long lockdown during a Covid surge this spring driven by the fast-spreading Omicron variant, while the capital Beijing shuttered schools and offices for weeks over a separate outbreak. — AFP
June 13, 2022 - 4:20pm
Beijing starts a new round of mass testing in its most populous downtown district after a rapidly spreading outbreak linked to a bar saw Covid rules tightened again in the capital.
A night of partying by one Beijing resident last week threw the city's tentative reopening into chaos, leading authorities to shutter nightlife venues in the downtown district of Chaoyang days after they reopened last Monday.
The resident, who did not get tested for 14 days, went to several bars and nightlife venues in Chaoyang in the days before and after developing a fever.
The outbreak stemming from the Heaven Supermarket bar has infected at least 183 people in 15 districts so far. — Agence France Presse
June 9, 2022 - 1:04pm
City authorities say that Shanghai will lock down a district of 2.7 million people on Saturday to conduct mass coronavirus testing as the Chinese metropolis struggles to fully emerge from punishing curbs.
The city eased many restrictions last week, after confining most of its 25 million residents to their homes since March as China battled its worst COVID-19 outbreak in two years.
But the lockdown was never fully lifted, with hundreds of thousands in China's biggest city still restricted to their homes and multiple residential compounds put under fresh stay-home orders.— AFP
June 5, 2022 - 5:09pm
City officials say Beijing will gradually lift COVID-19 restrictions this week.
After some easing in recent days, the Chinese capital -- which reported 19 new infections Sunday -- announced residents would start returning to work from Monday and schools would reopen from June 13.
China is wedded to a zero-COVID strategy of hard lockdowns, mass testing and long quarantine periods to wipe out clusters as they emerge. — AFP