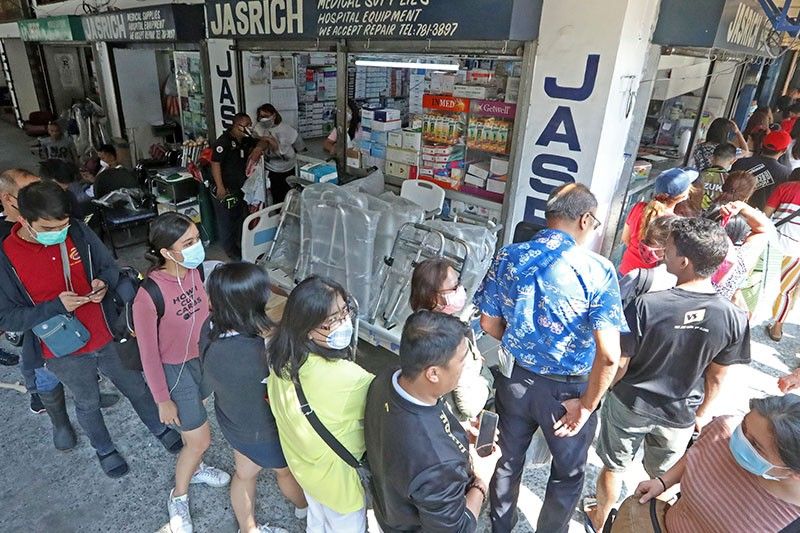 The Department of Health on Jan. 30, 2020 has confirmed the first case of the 2019 Novel (new) Coronavirus, or 2019 nCoV in the Philippines.
The STAR/Edd Gumban
What we know so far: First confirmed novel coronavirus case in Philippines
MANILA, Philippines — The Department of Health has confirmed the first case of the novel coronavirus or 2019-nCoV in the Philippines.
Latest World Health Organization figures cite 6,065 cases and 132 deaths from the virus, which began in Wuhan City in China's Hubei province.
Here's what we know so far on the first confirmed 2019-nCoV case in the country:
The patient is a 38-year old Chinese who came from Wuhan via Hong Kong last January 21.
She was admitted to a government hospital in Metro Manila after experiencing mild cough on January 25.
The patient is asymptomatic, which means that she is not showing other signs or symptoms of illness.
She visited Cebu and Dumaguete before seeking medical help in Metro Manila.
Persons she was with upon arriving in the country are also considered persons under investigation.
The DOH has asked for the flight details of the Chinese patient and the places they have been to for contract tracing. Passengers who sat in the front, at the back and both sides of the patient will be contacted and will be advised accordingly.
As It Happens
LATEST UPDATE: May 8, 2021 - 1:00pm
Follow this page for updates on a mysterious pneumonia outbreak that has struck dozens of people in China.
May 8, 2021 - 1:00pm
The government says India recorded more than 4,000 coronavirus deaths in a day for the first time.
The 4,187 new deaths took India's overall toll to 238,270 since the pandemic started. It added another 401,078 new cases in 24 hours taking its caseload to nearly 21.9 million.
Experts, who have expressed doubts about the official death toll, say India may not hit a peak in its current surge until the end of May. — AFP
May 7, 2021 - 5:17pm
Germany seems to have halted a surge of coronavirus infections driven by the British variant, Health Minister Jens Spahn says, cautioning however against lifting restrictions precipitously.
"The third wave appears to have broken," Spahn tells a press conference in Berlin.
"The infection figures are dropping again, but we are still at a high level. They are not yet falling everywhere at the same rate, but they are falling," he says. — AFP
May 6, 2021 - 12:42pm
Official data show India saw almost 4,000 COVID-19 deaths and more than 412,000 new cases in the past 24 hours, both new records.
Health ministry numbers show 3,980 deaths, taking the total to 230,168, and 412,262 new cases, bringing India's caseload since the pandemic began to 21.1 million. — AFP
May 5, 2021 - 6:03pm
India's foreign minister Subrahmanyam Jaishankar, in Britain for G7 meetings, says on Wednesday he would hold his talks virtually after being exposed to possible coronavirus cases.
The foreign ministers of Britain, Canada, France, Germany, Italy, Japan and the United States are wrapping up three days of talks in London ahead of a G7 leaders' summit next month in Cornwall in southern England.
India is not part of the Group of Seven wealthy democracies but was invited to the talks by Britain, which holds the rotating presidency of the group throughout 2021.
"Was made aware yesterday evening of exposure to possible Covid positive cases," Jaishankar tweeted.
"As a measure of abundant caution and also out of consideration for others, I decided to conduct my engagements in the virtual mode. That will be the case with the G7 Meeting today as well."
Sky News earlier reported there had been two positive cases among the Indian delegation. -- AFP
May 5, 2021 - 2:27pm
India released $6.7 billion in cheap financing for vaccine makers, hospitals and other health firms on Wednesday, to counter the devastating coronavirus surge gripping the country.
Reserve Bank of India governor Shaktikanta Das also vowed to deploy "unconventional" measures if the crisis worsens.
He spoke as India announced a record 3,780 deaths in 24 hours as well as 382,000 new cases.
This week it became the second country after the United States to pass 20 million cases and hospitals across the country of 1.3 billion people have complained of chronic shortages of beds, oxygen, vaccines and key drugs. — AFP