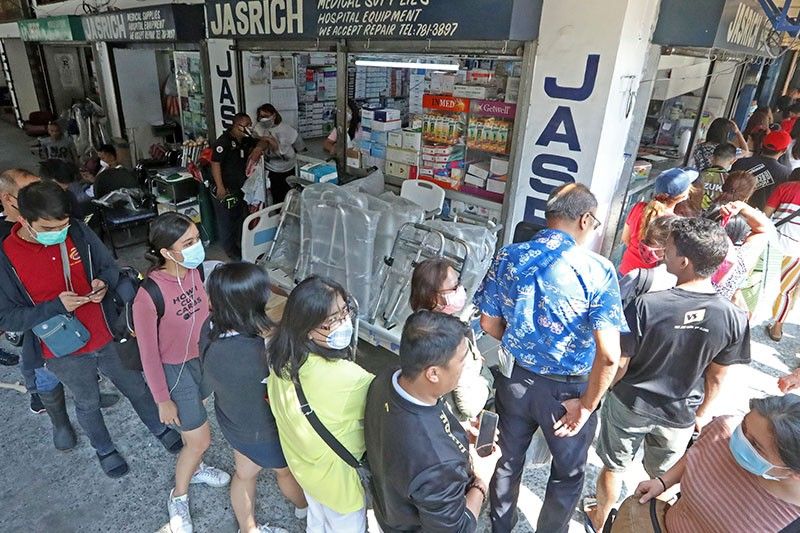 The Department of Health on Jan. 30, 2020 has confirmed the first case of the 2019 Novel (new) Coronavirus, or 2019 nCoV in the Philippines.
The STAR/Edd Gumban
What we know so far: First confirmed novel coronavirus case in Philippines
MANILA, Philippines — The Department of Health has confirmed the first case of the novel coronavirus or 2019-nCoV in the Philippines.
Latest World Health Organization figures cite 6,065 cases and 132 deaths from the virus, which began in Wuhan City in China's Hubei province.
Here's what we know so far on the first confirmed 2019-nCoV case in the country:
The patient is a 38-year old Chinese who came from Wuhan via Hong Kong last January 21.
She was admitted to a government hospital in Metro Manila after experiencing mild cough on January 25.
The patient is asymptomatic, which means that she is not showing other signs or symptoms of illness.
She visited Cebu and Dumaguete before seeking medical help in Metro Manila.
Persons she was with upon arriving in the country are also considered persons under investigation.
The DOH has asked for the flight details of the Chinese patient and the places they have been to for contract tracing. Passengers who sat in the front, at the back and both sides of the patient will be contacted and will be advised accordingly.
As It Happens
LATEST UPDATE: June 1, 2020 - 9:39pm
Follow this page for updates on a mysterious pneumonia outbreak that has struck dozens of people in China.
June 1, 2020 - 9:39pm
South Africa's education minister apologizes on Monday for a week-long delay in reopening schools owing to a lack of "readiness".
Thousands of grade seven and grade 12 students had been preparing to attend the first classes in the country after two and a half months of home-schooling to limit the spread of coronavirus.
The education department announced late on Sunday that it had postponed the resumption date to June 8, saying the extra week would serve to better prepare facilities and train staff.
"It became clear that the sector was at different levels of readiness," Education Minister Angelina Motshekga said at a press briefing on Monday. — AFP
June 1, 2020 - 5:05pm
The Philippines logs 552 additional COVID-19 cases (119 "fresh" cases and 433 "late" cases), pushing the country's total number of confirmed cases to 18,638.
The Department of Health also reports 70 new recoveries, raising the total number of recovered patients to 3,979.
Three additional deaths were also recorded, bringing the national death toll to 960.
June 1, 2020 - 8:00am
More than one million cases of COVID-19 have been recorded in Latin America and the Caribbean, half of them in Brazil, according to an AFP toll on Sunday based on official data.
Since the start of the novel coronavirus pandemic 1,016,828 people have been infected, with 514,849 cases recorded in Brazil, which currently has the world's fourth highest COVID-19 death toll after the United States, Britain and Italy. — AFP
June 1, 2020 - 7:58am
The novel coronavirus has killed at least 370,261 people since the outbreak first emerged in China last December, according to a tally from official sources compiled by AFP at 1900 GMT Sunday.
At least 6,113,340 cases of coronavirus have been registered in 196 countries and territories. Of these, at least 2,520,800 are now considered recovered.
The tallies, using data collected by AFP from national authorities and information from the World Health Organization (WHO), probably reflect only a fraction of the actual number of infections. — AFP
May 31, 2020 - 2:59pm
Jerusalem's Al-Aqsa mosque compound -- the third holiest site in Islam after Mecca and Medina in Saudi Arabia -- reopened on Sunday after being closed for more than two months because of the coronavirus pandemic.
Dozens of worshippers in protective masks were let into the compound before the first prayers of the day, held in a cool and windy night.
Chanting "God is greatest, we will protect Al-Aqsa with our soul and blood", the group gathered in front of the large wooden doors were welcomed by mosque director Omar al-Kiswani, who thanked them for their patience.
It followed a fraught day in annexed east Jerusalem, where the compound is located.
Israeli police on Saturday shot dead a disabled Palestinian they mistakenly thought was armed, prompting furious condemnation from the Palestinians.
The religious site, which houses Al-Aqsa mosque and the Dome of the Rock, had closed its doors in March as part of measures to limit the spread of COVID-19. — AFP