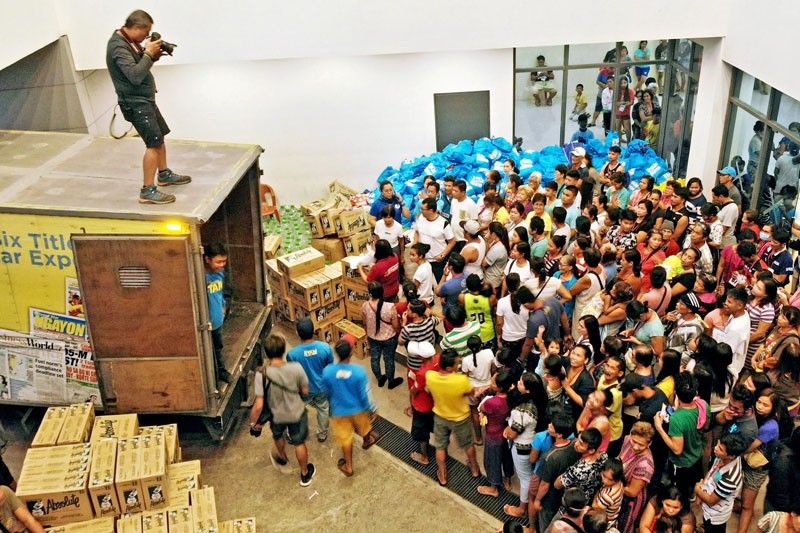 Some 290 evacuee families housed at the Lipa Academy for Sports, Culture and Arts prepare to receive provisions from The Philippine STAR Operation Damayan, which distributed relief goods at 48 evacuation centers in various Batangas municipalities this week. The goods consisted of rice and other food items, hygiene kits, blankets, and six-liter water containers donated by Asia Brewery.
Russell Palma
'A ray of hope' for 5,000 families in Batangas
MANILA, Philippines — When Operation Damayan, the social arm of the Philstar Media Group, conducted its relief operations in 48 evacuation centers in San Luis, San Pascual, San Jose, Cuenca and Lipa City in Batangas this week, it provided "a ray of hope" to over 5,000 evacuee families displaced by the Taal Volcano eruption.
"Wari ba'y sinag ng pag-asa ang inyong mga tulong. Kami talaga'y walang-wala sa ngay-on. Salamat nang marami (Your help is like a ray of hope. We are really hard up now. Thank you very much)," said Mark Anthony Sanchez, 31, an evacuee from the town of Agoncillo, after receiving a relief bag personally handed to him by STAR president and CEO Miguel Belmonte and his wife Milette.
Each of the relief bags distributed in the evacuation centers contained rice, food, water, blankets, toiletries and hygiene kits.
"Our relief distribution was one of the most difficult I've experienced in years of doing Operation Damayan," said Belmonte.
"Getting from one evacuation center to another is a challenge – the roads are so narrow, some are steep dirt roads that are not easy to travel on. The location of the evacuees is not that easy to reach. But as always, it is very fulfilling to be in a position to share blessings," he added.
The Damayan Taal fund drive has raised P7.0 million to date, with major donations still coming in, Belmonte said. (See related story.)
"The opportunity to be a blessing to others is a blessing from God. So whenever that opportunity arises, you really have to take it," he added.
STAR employees who comprise the volunteers of Operation Damayan hit the ground as early as 4 a.m. of Tuesday and Thursday to carry out the relief operations. San Luis, three hours away from Manila, is composed of 26 barangays, six of them in the coastal area.
There are 14,105 evacuees all over San Luis, according to San Luis Mayor Danilo de Castro Medina. The evacuees come from Batangas towns like Agoncillo, Taal, Lemery and Laurel.
"Nakakataba po ng puso na kami'y hindi ninyo nalilimutan. Wala kaming kadala-dala nang kami'y lumikas. Kung ano na lamang mabiyabit ay iyon na (It warms our hearts that you don't forget us. We hardly brought anything with us when we evacuated our place. We brought whatever we could bring)," said Joshua Humarang, 18, a college student from Agoncillo who has had to stop schooling since the volcano eruption.
Belmonte said it is heartwarming, too, to see that many households had taken in families of evacuees who could not be accommodated in evacuation centers.
"It is quite touching to see that many families are doing their share by taking in evacuees from other towns in Batangas. Some of them don't just take one family, sometimes they take in as many as five families or even more. You can see how much they care for their fellow Batangueños," Belmonte said.
"No evacuation center can sustain a huge number of evacuees all in one place. That's why this gesture of other families in Batangas that are not hard hit by the eruption is really something that touches the heart," he added.
Volunteers and teachers manning the evacuation centers are just as heroic. They pool their resources to feed the evacuees, if only to ease their burden.
Many evacuees intimated to The STAR their ardent wish to return to their homes.
"Sana makabalik na kami sa mga bahay-bahay namin, maging normal na ang lahat. May ambisyon pa akong makatapos (I wish we could all return home, that everything would be normal again. I still want to finish my education)," said Jesusa Mae Ibañez, 18, a Grade 12 student from Agoncillo. She and her family are housed in Durungao Elementary School, which was also visited by Operation Damayan.
"Mahirap ho ang buhay sa evacuation center. Pero wala naman hong hindi napagtitiisan (Life at the evacuation center is hard. But there is nothing that we cannot weather)," Ibañez said.