Philippine readies OFW evacuation
January 6, 2020 | 12:00am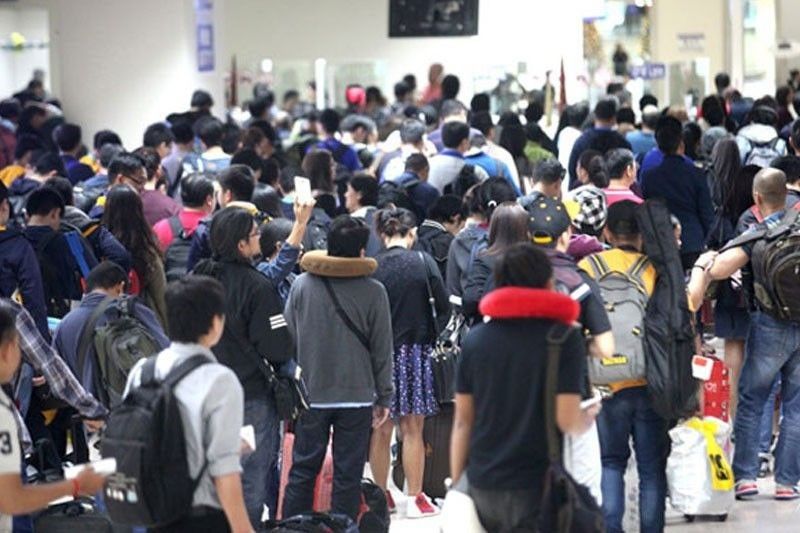 MANILA, Philippines — With tension escalating between the United States and Iran, President Duterte ordered the Armed Forces of the Philippines yesterday to prepare for the possible evacuation of Filipinos from the Middle East.
President Duterte met with top police and military officials yesterday afternoon to discuss what steps to take in case tension continues to escalate in Iran and Iraq, where there are 1,600 and 6,000 Filipinos, respectively.
Duterte called an emergency meeting at Malacañang yesterday afternoon with Defense Secretary Delfin Lorenzana, newly installed AFP chief Lt. Gen. Felimon Santos Jr. and Philippine National Police officer-in-charge Lt. Gen. Archie Gamboa to discuss contingency plans.
"The President has tasked the AFP to prepare its air and naval assets to evacuate and bring home our countrymen if and when open hostilities erupt in the Middle East that may endanger their lives," defense spokesman Arsenio Andolong said.
The head of Iran's Quds Force, Gen. Qasem Soleimani, was targeted and killed on the outskirts of Baghdad airport, in a strike that was ordered by US President Donald Trump, according to a statement issued by the US Department of Defense.
Iraqi militia leader Abu Mahdi al-Muhandis, was also among those killed during the strike, according to media reports. His Kataib Hezbollah group had been blamed by the US for a rocket attack which killed a US civilian contractor in Iraq a week ago, and he led a group of militias within Iraq, aligned with Iran.
Foreign Affairs Secretary Teodoro Locsin Jr. yesterday said the Philippine government would pry out from the region Filipinos who want to return to the Philippines.
"We always do. We will get out everyone who wants to get out and return to poverty in the Philippines to stare at their starving loved ones while bulls**tters talk about the most dynamic economy in Southeast Asia. Or we will be there with them," Locsin tweeted as a response when asked if the Philippines has a plan for OFWs in the looming Middle East crisis.
Iran's supreme leader Ayattollah Ali Khamenei issued a statement calling for three days of public mourning following the death of Soleimani and said there would be retaliation for the US air strikes.
In a series of tweets, Agnes Callamard, independent United Nations expert on extrajudicial, summary or arbitrary executions, questioned the legality of the US strike under international law, and urged the UN to use the "legal tools and the platform" at its disposal, to intervene more robustly.
"There is no more pressing time for the UN and its leadership to step up than now," Callamard said.
More than 3,000 OFWs in Iraq
There are more than 3,000 overseas Filipino workers (OFWs) working in Iraq, according to recruitment consultant Emmanuel Geslani as he disputed the figure of less than 2,000 released by the Department of Foreign Affairs (DFA).
Geslani said there are around 500 OFWs working in Kurdistan, which is "relatively safe" and far from Baghdad.
He added that the rest are other OFWs working for international organizations in the security-tight Green Zone, but domestic workers mostly undocumented in Baghdad may need repatriation if allowed by their employers.
Some 1,500 to 1,800 OFWs are working inside a few US bases in Iraq where repatriation is not needed as they are safe and secure inside those bases, according to the migration expert.
"The services of the Filipinos will be needed further to maintain the US bases," he said.
Geslani noted that under a DFA Memo Circular in 2014, which allows OFWs to work for international contractors hired by the US Armed Forces, the companies are obliged to move the OFWs to safer locations in case their jobsites are not safe anymore.
He added that there was no need for the DFA to warn Filipinos to travel to Iraq as "no one" travels to that country since there is an existing deployment ban for new hires. Re-hires have been stopped from returning to Iraq, except for OFWs working inside the US bases.
The POEA, according to Geslani, has no record of any new deployment to Iraq since 2014. Most of the Filipinos who have managed to slip into Baghdad undocumented come from Dubai, where international contractors are recruiting workers for Iraq and Afghanistan.
Gov't closely monitoring
Sen. Christopher Go said the government is closely monitoring the situation in the Middle East, with President Duterte calling for a meeting with the Armed of Forces of the Philippines (AFP) yesterday afternoon to assess the likely impact of the tensions in the region on the country and the Filipinos.
"Hintayin natin ang ating pamahalaan, lalo na kung anong security (measures) ang gagawin nila (Let's wait for our government, especially on what security measures need to be taken)," Go said in an ambush interview in Quezon City where he visited fire victims yesterday.
The senator also assured the public that the government will take steps to ensure the security of Filipinos in the country and OFWs in the Middle East.
"The President is very conscious and aware about what's happening there," Go said.
"The President will ensure the security of every Filipino not only in the country, but also those in the Middle East," he added.
Deployment ban
Meanwhile, Justice Secretary Menardo Guevarra yesterday gave assurance that if a deployment ban would be issued, he would instruct the Bureau of Immigration (BI) to stop OFWs from going to Iran, Iraq and Libya.
Amid the escalating tension in some countries in the Middle East, Guevarra said he would follow the actions that would be taken by the DFA and the Department of Labor and Employment (DOLE).
"The (Department of Justice)/BI will take the cue from the DFA and the DOLE. Should they actually ban travel to Iraq, Iran and Libya, whether totally or partially during this critical period, I will direct the BI to strictly enforce the same," he said.
There are about 1.2 million Filipinos in the Middle East, according to the Trade Union Congress of the Philippines.
Labor Secretary Silvestre Bello III reportedly said all Filipinos in Iran are illegally working there since there is no existing labor agreement between Iran and the Philippines.
A source said that despite being war-torn countries, many Filipinos take the risk of seeking jobs in Iraq and Iran because of the high-paying jobs.
In grave danger
The lives of an estimated 1.2 million documented OFWs in the entire Middle East are now in grave danger following the US air strike, according to a former lawmaker.
"Right now, hundreds of Filipino sailors on Western oil and gas tankers navigating through the Strait of Hormuz every day are already in harm's way, given that Iran has warned of swift and severe retaliation," former ACTS-OFW party-list representative Aniceto Bertiz III warned.
Bertiz, currently chairman of the ACTS-OFW Coalition of Organizations, noted that Iran is in a position to attack Western merchant ships along the strategic waterway that provides the only sea passage from the Persian Gulf to the open ocean.
"Any eruption of open hostilities in the Middle East involving the US is bound to drag its major military allies such as Saudi Arabia and Kuwait, both of which host large numbers of Filipino workers," he said.
"In an extreme scenario, even Filipinos in some parts of the United Arab Emirates and Qatar might be exposed to danger, considering that they also host American military facilities and/or personnel," he added.
Government data showed that land-based Filipino workers in the Middle East sent home a total of $6.7 billion in cash in 2018 and another $5 billion from January to October 2019. – With Pia Lee-Brago, Evelyn Macairan, Delon Porcalla, Mayen Jaymalin