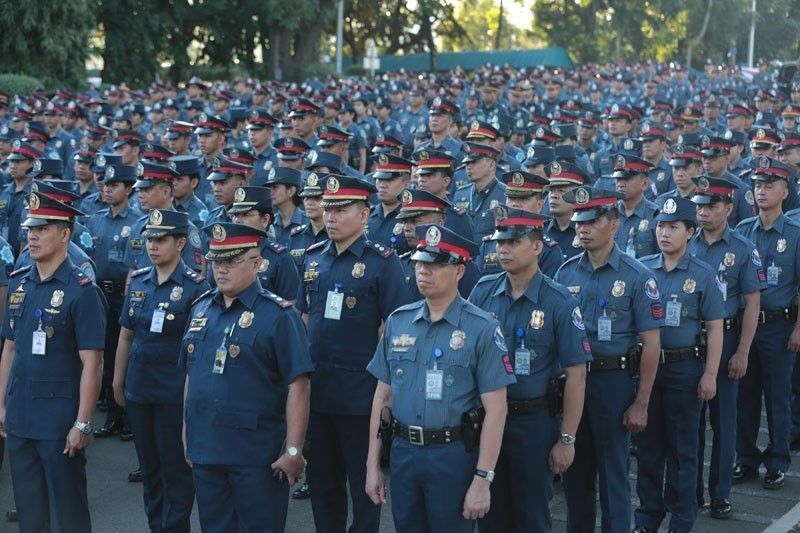 While he thinks all the candidates for the next head of the 190,000-strong PNP are good, Duterte admitted that he is having difficulty making a choice.
Michael Varcas
Wanted: PNP chief who will kill all drug lords
MANILA, Philippines — President Duterte wants a "better deal" in choosing the next Philippine National Police (PNP) chief, saying the next top cop should be brave enough to kill all drug lords.
While he thinks all the candidates for the next head of the 190,000-strong PNP are good, Duterte admitted that he is having difficulty making a choice.
"I have difficulties with the police. I love the police but I am having difficulties with the officials," Duterte told GMA News in an interview aired yesterday.
"I mean they're all good, but I want a better deal. It's not enough that you recommend to me. If you tell me, 'Sir, if you choose me, all drug lords will be killed,' then it would be you. If you cannot give me that guarantee, forget about it," he added.
Former PNP chief Oscar Albayalde stepped down last Oct. 14 as he was grappling with allegations that he intervened in the case of former subordinates called "ninja cops" who were involved in the resale of narcotics confiscated in a raid in Pampanga in 2013.
Duterte previously admitted that he was having a hard time choosing Albayalde's successor because he was careful about the officials who would be assigned to finance and procurement offices.
The officials in the shortlist of candidates for the next PNP chief are Lt. Gen. and PNP officer-in-charge Archie Gamboa, Lt. Gen. Camilo Cascolan and Major Gen. Guillermo Eleazar.
Asked to elaborate on Duterte's remark that he is seeking a better deal, presidential spokesman Salvador Panelo said the President wants someone who is not facing charges.
"What he's saying is that he wants an honest cop, he doesn't want any cop that has been charged with any irregularity, any infraction, whether administrative or criminal," Panelo said at a press briefing yesterday.
Pressed on what is keeping the President from choosing the next PNP chief, Panelo replied: "Siguro hindi pa siya kuntento eh (Perhaps he is not yet contented)."
"He didn't explain. We'll have to wait, we'll have to wait for him. He said, if he cannot choose then he will just take over temporarily as the head," he added.
Panelo clarified that Duterte's thorough selection process does not mean that the PNP has a shallow bench.
"It's not shallow, perhaps he has not learned about the good ones. Many of them are good... Maybe the names of the good ones have not reached him. Let's just wait for him," the Palace spokesman said.
"It's not that he is not impressed (by the candidates). It's just that he has not chosen yet. Why are we pressuring him? You must remember that there is an OIC. The OIC is good. Perhaps he is contented with the OIC," he added.
Panelo said Duterte has the prerogative to decide when he would appoint the next police chief.
Duterte also lambasted the corruption in the PNP, saying he wanted to kick policemen who are into irregularities.
He cited the body camera controversy, which resulted in the dismissal of three police majors.
"The PNP is really corrupt," Duterte said.
With regard to Vice President Leni Robredo's removal as co-chair of the Interagency Committee on Anti-illegal Drugs (ICAD), Duterte said he was afraid that she would mess up.
Duterte reiterated that Robredo was weighed but found lacking in her 18-day stint as ICAD co-chair.
"They were complaining all the time, that it's (anti-drug campaign) not working, that the drug campaign is not successful. You know, this drug story is not one story that you can finish," the President said.
"Fighting crimes is a continuing one until kingdom come, until the end of time, until the end of this republic. There will always be crime, challenges to meet," he added.
Asked to react to Robredo's question on whether the administration is afraid of something, Duterte replied: "Ang kinatakutan ko magkalat siya (I'm afraid she'll mess up)."
Duterte offered the ICAD co-chair post to Robredo after the Vice President said the drug war should be tweaked. Robredo accepted the offer and vowed to put an end to what she described as "senseless killings."
After 18 days, Duterte dismissed Robredo from her post due to her supposed "missteps," including meeting with representatives of the United States and the United Nations, institutions that have been critical of the anti-narcotics campaign.
Malacañang also claimed that Robredo did not propose new programs to address the drug menace.
"Leni keeps on harping on the so many things that it has not succeeded... I said, 'Why don't you just join us?' Actually it was an exasperation thing for me...You know what happened, she made an a**hole of herself," Duterte said.
Despite her dismissal, Robredo has promised to continue her crusade against illegal drugs and to reveal what she discovered during her brief stint as ICAD co-chair.