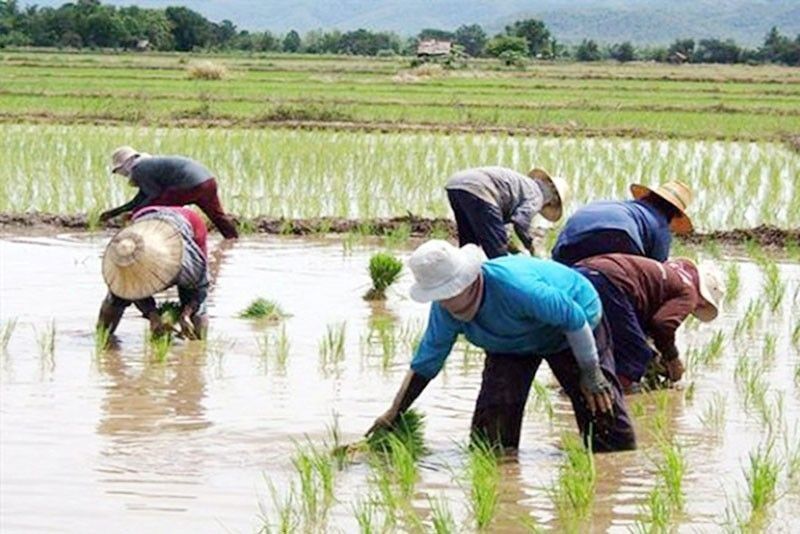 This will serve as compensation for the reduction or loss of farm income arising from the influx of imported rice.
STAR/File
Congress seeks P6 billion for farmers
MANILA, Philippines — Both chambers of Congress are seeking at least P6 billion in supplemental budget to compensate for farmers' losses following the deluge of rice imports that dampened local palay prices.
Sen. Francis Pangilinan has filed Senate Bill 1191 which proposes a P6-billion budget for direct cash transfers to vulnerable rice farmers who are planting one hectare or less.
This will serve as compensation for the reduction or loss of farm income arising from the influx of imported rice.
At the House of Representatives, Quezon City Rep. Christopher Belmonte also filed House Bill 5629 as a counterpart measure, saying that the cash assistance would encourage rice farmers to continue farming.
"The life and livelihood of our farmers are in peril, and we should treat this as an emergency situation that needs immediate attention," Pangilinan said.
"The cash transfer will give them a lifeline to continue farming while we try our best to fix the law," he added.
Republic Act 11203 or the Rice Tariffication law led to the opening up of the market to cheap rice imports, causing farm gate prices of palay in several rice-producing areas to plunge.
More than eight months since the passage of the law, palay prices have plunged to as low as P7 to P10 per kilogram in some provinces.
There has also been a disparity between the decline of palay prices and the actual rice prices in the retail market.
The drop in palay prices has resulted in huge income losses for rice farmers now estimated around P60 billion. Losses are projected to double by year-end.
Pangilinan said the Department of Budget and Management will release the supplemental fund directly to the Department of Agriculture (DA), which shall make available the fund to the farmers. The fund will be effective until Dec. 31, 2020.
Earlier, both the Senate and the House approved on third and final reading their respective bills extending the validity of the 2019 budget until Dec. 31, 2020.
This would allow agencies to spend funds for capital outlays and maintenance and other operating expenses in the 2019 budget until next year.
House minority leader Bienvenido Abante Jr., meanwhile, urged yesterday his colleagues to scrap the law allowing unrestricted importation of rice, saying it was not benefitting farmers and consumers.
"We should repeal this law, which has caused prices of palay to fall below production cost, resulting in losses in hundreds of millions on the part of our rice farmers," Abante, also Manila representative, said at a news conference.
He said he and some members of his minority group are readying a bill for the repeal of the law, Republic Act No. 11203, and noted how President Duterte was inclined to suspend rice importation due to the havoc it is wreaking on the lives of rice farmers.
Abante cited the report of deputy speaker and Pampanga Rep. Aurelio Gonzales Jr. that the more than 6,000 rice farmers in his district are losing P4 per kilo in their wet season crop harvest.
Gonzales said his constituents were selling their palay produce at P9, P4 lower than their production cost of P13 per kilo.
Abante said his colleagues from other rice-producing provinces like Nueva Ecija have similar complaints.
He said while unabated rice importation has caused palay prices to drop, farmers are still not benefitting from the billions in higher importation tariff imposed under RA No. 11203.
He said though importers and traders have already brought in a huge volume of imported rice, retail prices of the staple remain high.
He added that prices in supermarkets and groceries have stayed at the P50-per-kilo level.
Abante pointed out that premium rice, whether local or imported, is selling above P50 per kilo.
Gonzales has urged the DA and other concerned agencies to immediately extend assistance to rice farmers.
He said the aid could be in the form of cash subsidy, farm inputs and machineries like hand tractors and post-harvest facilities such as driers.
For his part, Deputy Speaker Mikee Romero of 1-Pacman said the DA should expedite the procurement of seeds and machineries funded under the P10-billion rice competitiveness enhancement fund set up under RA No. 11203.
He said inputs and equipment should be made available soon, since farmers are now preparing their land for next quarter's main cropping season.
"Otherwise, the assistance intended for farmers will come too late," he added. – With Jess Diaz