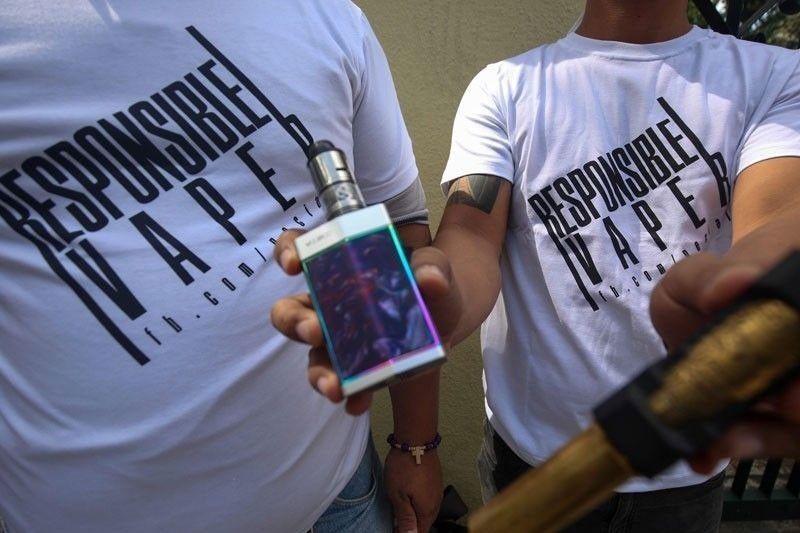 Cayetano, chair of the Senate ways and means committee, said public health remains paramount so the government is duty-bound to protect it over business interests, in this case, banning or regulating vapes.
KJ Rosales
Profit over health? Vape, e-cig industry slammed
Paolo Romero
(The Philippine Star) - November 24, 2019 - 12:00am
MANILA,Philippines — Sen. Pia Cayetano yesterday hit the local e-cigarette and vape industry for opposing the government's efforts to protect Filipinos' health.
Cayetano, chair of the Senate ways and means committee, said public health remains paramount so the government is duty-bound to protect it over business interests, in this case, banning or regulating vapes.
She said the Department of Health (DOH) and the Food and Drug Administration were correct in issuing regulations on vapes but manufacturers and sellers of the products managed to secure temporary restraining orders (TROs) from the regional trial courts in Pasig and Manila.
"The (vape) is irritating. There is an (FDA) order to regulate because there are really harmful effects. No one is saying that they're (vapes) like vegetables. What's being debated is only how harmful they are," Cayetano said over dwIZ.
"So who's going to regulate them now? Who's causing trouble? What do you want? Do you want to spew harmful smoke to children, pregnant women and workers who don't want trouble? So you don't want to be regulated?" she said.
Cayetano said she will still continue defending the Sin Tax bill, which contains provisions taxing vapes and heated tobacco products, until its expected enactment into law in the coming months.
She said it was possible the bill – or the law, if enacted – will be amended as several senators are pushing for measures to regulate or even ban vapes.
Cayetano said she intends to file two bills – one regulating and the other banning vapes to spur debates on which course the country would take on the controversial product.
She pointed out many countries have already imposed a total ban on some products.
On the other hand, DOH spokesman Eric Domingo said they are more concerned with the ill effects of vaping rather than the government imposing sin taxes on the products.
Domingo said the government has been spending more for the medical needs of those affected by smoking, directly or indirectly.
He said that in 2020, some P1 billion to P2 billion in taxes will be collected from electronic cigarettes and vapes as compared to health expenditures expected to reach some P200 billion.
Domingo also urged all concerned doctors and hospitals to report to DOH all possible cases of electronic cigarettes and vapes-associated lung injury (EVALI) that they may encounter.
"EVALI is now a reportable disease. It's a condition that must be reported to the DOH so that we can have a clear picure about the situation so we can take the appropriate actions," he said.
Senate President Vicente Sotto III meanwhile asked the DOH and the FDA to first conduct an exhaustive study on other cigarette substitutes other than vapes before recommending their ban or regulation.
Sotto said there are many such products – not vapes – that helped smokers quit based on scientific studies.
"I have no strong opinion yet for or against such products, I'm just showing the other side of the coin, so to speak," Sotto told dwIZ.
An industry leader, however, contested claims that e-cigarettes and vapes are as harmful as cigarettes.
JUUL Labs rebutted reports that electronic nicotine delivery system (ENDS) products have the same level of toxicants as cigarettes, citing studies and researches showing otherwise.
Mark Rubinstein, vice president and executive medical officer of JUUL Labs, cited studies to disprove this "biggest misconception" on e-cigarettes.
"People should realize that e-cigarettes have lower nicotine levels than combustible cigarettes and they don't release tar and other harmful chemicals like cigarettes," Rubinstein said at the sidelines of the E-Cigarette Summit in London.
President Duterte last week ordered the Philippine National Police (PNP) to arrest anyone caught vaping in public, just hours after he announced that he would ban e-cigarettes.
The abrupt prohibition, revealed by Duterte, adds to a growing global backlash against a product once promoted as less harmful than tobacco smoking.
Duterte, a former smoker, called the devices "toxic" and said vaping introduced "chemicals" into the user's body.
He ordered the arrest of anyone vaping publicly although there was no formal written order made public that spells out the scope of the ban or penalties for violations.
The Bureau of Customs (BOC), for its part, directed its intelligence and enforcement groups in all ports in the country to block the entry of all vape products and its related items.
BOC spokesman Vincent Philip Maronilla said the importation of all vape products and its related items can now be considered as illegal following Duterte's order.
"All importation of vape products and its related items shall immediately be subject to seizure by the Bureau of Customs," Maronilla said.
Maronilla said that they have coordinated with the FDA to ascertain that the agency has not issued any permits for the importation of vape products before implementing the order.
Some local government units also took the initiative to further restrict vaping.
Taguig City has started to serve closure orders to vape stores following the presidential directive and for failure to properly secure business permits.
Maricar Brizuela, Taguig City's public information chief, said seven vape shops were closed down.
In a statement, the city government said the closures started on Friday, citing the presidential order against vaping.
Brizuela added the closures will continue on Monday. – With Ralph Edwin Villanueva, Robertzon Ramirez, Sheila Crisostomo, Edu Punay