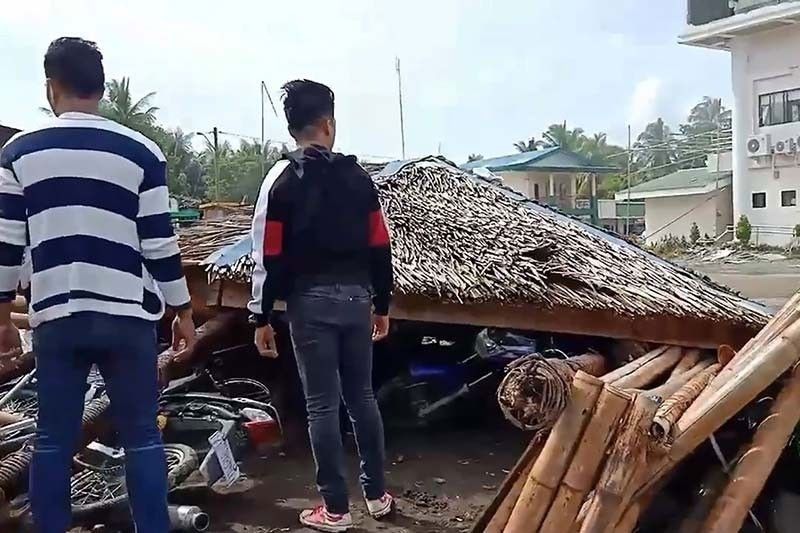 This handout video grab taken on October 29, 2019 from the facebook page of Anthony Allaga shows residents standing next to motorcycles under a temporary shelter after it collapsed during a 6.6-magnitude earthquake in Magsaysay, Daval del Sur province on the southern island of Mindanao.
AFP/Anthony Allada, Handout
Over 300 aftershocks recorded in Mindanao
MANILA, Philippines — The Philippine Institute of Volcanology and Seismology (Phivolcs) yesterday warned that aftershocks from the magnitude 6.6 quake in Cotabato could last for weeks and cause more destruction.
This developed as more than 300 aftershocks were felt in North Cotabato and other parts of central Mindanao following Tuesday's earthquake.
Up to seven people were killed while two others were missing in the latest earthquake to hit central Mindanao, which is still reeling from a previous deadly tremor two weeks ago.
At least 394 people were injured by falling debris, including seven pupils and teachers who were hurt while escaping from their collapsed elementary school.
Authorities noted that last Tuesday's quake was more powerful and potentially destructive since it could collapse the buildings and structures already damaged by the magnitude 6.3 tremor that struck Cotabato on Oct. 16.
Phivolcs director Renato Solidum Jr. warned that aftershocks could also collapse damaged structures and weak buildings.
He said those living in landslide-prone areas would be most affected by aftershocks.
"Typically, after strong earthquakes, aftershocks occur for
several days to weeks, but the number will decline," Solidum said.
He said steep areas that have been affected by landslides or were affected by tension cracks should be evacuated for possible landslides due to strong aftershocks or during prolonged heavy rainfall.
As of noon yesterday, a total of 344 aftershocks have been recorded, with magnitude ranging from 1.5 to 6.1.
Of the 344 aftershocks, only 70 were felt, according to Solidum.
A magnitude 5 aftershock struck 10 kilometers southeast of Tulunan, Cotabato, near the epicenter of the initial tremor, at 5:22 a.m. yesterday.
It was felt at Intensity 5 – classified by Phivolcs as strong – in Kidapawan City.
Thousands of families had been displaced by the earthquake, with some forced to sleep outside their destroyed homes.
The continuing tremors caused anxiety on the ground, with people refusing to go back inside buildings for fear of being caught in any resulting collapse.
Thousands of residents in North Cotabato's Makilala, Tulunan and M'lang towns, worst hit by the recent earthquake, have been relocated to temporary relief sites.
The National Disaster Reduction and Management Council (NDRRMC) said a total of 1,681 families or 8,405 persons were affected, mostly from Region XII.
Schools across Mindanao have been shuttered as a precaution. Officials said at least 200 schools sustained damage during the earthquake.
Rescue teams worked until dark on Tuesday to assess the damage even as electricity and phone services were knocked out in some areas by the quake.
Some government buildings and shopping malls were forced to close for the day for infrastructure inspection.
The NDRRMC said 94 government schools, 11 health facilities and government hospitals, seven other public structures, a house of worship and 20 private and commercial establishments were totally demolished by the quake in Western, Northern, Central Mindanao and Davao region as well the Bangsamoro Autonomous Region in Muslim Mindanao (BARMM).
Could be higher
In its latest situation report, the NDRRMC yesterday reported that five people were killed in last Tuesday's tremor, with 394 injured and two others still missing.
The NDRRMC clarified that verification is ongoing as to the actual number of casualties.
Initial reports obtained from field disaster responders, however, said the death toll could possibly increase to nine as two more went missing after being buried in a landslide in Barangay Upper Bala, Magsaysay, Davao del Sur.
Regional offices of the NDRRMC were tasked to monitor their respective areas of responsibility even as relief and assistance from state agencies and volunteer groups pour in.
The Philippine Air Force (PAF) is using its aircraft to help deliver relief items from the Department of Social Welfare and Development (DSWD).
Sen. Richard Gordon, chairman of the Philippine Red Cross (PRC), said ambulances, rescue teams and emergency personnel were dispatched to the areas affected by the quake in Mindanao.
Gordon added that in areas where electrical supply and water access have been disrupted, the PRC is prepared to deploy field medical tents with generators for the injured and water bladders and filtration units for the community if needed.